Search London wiki and Pub wiki history sites
All public house, restaurants, bars etc closed for the forseeable future from 20th March 2020, but this is a pub history site.
Sugar Loaf, 40 Great Queen street WC2
St Giles pub history index
It was re-named O'Neil's in the 1990s and the pub also now occupies the next door premises. ** In 2020 it is called Philomenas.
A listing of historical public houses, Taverns, Inns, Beer Houses and Hotels in St Giles in Fields, London. The St Giles in Fields , London listing uses information from census, Trade Directories and History to add licensees, bar staff, Lodgers and Visitors.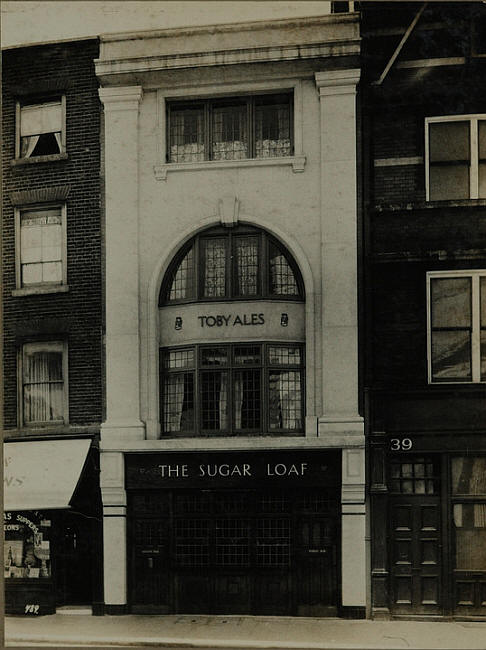 Sugar Loaf, 40 Great Queen Street, St Giles in Fields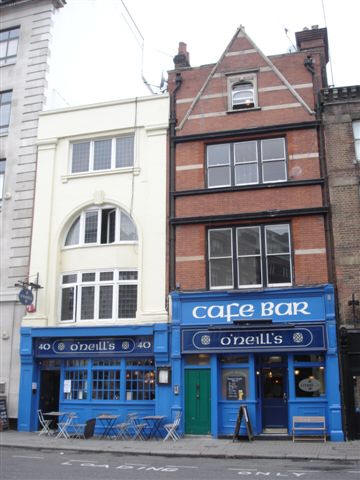 Sugar Loaf, 40 Great Queen Street - in January 2007
Kindly provided by Stephen Harris
Residents at this address
1829/William Bishop/../../../Robsons Directory

1832/Bishop/../../../Robsons Directory

1836/James Brownrigg/../../../Pigots Directory

1839/James Brownrigg/../../../Pigots Directory

1842/James Brownrigg/../../../Robsons Directory

1843/James Brownrigg/../../../Post Office Directory

1848/James Brownrigg/../../../Post Office Directory

1851/James Brownrigg/../../../Kellys Directory

1856/John Sellwood/../../../Post Office Directory

1861/John Sellwood/Public House Victualler, Widow/49/Aldermastopn, Berkshire/Census
1861/Charles Wm Sellwood/Son/16/London, Middlesex/Census
1861/Caroline Sellwood/Daughter/14/London, Middlesex/Census
1861/Henry Sellwood/Son/10/London, Middlesex/Census
1861/Mary G Sellwood/Daughter/7/London, Middlesex/Census
1861/Emma S Reddall/Visitor/16/Hickling, Leicester/Census
1861/Mary Ann Horlock/Barmaid/23/../Census
1861/Sarah Storey/Domestic Servant/23/Great Eversden, Cambridgeshire/Census
1861/William Waymouth/Waiter/20/Devon/Census

July 1861/John Sellwood/Outgoing Licensee/../../Era

July 1861/Joseph Fussell/Incoming Licensee/../../Era

April 1868/late tenant quit/Outgoing Licensee/../../Era

April 1868/Alfred William Routledge/Incoming Licensee/../../Era

1869/Alex Francis Smith/../../../Post Office Directory

April 1872/Alexander Francis Smith/Outgoing Licensee/../../Era Newspaper

April 1872/Edmund Petty/Incoming Licensee/../../Era Newspaper

1873/Edmund Petty/../../../Holborn Petty Sessions

1874/Edmund Petty/../../../Holborn Petty Sessions

1875/James Proudfoot/../../../Holborn Petty Sessions

1876/Caroline Clark/../../../Holborn Petty Sessions

1877/John Flowers/../../../Holborn Petty Sessions

1878/Benjamin Alfred Green/../../../Holborn Petty Sessions

1879/William Hett Newman/../../../Holborn Petty Sessions

1880/William Hett Newman/../../../Holborn Petty Sessions

1881/William Hett Newman/../../../Holborn Petty Sessions

1882/William Hett Newman/../../../Holborn Petty Sessions

1884/Alfred Trapp/../../../Post Office Directory

1891/Robert Skelton/../../../Post Office Directory

1895/Arthur Priddy/../../../Post Office Directory

1899/Alfred Brown/../../../Post Office Directory

1910/John Cousins/../../../Post Office Directory

1915/Cribbin Brothers/../../../Post Office Directory

1921/Cribbin Brothers/../../../Post Office Directory

1934/Jn A Cribbin/../../../Kellys Directory

1938/Jn A Cribbin/../../../Post Office Directory

1944/Cribbin Bros/../../../Post Office Directory



** Provided By Stephen Harris