Search London wiki and Pub wiki history sites
All public house, restaurants, bars etc closed for the forseeable future from 20th March 2020, but this is a pub history site.
Sun, 21 Drury lane WC2B
St Giles pub history index
A listing of historical public houses, Taverns, Inns, Beer Houses and Hotels in St Giles in Fields, London. The St Giles in Fields , London listing uses information from census, Trade Directories and History to add licensees, bar staff, Lodgers and Visitors.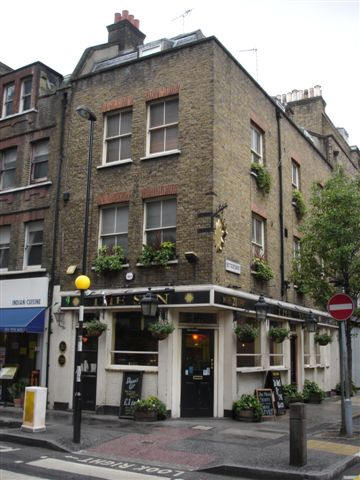 Sun, 21 Drury Lane, WC2 - in May 2007
Kindly provided by Stephen Harris
Residents at this address
1805/George Oakley, victualler, 10 Princes street, Drury lane/../../Holdens Directory

1811/Samuel Peeling, the Sun, 21 Drury lane/../../Holdens Directory

1829/Edmund Tyrrell/../../../Robsons Directory

1832/Turner/../../../Robsons Directory

1833-34/Thomas Turner/../../../Pigots Directory

1836/John Tummor/../../../Pigots Directory

1839/John Tummon/../../../Pigots Directory

1841/Joseph Tummon/../../../Post Office Directory

1842/Joseph Tummon/../../../Robsons Directory

1843/Joseph Tummon/../../../Kellys Directory

1848/Charles Thomas Wood/../../../Post Office Directory

1851/William Clayton/Licensed Victualler, Widow/55/Lincolnshire/Census
1851/Sarah Clayton/Daughter/15/St Clements, Middlesex/Census
1851/Mary Williams/Sister, Retuired Stationer, Widow/63/Wiltshire/Census
1851/Sarah Killick/Niece/14/Hampton, Middlesex/Census
1851/Mary Webb/House Servant/18/Essex/Census
1851/George Foster/Servant/24/Dorset/Census

1856/Henry Savill/../../../Post Office Directory

1861/Robert Hubbert/Licensed Victualler/36/Lincolnshire/Census
1861/Maria Hubbert/Wife/22/Essex/Census
1861/Jane Stubbs/House Servant/39/London/Census
1861/Robert Neal/Barman/24/London/Census
1861/William Searer/Potman/17/Woolwich/Census

1865/Mr Robert Atkins/../../../Licensed Victuallers Association

1869/James Atkin/../../../Post Office Directory

1873/Emma Flowers Atkin/../../../Holborn Petty Sessions

1874/John Henry Francis/../../../Holborn Petty Sessions

1875/John Henry Francis/../../../Holborn Petty Sessions

1876/Henry William Martin/../../../Holborn Petty Sessions

1877/Henry William Martin/../../../Holborn Petty Sessions

1878/Henry William Martin/../../../Holborn Petty Sessions

1879/Thomas Broom/../../../Holborn Petty Sessions

1880/Thomas Herbert Akers/../../../Holborn Petty Sessions

1881/Henry Herbert Akers/../../../Holborn Petty Sessions

1882/Henry Herbert Akers/../../../Holborn Petty Sessions

1884/Henry H Aker/../../../Post Office Directory

1891/William Keats/../../../Post Office Directory

1895/James William Jarvis/../../../Post Office Directory

1899/Michael Ullmer/../../../Post Office Directory

1901/Henry Dutch/Manager Public House/49/Bethnal Green, London/Census
1901/Eliza E Dutch/Wife, Assistant/49/Spitalfields, London/Census
1901/Eliza M Dutch/Daughter, Barmaid/25/Bethnal Green, London/Census
1901/Henry A Dutch/Son, Barman/22/Bethnal Green, London/Census
1901/Arthur L Quinn/Potman/37/St Giles, London/Census

1910/Herbert Chas Wrigglesworth/../../../Post Office Directory

1914/Herbert Chas Wrigglesworth/../../../Post Office Directory

1915/Herbert Chas Wrigglesworth/../../../Post Office Directory

1921/William Robert Frisby/../../../Post Office Directory

1934/Solomon Jesky/../../../Kellys Directory

1938/Solomon Jesky/../../../Post Office Directory

1944/Richard Magdalene/../../../Post Office Directory