Search London wiki and Pub wiki history sites
All public house, restaurants, bars etc closed for the forseeable future from 20th March 2020, but this is a history site.
White Hart, 191 Drury lane WC2B
St Giles pub history index
This pub claims a foundation date of 1216. It was rebuilt in its current form in 1912. The 'Ye Olde Whyte Harte' in 1938 & 1944 ** The address in 1805 is also at 191 Drury lane, which suggests it is at the same location for over 200 years at least.
A listing of historical public houses, Taverns, Inns, Beer Houses and Hotels in St Giles in Fields, London.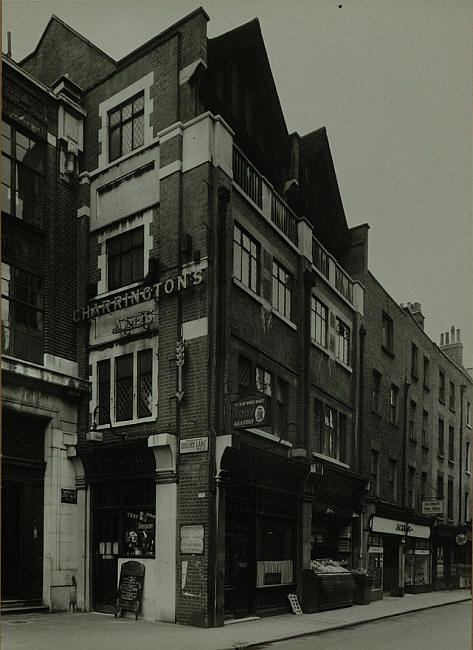 White Hart, 191 Drury Lane WC2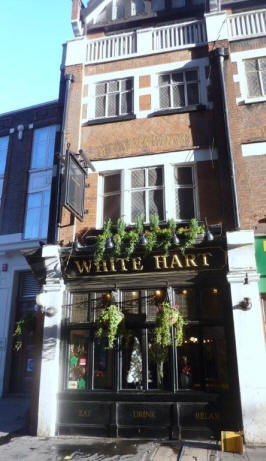 White Hart, 191 Drury Lane, WC2 - in January 2010
Kindly provided by Stephen Harris
Residents at this address
September 1790/James McManus/victualler, White Hart, Drury lane - Sun Fire Insurance records/../../Access to Archives

1805/John Eaton/../../../Holdens Directory

September 1807/Thomas Wright, victualler, 191 Drury lane/../../Sun Fire Office Record - LMA

October 1808/Thomas Wright, victualler, 191 Drury lane/../../Sun Fire Office Record - LMA

1809/Mr Wright, White Hart, Drury lane/../../Licensed Victuallers Association

1811/Thomas Wilson, White Hart, 191 Drury lane/../../Holdens Directory

1832/R Williams/../../../Robsons Directory

1833/John Charles Williams/Will/../../Access to Archives

1839/Robert Minchin/../../../Pigots Directory

1841/William Plumridge/../../../Kellys Directory

1842/William Plumridge/../../../Robsons Directory

June 1848/William Rogers/Outgoing Licensee/../../Morning Advertiser

June 1848/John Bridger Palmer/Incoming Licensee/../../Morning Advertiser

1851/Henry Oliver/../../../Kellys Directory

1851/Henry George Oliver/Licensed Victualler/45/Kent/Census
1851/Lydia Oliver/Wife/38/Hampstead, Middlesex/Census
1851/Henry Oliver/Son/19/Hampstead, Middlesex/Census
1851/James Casdshore/General Servant/23/Bridgwater, Somerset/Census
1851/Mary Walker/General Servant/31/Appledore, Kent/Census
1851/George Greaves/Pot Boy/19/Luton, Bedfordshire/Census

1856/Henry Oliver/../../../Post Office Directory

September 1855/Henry Oliver/ Outgoing Licensee /../../The Era

September 1855/William Daniel Haines/ Incoming Licensee /../../The Era

April 1856/William Daniel Haines/Outgoing Licensee/../../Era Newspaper

April 1856/Frederick Ludby/Incoming Licensee/../../Era Newspaper

1861/Frederick Ludby/Licensed Victualler/32/Kennington, Surrey/Census
1861/Sarah Norris/Barmaid/26/Westminster, Middlesex/Census
1861/William Pattison/Potman/24/Guisborough, Yorkshire/Census
1861/Joseph Dowdell/Barman/23/London, Middlesex/Census

1869/Thomas Groves/../../../Post Office Directory

1873/Thomas Groves/../../../Holborn Petty Sessions

1874/Thomas Groves/../../../Holborn Petty Sessions

1875/Thomas Groves/../../../Holborn Petty Sessions

1876/Thomas Groves/../../../Holborn Petty Sessions

1877/Thomas Groves/../../../Holborn Petty Sessions

1878/Emila Ann Hitchen/../../../Holborn Petty Sessions

1879/George Greenfield/../../../Holborn Petty Sessions

1880/George Moy/../../../Holborn Petty Sessions

1881/George Moy/../../../Holborn Petty Sessions

1882/George Moy/../../../Holborn Petty Sessions

1884/George Moy/../../../Post Office Directory

1891/James Leftwich Warner/../../../Post Office Directory

1895/John Samuel Hall/../../../Post Office Directory

1899/Charles Chalk/../../../Post Office Directory

1901/William Jas Payne/Licensed Victualler/30/London/Census
1901/Mary Emily Payne/Wife/37/Kent/Census
1901/Emma Lack/Mother, Widow/66/London/Census
1901/James Wm Payne/Son/2/London/Census
1901/Chas W Payne/Nephew/7/London/Census
1901/Katie White/Domestic Servant/18/London/Census
1901/Sarah Coppen/Servant, Widow/75/Surrey/Census
1901/Amelia Walker/Barmaid/23/London/Census

1910/William James Payne/../../../Post Office Directory

1934/Allens (Caterers) Ltd/../../../Kellys Directory

1938/Henry & Frank (Caterers) Ltd/../../../Post Office Directory

1944/Henry & Frank (Caterers) Ltd/../../../Post Office Directory

1971/Henry & Frank (Caterers) Ltd/../../../Pub Directory



** Provided By Stephen Harris