Search London wiki and Pub wiki history sites
All public house, restaurants, bars etc closed for the forseeable future from 20th March 2020, but this is a history site.
White Lion, 15 High Street, St Giles WC2
St Giles pub history index
This pub has been rebuilt in modern times and has been through a series of recent name changes – now the Intrepid Fox. **
A listing of historical public houses, Taverns, Inns, Beer Houses and Hotels in St Giles in Fields, London. The St Giles in Fields , London listing uses information from census, Trade Directories and History to add licensees, bar staff, Lodgers and Visitors.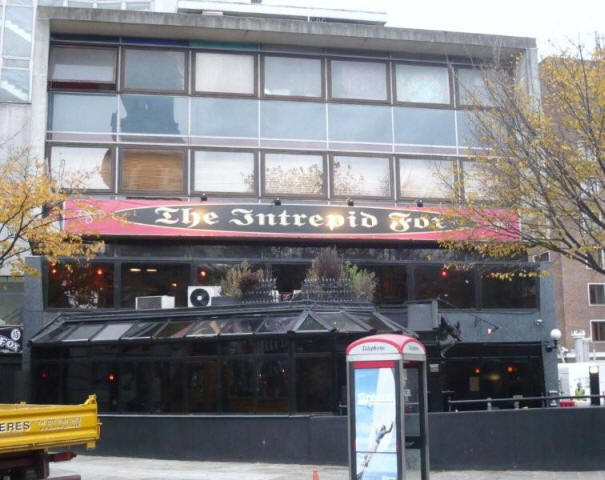 White Lion, 15 St Giles High Street, WC2 - in November 2008
Kindly provided by Stephen Harris
Residents at this address
1843/John Darlton Abbott/White Lion P. H. 16 High street, St. Giles/../../Kellys Directory

1848/John Darlton Abbott/../../../Post Office Directory

1851/George Harris/../../../Kellys Directory

1851/George Thomas Harris/Licensed Victualler/26/Kilburn, Middlesex/Census
1851/Ann Harris/Wife/26/Barkstone, Leicestershire/Census
1851/Ann Harris/Daughter/1/Marylebone, Middlesex/Census
1851/Eliza Merryweather/Sister in Law, Tobacconists Wife/22/Marylebone, Middlesex/Census
1851/Sophia Cross/Sister in Law, Barmaid/12/Marylebone, Middlesex/Census
1851/Alfred Cross/Brother in Law/8/Deptford, Kent/Census
1851/Thomas Simpson/Potman/22/Milford, Suffolk/Census
1851/Mary Brian/General Servant/27/Ireland/Census
1851/Elizabeth Rutterford/Nurse/16/Woden, Buckinghamshire/Census
1851/Benjamin Webb/Lodger, Smith/50/Gloucester, Gloucestershire/Census
1851/Henry Shade/Lodger, Smith/50/St Lukes, Middlesex/Census
1851/Elizabeth Shade/Lodger Wife/51/Marylebone, Middlesex/Census

November 1852/George Thomas Harris/Outgoing Licensee/../../Era Newspaper

November 1852/John Denyer Lamb/Incoming Licensee/../../Era Newspaper

1856/John Keck/../../../Post Office Directory

April 1861/William Henry Davis/Outgoing Licensee/../../Era

April 1861/William Gouldstone/Incoming Licensee/../../Era

1861/William Gouldstone/Licensed Victualler/37/Bristol/Census
1861/Johanna Boyse/Wife/32/Ireland/Census
1861/Johanna Crimmins/Visitor/25/Middlesex/Census
1861/Henry Partridge/Barman/20/Deptford New Town/Census
1861/Margaret Colahan/Servant/30/Ireland/Census
1861/William E G Gouldstone/Son/6 months/Middlesex/Census

1869/Thomas Francis Cheek/../../../Post Office Directory

1873/Thomas Francis Cheek/../../../Holborn Petty Sessions

1874/Thomas Francis Cheek/../../../Holborn Petty Sessions

1875/Thomas Francis Cheek/../../../Holborn Petty Sessions

1876/Thomas Francis Cheek/../../../Holborn Petty Sessions

1877/Thomas Francis Cheek/../../../Holborn Petty Sessions

1878/John Palmer/../../../Holborn Petty Sessions

1879/John Palmer/../../../Holborn Petty Sessions

1880/John Palmer/../../../Holborn Petty Sessions

1881/Henry Palmer/Public House Manager/26/London, Middlesex/Census
1881/Catherine Hawson/Housekeeper/58/Gladlington ?, Oxford/Census
1881/Kate Hawson/Barmaid/21/London, Middlesex/Census
1881/Susan Hawson/Barmaid/19/London, Middlesex/Census
1881/Frederick Hawson/Visitor, Licensed Victualler/56/Slough, Buckingham/Census

1881/John Palmer/../../../Holborn Petty Sessions

1882/John Palmer/../../../Post Office Directory

1882/John Palmer/../../../Holborn Petty Sessions

1885/John Palmer/../../../Post Office Directory **

1891/John Palmer/../../../Post Office Directory

1895/John Hart/../../../Post Office Directory

1899/Richard Hill/../../../Post Office Directory

1900/Richard Hill/../../../Post Office Directory **

1910/Ernest Pearce/../../../Post Office Directory

1934/Pioneer Catering Co Ltd/../../../Kellys Directory

1938/Pioneer Catering Co Ltd/../../../Post Office Directory

1944/Pioneer Catering Co Ltd/../../../Post Office Directory



** Provided By Stephen Harris