Search London wiki and Pub wiki history sites
All public house, restaurants, bars etc closed for the forseeable future from 20th March 2020, but this is a pub history site.
Bell tavern, 43 Carter lane, St Gregory by St Pauls EC4
St Gregory by St St Pauls pub history index
Earlier address is at 9 Great Carter Lane.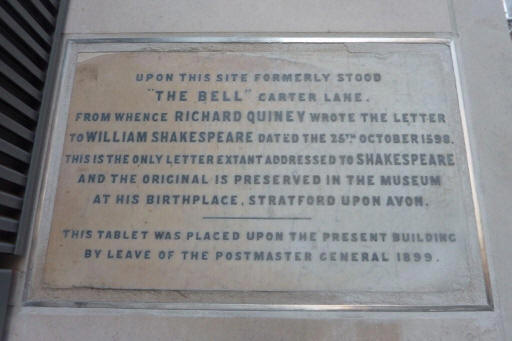 Bell Tavern, Carter Lane - Stone Plaque
Kindly provided by Stephen Harris
In 1598, Richard Quiney wrote a letter from this pub to William Shakespeare – the only letter to the playwright known still to exist. The pub was demolished by 1889, when a stone plaque was erected to mark its site. It was at at 9 Great Carter Lane in 1856 & earlier **
A listing of historical London public houses, Taverns, Inns, Beer Houses and Hotels in St Gregory by St Pauls parish, City of London. The St Gregory by St Pauls, City of London Public House Trade Directory uses information from census, Trade Directories and History to add licensees, bar staff, Lodgers and Visitors.
Residents at this address
1778/Gabriel Smith/../../../Proceedings of the Old Bailey **

1808/John Turp, Bell, 9 Great Carter lane, St Pauls/../../Holdens Directory

1829/William Holton, Bell, 9 Great Carter lane/../../Robsons Directory

1833-34/William Holton, Bell, 9 Great Carter lane/../../Pigots Directory

1839/Fredk. Henry Gissing/../../../Pigot's Directory **

1841/Frederick Henry Gissing/../../../P.O. Directory **

1841/Frederick Gissing/Publican/30/Middlesex/Census
1841/Maria Gissing/../25/Middlesex/Census
1841/Georgiana Gissing/../4/Middlesex/Census
1841/Gerard Gissing/Independent/50/Middlesex/Census
1841/James Chalker/Coachman/20/Middlesex/Census
1841/Susan Flatt/Female Servant/20/Middlesex/Census

February 1848/George Gray/Outgoing Licensee/../../Era Newspaper

February 1848/Charles James Tanfield/Incoming Licensee/../../Era Newspaper

1851/George Pittman/../../../Kellys Directory

1851/George Pittman/Victualler/30/Tower Hill, Middlesex/Census
1851/Ann Pittman/Wife/30/Taunton, Somerset/Census
1851/Elizabeth Tapson/Relative, Housekeeper/66/Ilminster, Devon/Census
1851/Henry Savage/Waiter/21/Walworth, Surrey/Census

1856/George William Pittman/../../../Post Office Directory

1861/George W Pittman/Licensed Victualler/39/Tower Hill, Middlesex/Census
1861/Margaret M Pittman/Wife/25/Islington, Middlesex/Census
1861/Kate L Pittman/Daughter/2/City, Middlesex/Census
1861/Florence M Pittman/Daughter/9 months/City, Middlesex/Census
1861/Caroline Baker/Nurse/17/Whitechapel, Middlesex/Census
1861/Margaret Shanton/Housemaid/30/Cork, Ireland/Census
1861/Lucy Trimblet/Barmaid/19/Bridgwater, Somerset/Census
1861/Walter Muirel/Waiter/26/St James, Bristol/Census

1862/George William Pittman/../../../Post Office Directory

1869/Edward Sharratt/../../../Post Office Directory

1869/Edward Sharratt / Licensed Victualler /../../London Gazette, 6 August 1869 **

January 1870/Samuel Wood, assignee of Edward Sharratt, bankrupt/Outgoing Licensee/../../Era Newspaper

January 1870/Wellington Williams/Incoming Licensee/../../Era Newspaper

January 1872/Wellington Williams/Outgoing Licensee/../../Era

January 1872/Frank Goswell/Incoming Licensee/../../Era

1874/F Goswell/../../../H.D. Miles London & Suburban Licensed Victuallers' Directory **

1876/Frank Goswell/../../../P.O. Directory **

1881/Frank Goswell/Publican/48/Midgham, Berkshire/Census
1881/Maria Goswell/Wife/48/Reading, Berkshire/Census
1881/Henry W Winch/Commercial Traveller/33/Lambeth, Surrey/Census
1881/Clara A Upton/Barmaid/26/Islington, Middlesex/Census
1881/Alice H Stevens/Barmaid/19/Godalming, Surrey/Census
1881/Sophia Wilkins/Barmaid/22/Crayford, Kent/Census
1881/Charles Keen/Potman/20/Northampton, Berkshire/Census
1881/Ruth C Rouse/Kitchenmaid/20/London, Middlesex/Census
1881/Eliza Bennett/Housemaid/19/Westminster/Census
1881/Jessie Ransom/Kitchenmaid/19/Fareham, Hampshire/Census

1882/Frank Goswell/../../../Post Office Directory

1884/Frank Goswell/../../../Post Office Directory

1886/Frank Goswell/../../../Business Directory of London **

1891/Frank Goswell / Licensed Victualler /../../London Gazette, 22 September 1891 **

1891/Frank Goswell/Licensed Victualler/58/Midgham, Berkshire/Census
1891/Maria Goswell/Wife/58/Reading, Berkshire/Census
1891/Thomas G Martin/Traveller, Widow/40//Census
1891/Emily Kirk/Servant/19/Islington, London/Census
1891/Emily Williams/Servant, Widow/34/Charbury, Oxfordshire/Census
1891/Anne Lipscombe/Servant/18/Newbury, Berk/Census
1891/Beatrice S Selly/Barmaid/26/Hackney, London/Census
1891/Clara A Kay/Barmaid/19/Kensington, Berkahire/Census
1891/Mercia M Stevens/Barmaid/23/Euston Road, London/Census
1891/Amelia Prentice/Servant/19/Barnsbury, London/Census



** Provided By Stephen Harris