Daniel Lambert, 12 Ludgate Hill, St Gregory by St Pauls EC4
St Gregory by St St Pauls pub history index
The very earliest this is noted on the site at present is in the 1811 Holdens directory, when it is noted as the Kings Head, Ave Maria lane. In 1843 Daniel Lambert is listed as the licensee, although still listed as the Kings Head tavern.
This pub was present as the Daniel Lambert by 1852, when it was named as such in an Old Bailey court case. In 1853, the license transfer refers to it as the Kings Head and Daniel Lambert, Ave Maria lane, Ludgate street. It was rebuilt in 1898 and is now demolished. The Kings Head in 1869 and before; at 26 Ludgate Hill in 1856 **
A listing of historical London public houses, Taverns, Inns, Beer Houses and Hotels in St Gregory by St Pauls parish, City of London. The St Gregory by St Pauls, City of London Public House Trade Directory uses information from census, Trade Directories and History to add licensees, bar staff, Lodgers and Visitors.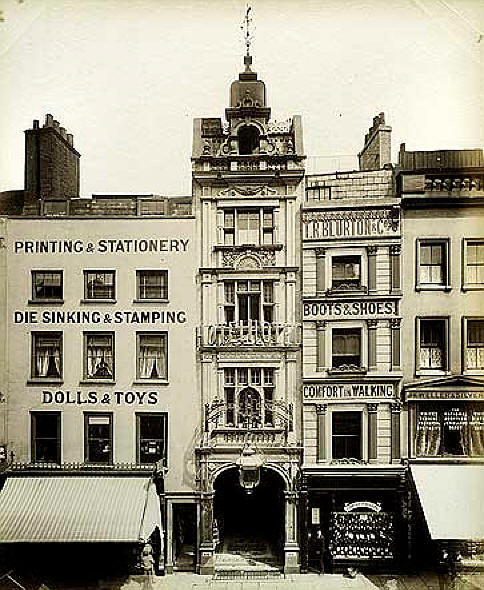 The Daniel Lambert, 12 Ludgate Hill, St Gregory by St Pauls - circa 1892
Kindly provided by John Carnabie
Residents at this address
1811/John Chandler, Kings Head, Ave Maria lane/../../Post Office Directory

1832/Charles Francom, 2 Ave Maria lane/../../Robsons Directory

1834/Daniel Lambert, 2 Ave Maria lane/../../Electoral Register

1840/Daniel Lambert, Kings Head, 26 Ludgate street/../../Pigots Directory

1841/Daniel Lambert/Tavern Keeper/30/../Census
1841/Mary Lambert/../25/../Census
1841/Peter Simpson/Male Servant/15/../Census
1841/Mary Woolger/Female Servant/30/../Census
1841/Emma Hewitt/Independant/13/../Census

1842/Daniel Lambert, Kings Head, 2 Ave Maria lane/../../Robsons Directory

1843/Daniel Lambert, Kings Head Tavern, 26 Ludgate street & 2 Ave Maria lane/../../Kellys Directory

February 1847/Mary Ann Lambert/Outgoing Licensee/../../Era

February 1847/James Daniel Francis/Incoming Licensee/../../Era

1848/James Lavell/../../../Post Office Directory

In 1851 James Lavell is at the Kings Head, 26 Ludgate Street, whilst the Dolphin is at 11 1/2 Ludgate Hill.

1852/Joseph Self / Pot Boy /../../Proceedings of the Old Bailey **

1851/James Lavell/Licensed Victualler/37/London, Middlesex/Census
1851/Marian Lavell/Wife/23/London, Middlesex/Census
1851/Charles Lavell/Son/7 months/City London/Census
1851/Marian Lavell/Daughter/2/London/Census
1851/Jane Bentley/Servant/32/Essex/Census
1851/Elizabeth Hazell/Servant/23/Middlesex/Census
1851/Sarah Jeffries/Servant/30/Middlesex/Census
1851/George Marner/Servant/18/London/Census
1851/Thomas Stone/Servant/18/London/Census
1851/Emma Stone/Servant/16/City London/Census
1851/John Hudson/Visitor/40/Surrey/Census

October1853/James Lovell/Outgoing Licensee/../../Era

October 1853/Henry Gravatt/Incoming Licensee/../../Era

1856/James Lavell/../../../Post Office Directory

1869/James Lavell/../../../Post Office Directory

1874/J D F Lavell/../../../H D Miles London & Suburban Licensed Victuallers Directory **

1881/Charles Iliffe/Resident Manager/42/Desboro, Nottingham/Census
1881/Ellen Robinson/Barmaid/27/Hammersmith, Middlesex/Census
1881/Minna Keffinham/Barmaid/24/Calcutta, India/Census
1881/Ada Harwood/Barmaid/22/Old Kent Road/Census
1881/Frank Green/Potman/20/Victoria Park, Middlesex/Census
1881/Annie Cole/Domestic Servant/19/Paddington, Middlesex/Census
1881/Elizabeth Cole/Domestic Servant/18/Paddington, Middlesex/Census
1881/William Richardson/Button Maker/15/City, Middlesex/Census

1882/J A Williams/../../../Post Office Directory

1883/Charles Iliff / Manager /../../Proceedings of the Old Bailey **
1883/Ada Kirkwood / Bar Maid /../../Proceedings of the Old Bailey
1883/Alice French / Bar Maid /../../Proceedings of the Old Bailey

1884/James A Williams/../../../Post Office Directory

1888/James Albert Williams / Licensed Victualler /../../London Gazette, 15 May 1888 **

1895/Robert Henry Barnes/../../../Post Office Directory

1899/James Darmstatter/../../../Post Office Directory

1900/Emily Pearce / Licensed Victualler /../../London Gazette, 2 November 1900 **

1901/F Becton/Manager Licensed Victualler/60/Shelford E/Census
1901/S Becton/Wife/61/Fleet Street EC/Census
1901/A Becton/Daughter/25/Fleet Street EC/Census
1901/A Jordon/Barmaid/29/Bermondsey/Census
1901/A Deaping/Barmaid/28/Peckham/Census
1901/E Sheppard/Barmaid/30/London/Census
1901/G Love/Barmaid/30/Rugby, Warwickshire/Census
1901/M Phillips/Barmaid/23/../Census
1901/C Faulkner/Barman/19/Stratford, Essex/Census
1901/W Hughs/Porter/25/Maidstone, Kent/Census
1901/E Butters/Servant/25/Colchester, Essex/Census
1901/S Sire/Servant/29/Bow/Census
1901/M Frances/Servant/19/Germany/Census
1901/M Laurence/Servant/39/Horsleydown/Census



** Provided By Stephen Harris