Search London wiki and Pub wiki history sites
All public house, restaurants, bars etc closed for the forseeable future on 20th March 2020, but this is a history site. But how about the landlords give their tenants a break, no business, then please charge them no rent.
St James Tavern, 35 Creechurch lane, Aldgate EC3
St James Dukes Place pub history index
Between 31 & 33 Duke Street, Aldgate in 1869; At 43 Duke Street, Aldgate in 1891 & 43 Duke Street by 1895
A listing of historical London public houses, Taverns, Inns, Beer Houses and Hotels in St James Dukes Place parish, City of London.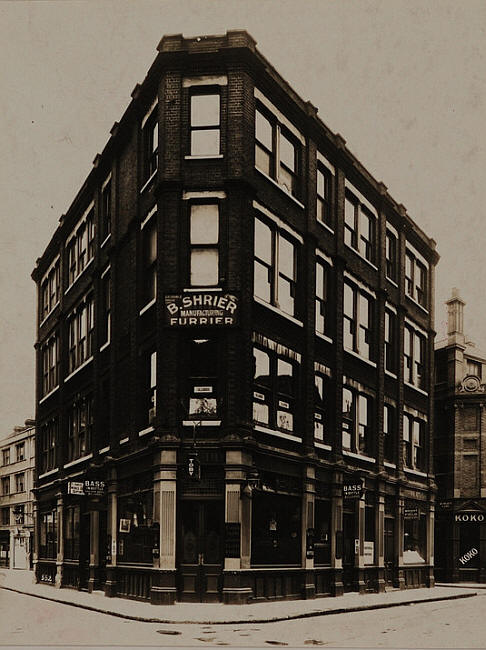 St James Tavern, 35 Creechurch Lane,, St James Dukes Place, London EC3
Residents at this address
1839/Alexander Phillips/../../../Pigot's Directory **

1841/Alexander Phillips/../../../Post Office Directory *

1841/Louis Abraham/Victualler/45/Middlesex/Census
1841/Louis Abraham/Watch Maker/20/Middlesex/Census
1841/Julia Abraham/../45/Middlesex/Census
1841/Sophia Abraham/../15/Middlesex/Census
1841/Charles Abraham/../15/Middlesex/Census
1841/Elizabeth Abraham/../10/Middlesex/Census
1841/Eveline Abraham/../8/Middlesex/Census
1841/Louisa Abraham/../7/Middlesex/Census
1841/Joseph Abraham/../6/Middlesex/Census
1841/John Abraham/../5/Middlesex/Census

1847/Lewis Abrahams/../../../P.O. Directory **

1851/Lewis Abrahams/../../../Kellys Directory

1851/Lewis Abrahams/Licensed Victualler/57/St James Duke Place, London/Census
1851/Julia Abrahams/Wife/56/St James Duke Place, London/Census
1851/Louisa Abrahams/Daughter/18/St James Duke Place, London/Census
1851/John Abrahams/Son/15/St James Duke Place, London/Census
1851/Mary Malony/General Servant/25//Census

1856/Chas Leach/../../../Post Office Directory

My great great great grandad (Phillip Raphael) ran this pub in the the 1861 and 1871 census. *

1861/Phillip Raphael/Victualler & General Merchant/54/Aldgate City, London/Census *
1861/Eliza Raphael/Wife/48/Aldgate City, London/Census
1861/Mary A Raphael/Daughter/22/Whitechapel, London/Census
1861/Lewis Raphael/Son/14/Whitechapel, London/Census
1861/Rose Raphael/Daughter/18/Whitechapel, London/Census
1861/Laura Raphael/Daughter/16/Catherine Lane City, London/Census
1861/Victoria Raphael/Daughter/15/Catherine Lane City, London/Census
1861/Annie Raphael/Daughter/12/Catherine Lane City, London/Census
1861/Albert Raphael/Son/10/Catherine Lane City, London/Census
1861/Alfred Raphael/Son/6/Catherine Lane City, London/Census
1861/Julia Raphael/Daughter/8/Catherine Lane City, London/Census
1861/Ann Roberts/Domestic Servant/26/Clerkenwell, London/Census
1861/Jane Masey/Domestic Servant/22/Ipswich, Suffolk/Census
1861/John Doherty/Potman/21/Paris, France/Census

May 1862/Philip Raphael/Outgoing Licensee/../../Era

May 1862/Benjamin Hart/Incoming Licensee/../../Era

July 1863/Benjamin Hart/Outgoing Licensee/../../Era

July 1863/Philip Raphael/Incoming Licensee/../../Era

1869/Philip Raphael/../../../Post Office Directory

1871/Phillip Raphael/Licensed Victualler/62/Portsmouth, Hampshire/Census *+
1871/Elizabeth Raphael/Wife/59/London/Census
1871/Laura Raphael/Daughter, Barmaid/24/London/Census
1871/Anne Raphael/Daughter, Barmaid/19/London/Census
1871/Julie Raphael/Daughter, Barmaid/17/London/Census
1871/Alfred Raphael/Son/15/London/Census

1881/Emanuel Braham/Licensed Victualler/49/St Georges, Middlesex/Census
1881/Louisa Braham/Wife/40/St Georges, Middlesex/Census
1881/Kate Braham/Daughter/19/Liverpool/Census
1881/Annie Braham/Daughter/8 months/London, Middlesex/Census
1881/Kate Grieef/Barmaid/25/Woolwich, Kent/Census
1881/Lizzie Weaver/Servant/26/Suffolk/Census
1881/Jessie Millar/Nurse Maid/14/Marylebone, Middlesex/Census
1881/Martha Palmer/Servant/18/Islington, Middlesex/Census
1881/Miriam Israel/Visitor/16/St Marys, Middlesex/Census
1881/Lizzie Lonaves/Visitor/6/Cape of Good Hope, South Africa/Census

1882/Emanuel Braham/../../../Post Office Directory

1884/Mark Isaacs/../../../Post Office Directory

1891/Alexander Williams/../../../Post Office Directory

1895/James Norris Pimm/../../../Post Office Directory

1899/Philip Young/../../../Post Office Directory

1910/Thomas Richard Hoare/../../../Post Office Directory

1915/Francis Judd/../../../Post Office Directory *

1920/Francis Judd / Wine & Spirit Merchant/../../Corporation of London Surveyors Dept records **

1934/Andrew Chivers, St James Tavern, 35 Creechurch lane EC3 /../../Post Office Directory

1938/George D Forrest, St James Tavern, 35 Creechurch lane EC3 /../../Post Office Directory

1940/George D Forrest, St James Tavern, 35 Creechurch lane EC3 /../../Post Office Directory

1944/Mrs Beatrice Alfred, St James Tavern, 35 Creechurch lane EC3 /../../Post Office Directory



* Provided By Ewan

*+ Provided By Kathy Butler

** Provided By Stephen Harris