Search London wiki and Pub wiki history sites
All public house, restaurants, bars etc closed for the forseeable future from 20th March 2020, but this is a history site.
Bunch of Grapes, 13 Dowgate Hill EC4
St John the Baptist, Walbrook pub history index
aka Grapes, 14 Dowgate Hill in 1851
A listing of historical London public houses, Taverns, Inns, Beer Houses and Hotels in St John the Baptist Walbrook parish, City of London. The St John the Baptist Walbrook,City of London Public House Trade Directory uses information from census, Trade Directories and History to add licensees, bar staff, Lodgers and Visitors.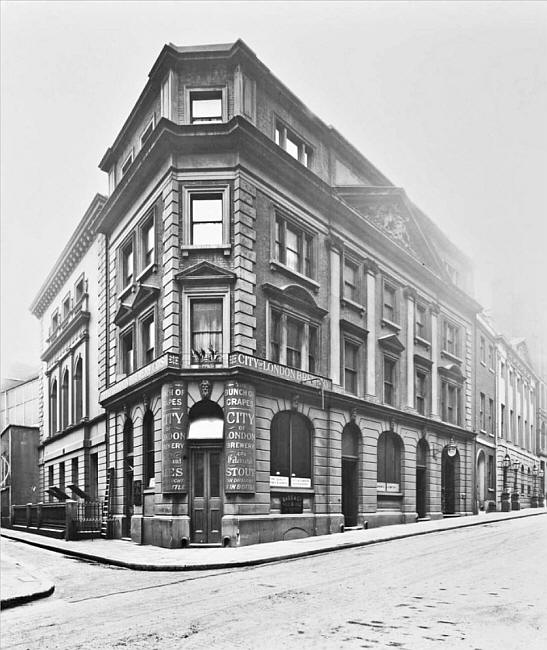 Bunch of Grapes, 13 Dowgate Hill EC4 - in 1920
Kindly provided by Vincent O'Laughlin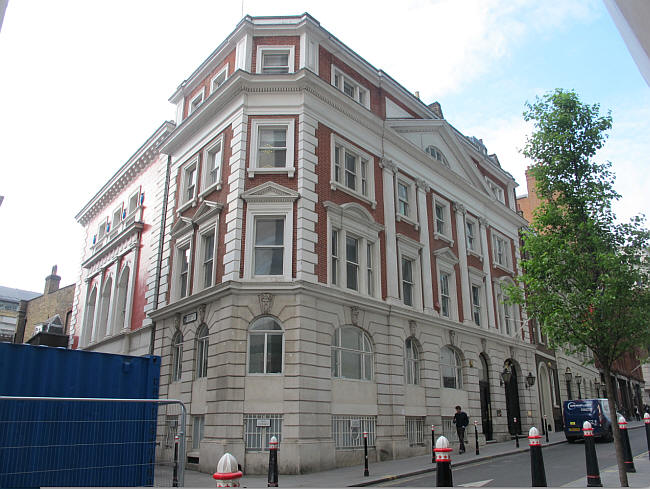 Ex - Bunch of Grapes, 13 Dowgate Hill EC4 - in April 2017
Kindly provided by Vincent O'Laughlin
The following entries are in this format:
Residents at this address
1793/Edward Pinney / Victualler /../../Sun Fire Offices records held at Guildhall Library **

1795/Job Nightingale / Victualler /../../Sun Fire Offices records held at Guildhall Library **

1797/William Fox / Victualler /../../Sun Fire Offices records held at Guildhall Library **

1820/Thomas Bates / Victualler /../../Sun Fire Offices records held at Guildhall Library **

1833/Thomas Bates / Licensed Victualler /../../London Gazette, 17 May 1833 **

1839/William Tyler/../../../Pigots Directory **

1841/William Tyler/../../../P.O. Directory **

1842/Wm. Tyler/../../../Robson's Directory **

February 1848/H Lloyd/Outgoing Licensee/../../Era

February 1848/C J Kemp/Incoming Licensee/../../Era

July 1849/George Hurst /Outgoing Licensee/../../Era Newspaper

July 1849/John Groom/Incoming Licensee/../../Era Newspaper

1851/John Groom/../../../Kellys Directory

1851/Alfred Verrall/Licensed Victualler/38/Lewis, Sussex/Census
1851/Ann Verrall/Wife/46/Ripe, Sussex/Census
1851/Thos Budgen/Son/20/Lewis, Sussex/Census

October 1859/Robert Green Grimes/Outgoing Licensee/../../Era

October 1859/John Abbey/Incoming Licensee/../../Era

1861/Lawrence Heap/Victualler/48/Lancaster/Census
1861/Francis Heap/Wife/40/Kent/Census
1861/Ellen Curtis/Servant/20/Middlesex/Census

1869/L Heap/../../../Post Office Directory

1870/Lawrence Heap/../../../P.O. Directory **

1871/Lawrence Heap/Licensed Victualler/60/Lancashire/Census
1871/Elizabeth Ann/Wife/46/Stoke, Cornwall/Census
1871/James Rance/Nephew, Draper/27/Stoke, Cornwall/Census
1871/William Manaka/Potman/18/Stoke Newington/Census
1871/Martha Fowler/Cook/23/Ireland/Census
1871/Eliza Spelling/Barmaid/23/Staines, Middlesex/Census

1874/T Cox/../../../H D Miles' London & Suburban Licensed Victuallers' Directory **

1880/Mrs Mary Gilchrist/../../../P.O. Directory **

1886/Sarah Owen/../../../Business Directory of London **

1881/Elizabeth Jane Oughton/Licensed Victualer/32/Marylebone, Middlesex/Census
1881/Fanny Oughton/Sister, Licensed Victualer/28/St Pancras, Middlesex/Census
1881/Amy Florence Catchpole/Barmaid/19/Kingsland, Middlesex/Census
1881/Mary Ann Collier/General Servant Domestic/15/Limerick, Ireland/Census

1882/Mrs Mary Gilchrist/../../../Post Office Directory

1884/Sarah Owen/../../../Post Office Directory

1891/William Henry Ray/../../../Post Office Directory

1895/Harry Johnson/../../../Post Office Directory

1899/Thomas George Hunt/../../../Post Office Directory

1910/Sydney Charles Taylor/../../../Post Office Directory

1911/Sydney Taylor/Licensed Victualler/38/Bracknell, Berkshire/Census
1911/Ellen Taylor/Wife, Assistant/41/Limehouse, London/Census

1921/Emmeline James/../../../Post Office Directory

1926/Mrs Emmeline James/../../../P.O. Directory **



** Provided By Stephen Harris