Pub history and pub wiki
East India Arms, 67 Fenchurch Street, St Katherine Coleman EC3M
St Katherine Coleman index
A Shepherd & Neame pub in 2017, open since at least 1805
A listing of historical London public houses, Taverns, Inns, Beer Houses and Hotels in St Katherine Coleman Street parish, City of London. The St Katherine Coleman, City of London Public House Trade Directory uses information from census, Trade Directories and History to add licensees, bar staff, Lodgers and Visitors.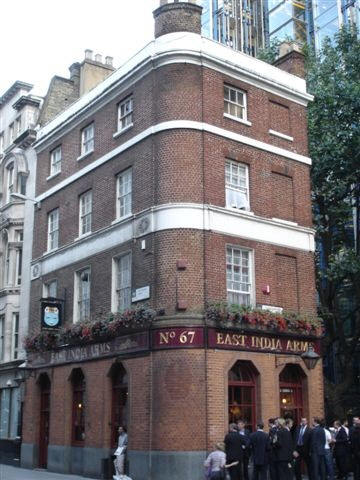 East India Arms, 67 Fenchurch Street - in September 2006
Kindly provided by Stephen Harris
The following entries are in this format:
Year/Publican or other Resident/Relationship to Head and or Occupation/Age/Where Born/Source.
1805/Richard Hardacre, victualler, 67 Fenchurch street/../../Holdens Directory

1833-34/Thomas Drake, East India Arms, 67 Fenchurch street/../../Pigots Directory

1839/Tomazine Bishop, West India Arms, 67 Fenchurch street/../../Pigot's Directory *

1841/Edward Morris/../../../Post Office Directory *

1843/Edward Morris/../../../Post Office Directory

1848/Edward Morris/../../../Post Office Directory

February 1850/Edward Morris, deceased/Outgoing Licensee/../../Era

February 1850/Thomazine Morris, widow and administratrix of Edward Morris, deceased/Incoming Licensee/../../Era

1851/Mrs Thomasin Morris/../../../Kellys Directory

1851/William J Bishop/Licensed Victualler/24/Cheapside, London/Census
1851/Thomasin Morris/Mother, Widow/44/Devon/Census
1851/Eliza Jenkin/Cousin, Barmaid/20/Devon/Census
1851/John Stride/Waiter/24/Salisbury/Census
1851/Ellen Holmes/Cook/30/Ireland/Census

1856/William John Bishop/../../../Post Office Directory

April 1856/William John Bishop/Outgoing Licensee/../../Era

April 1856/Thomaxine Morris/Incoming Licensee/../../Era

1861/John Scott/Victualler/38/Hadham, Herts/Census
1861/Mary Ann Scott/Wife/26/Lidd, Kent/Census
1861/John Jos Scott/Son/6 months/St Katherine Coleman/Census
1861/Emily Bugnell/Sister of Wife, Housekeeper/24/Lidd, Kent/Census
1861/Sarah Monet/Barmaid/26/Whitechapel, Middlesex/Census
1861/Ellen Sopper/General Servant/19/Bishopsgate, City of London/Census
1861/Thomas Prikett/Potman/23/St Martins, Middlesex/Census
1861/Mary Thornton/Nurse, Widow/55/Bosbury, Hereford/Census

February 1864/Jon Scott/Outgoing Licensee/../../London City Press

February 1864/William Godfrey/Incoming Licensee/../../London City Press

1869/Frederick C Jones/../../../Post Office Directory

October 1870/F C Jones/Outgoing Licensee/../../London City Press

October 1870/O W King/Incoming Licensee/../../London City Press

1874/Harriet Jones/../../../Licensed Victualler & Hotelier Directory

1881/Albert Pilgrim/Manager Wine Merchant/23/Highbury/Census
1881/Robert Pilgrim/Brother, Barman/20/Chelsea/Census
1881/Georgina Pilgrim/Sister/27/Islington/Census
1881/John Hen Humphrey/Barman/22/Diss, Norfolk/Census
1881/Geo Higgott/Barman/23/Wantage, Berkshire/Census
1881/Sarah Johnson/Cook/44/Hoxton/Census

1882/Ezra Pilgrim & Son/../../../Post Office Directory

1891/Edward Arthur Cook/../../../Post Office Directory

1891/Lucy Wells/Manageress Pub, Widow/37/Islington, London/Census
1891/Edward Ause/Barman/19/Halstead, Essex/Census
1891/Walter E Camp/Barman/17/St Pancras, London/Census
1891/John W Harman/Barman/18/Wandsworth, Surrey/Census
1891/James Garbott/Barman/19/Clerkenwell, London/Census
1891/John T Pratt/Porter/31/Hautboys, Norfolk/Census
1891/Ellena Hesselwood/Domestic Servant/31/Leyton, Essex/Census

1895/Edward Arthur Cook/../../../Post Office Directory

1899/Edward Arthur Cook/../../../Post Office Directory

1901/Ernest A Beach/Public House Manager/33/Lambeth, London/Census
1901/John A Nichols/Barman/19/Peckham, London/Census
1901/Henry J Petit/Barman/18/Bow, London/Census
1901/Henry P Findley/Barman/18/Lambeth, London/Census
1901/Walter Birdwell/Barman/22/Hemel Hempstead, Hertfordshire/Census
1901/Harriet Goldfinch/Servant, Widow/44/Ware, Hertfordshire/Census

1910/Edward Arthur Cook/../../../Post Office Directory

1911/Ernest Augustus Beach/Public House Manager/44/Lambeth, Surrey/Census
1911/Ralph Montague Dalby/Head Barman/31/Whitechapel, Middlesex/Census
1911/Lenard Maidman/Barman/23/Shortlands, Kent/Census
1911/Albert Bass/Barman/26/St Pancras, Middlesex/Census
1911/Harriet Goldfinch/Servant, Widow/56/Ware, Hertfordshire/Census

1934/A & H Hill Ltd/../../../Post Office Directory

1938/A & H Hill Ltd/../../../Post Office Directory

1940/A & H Hill Ltd/../../../Post Office Directory

1944/A & H Hill Ltd/../../../Post Office Directory

1983/../East India Arms, 67 Fenchurch Street EC3 : Young & Co/../../Pub Directory

1991/../East India Arms, 67 Fenchurch Street EC3 : Young & Co/../../Pub Directory



* Provided By Ewan

Search for a pub, an address or person
And Last updated on: Wednesday, 03-Jul-2019 01:19:12 BST