Search my Pub history, pubwiki and London
Railway Tavern, 2 Railway place, St Katherine Coleman EC3
St Katherine Coleman index
The address is sometimes also given as 2 Railway Place, and as 5 New London Street in the 1881 census, but it is the same premises, listed consistently in directories as 2 London Street (which in modern times is still the site of a pub, at 2 New London Street). It is a separate pub from the Blackwall Railway Tavern/Hotel at 7 London Street, even though Frederick Bishop is listed as proprietor of both in the 1890s. Census records appear variously in All Hallows Staining, St Katherine Coleman and St Olave Hart Street. *
A listing of historical London public houses, Taverns, Inns, Beer Houses and Hotels in St Katherine Coleman Street parish, City of London. The St Katherine Coleman, City of London Public House Trade Directory uses information from census, Trade Directories and History to add licensees, bar staff, Lodgers and Visitors.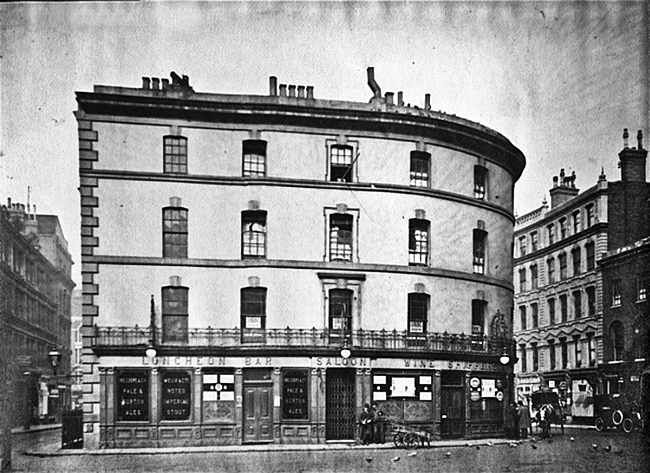 Railway Tavern, 2 Railway Place, St Katherine Coleman
The building on the extreme right may be The Blackwall Railway Hotel.
Kindly provided by Vincent O'Loughlin
Residents at this address
1851/James Forster/Licensed Victualler/35/Brookland, Kent/Census
1851/Mary Ann Forster/Wife/33/Shoreditch, Middlesex/Census
1851/Robert Jas Forster/Son/8/City of London/Census
1851/George Hollard/Visitor, Mster Mariner/37/St Pancras, Middlesex/Census
1851/James Percival/Visitor, Gentleman/45/Gravesend, Kent/Census
1851/Elizabeth Brown/Barmaid/25/Bocking, Essex/Census
1851/Ann Smith/Waitress/33/Westminster, Middlesex/Census
1851/Ann Mash/Cook/33/Blackheath, Kent/Census
1851/Elizabeth Sladen/Assistant/15/Stepney, Middlesex/Census

1861/James Forster/Licensed Victualler/45/Brookland, Kent/Census
1861/Mary A Forster/Wife/43/Hackney, Middlesex/Census
1861/Fanny Coune/Barmaid/23/Hammersmith, Middlesex/Census
1861/Emma S Smith/Barmaid/23/Newington, Surrey/Census
1861/Charles W Bartley/Barman/26/Milton, Kent/Census
1861/Jane Lightfoot/Housemaid/19/City of London/Census
1861/Jessie Fisher/Cook/27/Glasgow, Lanark/Census
1861/John Holdstock/Potman/17/Tenterden, Kent/Census
1861/Walter Fisher/Waiter/24/Hoxton, Middlesex/Census

1869/James Forster/../../../Post Office Directory *

1871/James Forster/Licensed Victualler/55/Brookland, Kent/Census *
1871/Mary A Forster/Wife/52/Hackney/Census
1871/Robert J Forster/Son, Mineral Water Manufacturer/28/Aldgate, London/Census
1871/Henrietta Durrant/Nurse, Widow/47/Kensington/Census
1871/Elizabeth Rhoads/Servant, Widow/35/Bristol/Census
1871/Emily Anderson/Barmaid/21/Lewisham, Kent/Census
1871/Kate Rhein/Barmaid/22/Gloucestershire/Census
1871/Mary A Yetrill/Cook/38/Borough, London/Census
1871/Mary A Regan/Housemaid/?/Walworth Road/Census
1871/Archibald W Caddell/Barman/20/London/Census
1871/Harry C Russell/Boy/14/London/Census
1871/Robert White/Waiter/22/Poplar/Census
1871/Henry Wright/Bottler/17/Bethnal Green/Census
1871/Thomas Lewes/Nephew, Barman/22/../Census

1881/James Meads Porter/Licensed Victualler/41/Chilwell, Nottingham/Census
1881/Louisa Mary Porter/Wife/32/Croydon, Surrey/Census
1881/William Bell/Barman/24/Dudley, Worcester/Census
1881/Alfred Raspison/Barman/22/Gravesend, Kent/Census
1881/John Siegman/Barman/18/St Georges East/Census
1881/Thomas Crouk/Barman/17/Knockholt, Kent/Census
1881/Mary Ann Murray/General Servant/20/St Olaves Southwark/Census
1881/Mary Ann Attenbury/Cook/26/All Hallows London Wall/Census

1882/James Meades Porter/../../../Post Office Directory *

1891/Frederick Bishop/../../../Post Office Directory

1891/Frederick E Bishop/Licensed Victualler/25/London/Census
1891/Henry Hadden/Manager/24/Bridgewater, Somerset/Census
1891/William Belty/Barman/19/London/Census
1891/Walter Smith/Barman/20/London/Census
1891/Edward Eliss/Barman/17/London/Census
1891/Alice Read/Barmaid/26/London/Census
1891/Elizabeth Dingle/Barmaid/20/London/Census
1891/Mary Heldes/Cook/26/London/Census
1891/Emily Smith/Housemaid/23/Exeter, Devon/Census
1891/Henry King/Porter/25/West Rudham, Norfolk/Census
1891/George Chapman/Under Porter/14/Maryland, Essex/Census

1895/Frederick Bishop/../../../Post Office Directory *

1901/William Ingram/Manager/29/Hackney, Middlesex/Census
1901/Emily Ingram/Wife/32/Lambeth, Surrey/Census
1901/William Ingram/Son/5/Mile End/Census
1901/Fred Ingram/Son/3/Forest Gate/Census
1901/Emily Ingram/Daughter/6 months/City, London/Census
1901/William Wareham/Barman/23/Poplar, Middlesex/Census
1901/Fred Boley/Porter/22/Peckham, Surrey/Census
1901/James Styles/Handy Lad/16/Bermondsey, Surrey/Census
1901/Ida Cooper/Barmaid/25/Mellis, Suffolk/Census
1901/Carrie Dowling/Barmaid/20/Croydon/Census
1901/Mary Lander/Barmaid/30/New Zealand/Census
1901/Maude Compass/Barmaid/20/New Cross, Kent/Census
1901/Grace Finn/Housemaid/16/Kentish Town, Middlesex/Census

1911/William Wareham/Public House Manager/35/Poplar, London/Census
1911/Bridget Wareham/Wife, Manageress/32/Falkirk, Scotland/Census
1911/Gertie Jones/Barmaid/23/Westminster, London/Census
1911/William Couchman/Barman/16/Battersea, London/Census
1911/Esther Harris/Servant/31/Ashford, Kent/Census
1911/Nellie White/Servant/18/Stratford, Essex/Census
1911/Mable Osbiurn/Barmaid/27/Camberwell, London/Census
1911/Marie Pollock/Barmaid, Widow/45/Hague, Holland/Census
1911/Sidney Levy/Barman/24/Whitechapel, London/Census
1911/Albert Reynolds/Barman/17/Chadwell Heath, Essex/Census
1911/Albert Cockrill/Barman/20/Stoke Newington, London/Census

1915/Frederick Edward Bishop/../../../Post Office Directory *



* Provided By Ham Baxter

** Provided By Stephen Harris