Search London wiki and Pub wiki history sites
All public house, restaurants, bars etc closed for the forseeable future on 20th March 2020, but this is a history site. But how about the landlords give their tenants a break, no business, then please charge them no rent.
Bulls Head, 80 Leadenhall street, St Katherine Creechurch EC3
St Katharine Creechurch pub history index
This pub was demolished in 1990. **
A listing of historical London public houses, Taverns, Inns, Beer Houses and Hotels in St Katherine Creechurch parish, City of London.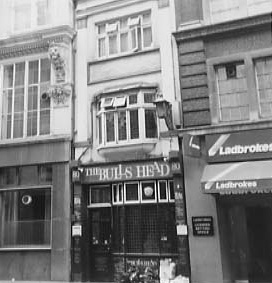 Bulls Head, 80 Leadenhall Street - in 1986
From the Archives of East London & City CAMRA
Residents at this address
1792/Henry Goodman/victualler/../../Sun Fire Office records held at the London Metropolitan Archives *

1805/William Fitch, Bulls Head, 80 Leadenhall street/../../Holdens Directory

1811/Richard Shaw, Victualler, 80 Leadenhall street/../../Holdens Directory

1825/Rich. Hutchinson/../../../Pigot's Directory **

1829/John Wilson/../../../Robsons Directory

1836/John Wilson/../../../Pigot's Directory

1839/Charles Hood/../../../Pigot's Directory **

1841/Charles Hood/../../../P.O. Directory **

1841/Charles Hood/Licensed Victualler/55/../Census
1841/Sarah Hood/../35/../Census
1841/S M Hood/../1/Middlesex/Census
1841/Eliza Driver/Female Servant/27/../Census
1841/Ann King/Female Servant/27/../Census
1841/George Simmer/Errand Boy/14//Census

1843/Charles Hood/../../../Kellys Directory

1848/William Fry/../../../Post Office Directory

1851/William Fry/../../../Kelly's Directory **

1851/William Fry/Licensed Victualler/42/Oldha, Herts/Census
1851/Anne Fry/Wife/39/Petersham, Surrey/Census
1851/Charles W Fry/Son/4/City of London/Census
1851/Ann Marine/House Servant/17/Godalming, Surrey/Census

1852/Charles Hayward/../../../Watkin's Directory **

1856/Chas Hayward/../../../Post Office Directory

February 1861/William Lawrence/Outgoing Licensee/../../London City Press

February 1861/George Bayton/Incoming Licensee/../../London City Press

1861/George Bayton/Licensed Victualler/35/Bristol, Gloucestershire/Census
1861/Mary M Bayton/Wife/21/Clacton, Essex/Census
1861/Vesey Butler/Lodger, Broker/25/Ireland/Census
1861/Elizabeth Butler/Lodgers Wife/23/Ireland/Census
1861/Elizabeth White/Servant/21/Poplar, Middlesex/Census

1862/George Bayton/../../../Post Office Directory

July 1863/James Flynn/Outgoing Licensee/../../Era

July 1863/George Pringle/Incoming Licensee/../../Era

April 1864/Charles Greathead/Outgoing Licensee/../../London City Press

April 1864/Henry Daniel/Incoming Licensee/../../London City Press

1869/H H Billinghurst/../../../Post Office Directory

October 1870/John Billinghurst/Outgoing Licensee/../../London City Press

October 1870/Jack Billinghurst, his brother/Incoming Licensee/../../London City Press

1881/Jack Billinghurst/Licensed Victualler/47/Southwark, Surrey/Census
1881/Jane Billinghurst/Wife, Assistant/49/Midhurst, Sussex/Census
1881/Henry Onslow Billinghurst/Son, Assistant/22/Midhurst, Sussex/Census
1881/Matilda O Billinghurst/Daughter, Assistant/21/Midhurst, Sussex/Census
1881/Anne Billinghurst/Daughter/15/Midhurst, Sussex/Census
1881/James C Billinghurst/Son/12/Midhurst, Sussex/Census
1881/Maud Billinghurst/Daughter/7/London City, Middlesex/Census
1881/Elizabeth Murton/Barmaid/22/Shoreditch, Middlesex/Census
1881/Sarah L Hart/Housemaid/52/Lambeth, Surrey/Census
1881/Edward Whitelaw/Potman/17/Marylebone, Middlesex/Census

1882/Jack Billinghurst/../../../Post Office Directory *

1884/Jack Billinghurst/../../../Business Directory of London **

1886/Jack Billinghurst/../../../Business Directory of London **

1891/Samuel Goldsmith/../../../Post Office Directory

1895/Thomas John Perry Hayward/../../../Post Office Directory *

1899/Arthur Vernon Page/../../../Post Office Directory

1910/Wm Joseph Mabey/../../../Post Office Directory

1914/Mrs Marian Middleditch/../../../Post Office Directory

1915/Mrs Marian Middleditch/../../../Post Office Directory

1921/William J Mabey/../../../Hughes Directory

1926/Patrick & McGregor Ltd./../../../P.O. Directory **

1934/Fras Conlon/../../../Kellys Directory

1938/Fras Conlon/../../../Post Office Directory

1942/Alfred John Cope/../../../Post Office Directory

1944/Copes Taverns Ltd/../../../Post Office Directory

1971/../Bulls Head, 80 Leadenhall Street EC3./../../Pub Directory

1983/../Bulls Head, 80 Leadenhall Street EC3. Free House/../../Pub Directory

1991/../Bulls Head, 80 Leadenhall Street EC3. Pub demolished/../../Pub Directory



* Provided By Ewan

** Provided By Stephen Harris