Search my Pub history, pubwiki and London
Cock, 51 Leadenhall street, St Katherine Creechurch EC3
St Katharine Creechurch pub history index
By 1862, this address has changed from the Cock to the Sussex Tavern.
A listing of historical London public houses, Taverns, Inns, Beer Houses and Hotels in St Katherine Creechurch parish, City of London. The St Katherine Creechurch City of London Public House Trade Directory uses information from census, Trade Directories and History to add licensees, bar staff, Lodgers and Visitors.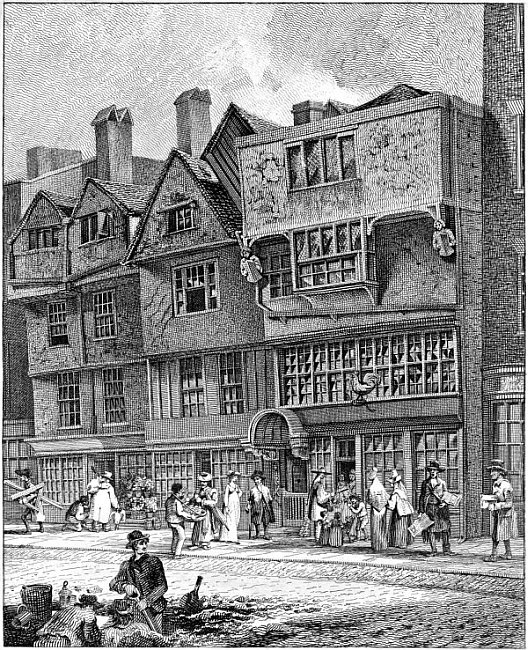 Cock, 51 Leadenhall Street - drawn in 1796
Kindly provided by John Carnaby
Residents at this address
1833-34/Edward Coombe, Cock, 51 Leadenhall street/../../Pigots Directory

1839/Alexander McIntosh/../../../Pigot's Directory **

1841/Joseph Russell/../../../P.O. Directory **

1851/John Bobby/../../../Kellys Directory

1851/John Bobby/Licenseed Victualler/32/Tibenham, Norfolk/Census
1851/Sarrah Ann Bobby/Wife/27/London/Census
1851/Rosanna Bobby/Daughter/3/London/Census
1851/Thomas Bobby/Son/1/London/Census
1851/Richard Bobby/Son/10 days/London/Census
1851/Richard Marks/Father in Law, Licenseed Victualler/55/Portsmouth/Census
1851/Rosanna Marks/Sister in Law/29/London/Census
1851/William Marks/Brother in Law/15/London/Census
1851/Martha Close/Nurse/56/London/Census
1851/Jane Cox/General Servant/22/London/Census
1851/Mary A Nicholas/Nurse Maid/14/London/Census

1852/John Bobby/../../../Watkin's Directory **

1856/William Ogle/../../../Post Office Directory

1861/Henry King/Victualler/34/Lambeth, Surrey/Census
1861/Emma R Richards/Nieve, Boarder/17/St Saviours, surrey/Census
1861/Hannah Sharpe/Cook/32/Palgrave, Norfolk/Census
1861/Joseph Rickwell/Waiter/21/Wickham, Buckinghamshire/Census
1861/Alice Medcalf/Assistant/12/Braintree, Essex/Census

By 1862, this is the Sussex Tavern according to licene transfers.



** Provided By Stephen Harris