Pub history and pub wiki
Three Tuns, 36 Jewry, St Katherine Creechurch, City of London
St Katharine Creechurch pub history index
The pub was present by 1747, and it was rebuilt in its present form in 1939 then re-named Hennessy's in 2003. ** Reverted back to the Three Tuns. ***
A listing of historical London public houses, Taverns, Inns, Beer Houses and Hotels in St Katherine Creechurch parish, City of London. The St Katherine Creechurch City of London Public House Trade Directory uses information from census, Trade Directories and History to add licensees, bar staff, Lodgers and Visitors.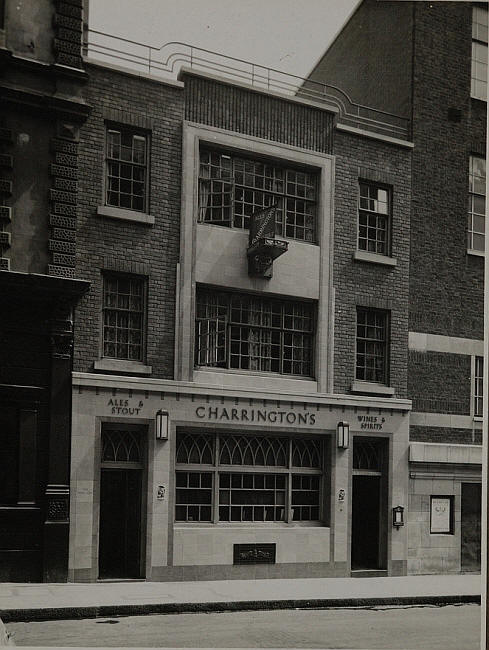 Three Tuns, 36 Jewry Street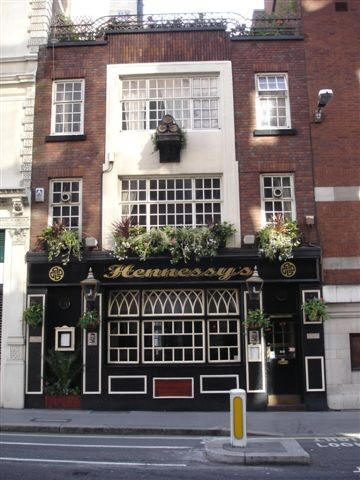 Hennessy's, 36 Jewry Street - in September 2006
Kindly provided by Stephen Harris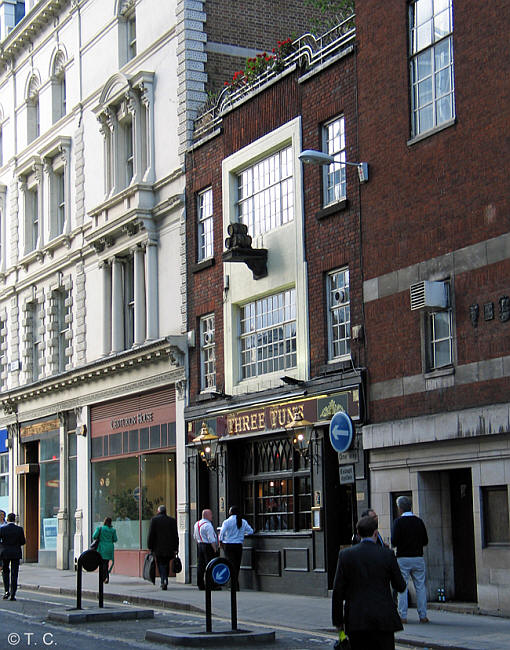 Three Tuns, 36 Jewry Street EC3 - in June 2014
Kindly provided by Tris
The following entries are in this format:
Year/Publican or other Resident/Relationship to Head and or Occupation/Age/Where Born/Source.
1805/D Greenaway, Three Tuns, Jewry street, Aldgate/../../Holdens Directory

1807/Thomas Cross/../../../Sun Fire Office records held at Guildhall Library **

1808/Drummond / Victualler/../../Sun Fire Office records held at Guildhall Library **

1817/Steele / Victualler/../../Sun Fire Office records held at Guildhall Library **

1824/Henry Horne / formerly Innkeeper/../../London Gazette, 3 August 1824 **

1833-34/George William Clifton/../../../Pigots Directory

1839/William Meagre/../../../Pigots Directory

1841/Wm. Meager/../../../P.O. Directory **

February 1847/John Widdicombe/Outgoing Licensee/../../Era

February 1847/William Corcoran/Incoming Licensee/../../Era

1848/Wm C Dunn/../../../Post Office Directory

1851/Mrs Elizh L Dunn/../../../Kellys Directory

1852/Jonathan Lucas/../../../Watkin's Directory **

1855/Charles Finglass/../../../P.O. Directory **

1856/C Finglass/../../../Post Office Directory

1861/John Jarman/Licensed Victualler/48/Bungay, Suffolk/Census
1861/Edwini Jarman/Wife/34/Bermondsey, Surrey/Census
1861/Mary S Jarman/Daughter/4/Limehouse, Middlesex/Census
1861/Emily Jarman/Daughter/8 months/City London/Census
1861/Hannah Murray/Barmaid/28/Rotherhithe, Surrey/Census
1861/Hannah Cosletta/General Servant/18/Ireland/Census

October 1862/John Jarman/Outgoing Licensee/../../Morning Post

October 1862/Laurent Montebruno/Incoming Licensee/../../Morning Post

1863/Laurent Montebruno / Landlord/../../Proceedings of the Old Bailey **
1863/Frederick Smith / Waiter/../../Proceedings of the Old Bailey **

April 1864/Laurent Montebruno/Outgoing Licensee/../../London City Press

April 1864/William Jones/Incoming Licensee/../../London City Press

1869/William Jones/../../../Post Office Directory

1876/William Jones/../../../P.O. Directory **

1881/William Jones/Licensed Victualler/56/Bicester, Oxford/Census
1881/Rachel Jones/Wife/50/High Wycombe, Buckingham/Census
1881/Henry Wm Jones/Stepson/26/Bicester, Oxford/Census
1881/Frederick P Jones/Son/18/Bicester, Oxford/Census
1881/Edith Ethel Jones/Daughter/11/Aldgate, Middlesex/Census
1881/William James Jones/Nephew, Licensed Vitualler, Widow/27/Aldgate, Middlesex/Census
1881/Samuel A Pratt/Servant/20/Aldgate, Middlesex/Census

1882/William Jones/../../../Post Office Directory *

1884/William Jones/../../../Post Office Directory

1891/William Jones/../../../Post Office Directory

1895/Mrs Rachel Jones/../../../Post Office Directory *

1899/John Sindell/../../../Post Office Directory

1910/John Sindell/../../../Post Office Directory

1915/Mrs Kate A. Sindell/../../../Post Office Directory *

1921/Mrs Kate A Herbert/../../../P.O. Directory **



* Provided By Ewan

*** Provided By Tris

Provided By Kevan
Search for a pub, an address or person
And Last updated on: Wednesday, 03-Jul-2019 01:19:16 BST