Monument, 48 Fish street hill, St Leonard Eastcheap EC3
The street numbering has changed, but the Pub remains in a more modernised form *** After a small gap in the mid 1880s, the address alters to 60 King William street.
A listing of historical London public houses, Taverns, Inns, Beer Houses and Hotels in St Leonard Eastcheap parish, City of London. The St Leonard Eastcheap, City of London Public House Trade Directory uses information from census, Trade Directories and History to add licensees, bar staff, Lodgers and Visitors.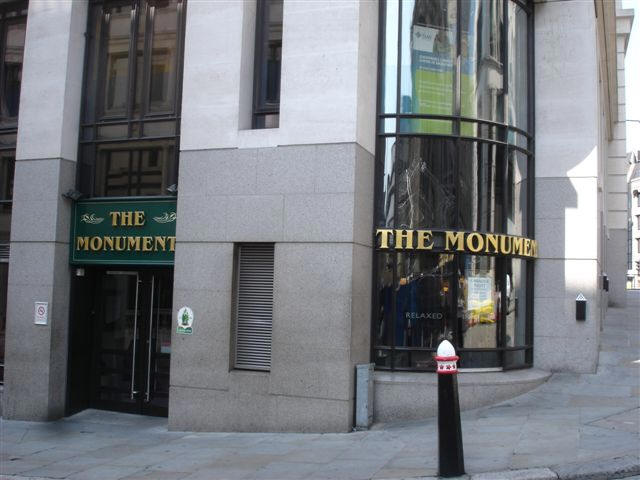 Monument, 18 Fish Street Hill, EC3 - in August 2007
Kindly provided by Stephen Harris
Year/Publican or other Resident/Relationship to Head and or Occupation/Age/Where Born/Source.
1805/Thomas Nathan, Monument, Little Eastcheap/../../Holdens Directory

1811/John Fuller, the Monument, Little Eastcheap/../../Holdens Directory

1827/John Marchant, Monument, 1 Little Eastcheap, City/../../Pigots Directory

1829/J Marchant/../../../Robsons Directory

1833-34/John Marchant/../../../Pigot's Directory

1836/John Marchant/../../../Pigot's Directory

1839/John Marchant/../../../Pigot's Directory *

1841/Mrs Jane Marchant/../../../Post Office Directory *

1842/Jane Marchant/../../../Robson's Directory *

1841/Isaac Worley/Hotel Keeper/60/Middlesex/Census
1841/Eliza Worley/../25/Middlesex/Census
1841/Mary Backhouse/Female Servant/15/../Census
1841/Jane Wolley/Female Servant/55/../Census
1841/Mary Harris/../9/Middlesex/Census

1843/Isaac Worley/../../../Kellys Directory

1848/James Robert Egan/../../../Post Office Directory *

1851/James Robert Egan/../../../Post Office Directory *

1851/James Robert Egan/Licensed Victualler/33/Rotherhithe, Surrey/Census *
1851/Mary G. Egan/Wife/31/Dover, Kent/Census
1851/James Egan/Son/3/St Leonard Eastcheap, London/Census
1851/Thomas B. Egan/Son/1/St Leonard Eastcheap, London/Census
1851/Caroline Smith/House Servant/16/Cripplegate, Middlesex/Census
1851/Thomas James Lay/Pot Boy/14/Shoreditch, Middlesex/Census

December 1851/Henry Death/Outgoing Licensee/../../Era

December 1851/Robert Eagen/Incoming Licensee/../../Era

1856/James Robert Egan/../../../Post Office Directory *

1861/Mary Egan/Licensed Victualler, Widow/42/Deal, Kent/Census
1861/Annie Egan/Daughter/7/London/Census
1861/Barnett Paul/Boarder, Clerk Wine Merchant/21/Dover, Kent/Census
1861/Rachel Dupree/House Servant, Widow/47/Mile End, Middlesex/Census
1861/Thomas Ellis/Cellarman/20/Newington, Surrey/Census
1861/Esther Bear/Barmaid/18/Bermondsey, Surrey/Census
1861/Martha Paul/Visitor, Fundholder/66/Rotherhithe, Surrey/Census

July 1861/Mary Garnham Egan/Outgoing Licensee/../../London City Press

July 1861/Mary Graham Egan/Outgoing Licensee/../../Era

July 1861/Henry Parkman/Incoming Licensee/../../London City Press

July 1861/Henry Portman/Incoming Licensee/../../Era

1869/Hy Parkman/../../../Post Office Directory

1881/Frederick Dew/Licensed Victualler/50/Thorpe, Norfolk/Census
1881/Alice Mayer/Niece, Victualler Manageress/27/Hoxton/Census
1881/Lydia Dew/Domestic Servant/30/Bow/Census
1881/Mary Butler/Barmaid/28/Stepney/Census
1881/Maria Greggs/Barmaid/27/Newton, Suffolk/Census
1881/Thomas Carbate/Potman/33/Bayswater/Census
1881/Sarah Howse/Cook, Widow/31/Bethnal Green/Census

1882/Frederick Dew/../../../Post Office Directory

1883/Frederick Dew/../../../Post Office Directory

Monument Tavern, 60 King William street :

1886/Bertie Lawrence Gilling/../../../Post Office Directory

1901/Bertie Lawrence Gilling/../../../Post Office Directory

1904/Frederick William Trew/../../../Post Office Directory

1910/Pioneer Catering Co Ltd/../../../Post Office Directory

1911/William Hearn/Manager Public House/39/Bermondsey, Surrey/Census
1911/Florence Ann Hearn/Wife, Assistant/30/Croydon, Surrey/Census
1911/Michael Miley/Cellerman/23/Monaghan, Carrickmacross/Census
1911/Alice Volley/Barmaid/25/Blackheath, Kent/Census
1911/Nellie Maddicks/Barmaid/28/Islington, Middlesex/Census
1911/Kate Cowell/Cook/42/London, Middlesex/Census
1911/Adelaide Rosina Adlington/Housemaid/24/Southwark, Surrey/Census
1911/Henry Guy/Barman/25/Weymouth, Dorset/Census
1911/David Maynard/Barman/19/Middlesex/Census
1911/Thomas James Atkins/Barman/23/Prittlewell, Essex/Census

1921/Benjamin Levy/Monument, Monument chambers, King William street EC/../../Hughes Directory

1934/Pioneer Catering Co Ltd/../../../Post Office Directory

1940/Pioneer Catering Co Ltd/../../../Post Office Directory

1944/Pioneer Catering Co Ltd/../../../Post Office Directory

1971/../Monument, 60 King William street EC4/../../Pub Directory

1983/../Monument Tavern, 60 King William street EC4 : Allied Breweries/../../Pub Directory

1991/../Monument Tavern, 60 King William street EC4 : Fullers. Pub demolished/../../Pub Directory



* Provided By Ewan

*** Provided By Stephen Harris