Search London wiki and Pub wiki history sites
All public house, restaurants, bars etc closed for the forseeable future from 20th March 2020, but this is a history site.
Kings Head, 49 Chiswell street, St Luke EC1
St Luke pub history index
The Kings Head in Chiswell street is also known as the Brewery Tap, 65 Lower Whitecross Street in 1881; This pub was rebuilt in 1860 - it was technically the 'Brewery Tap' for Whitbread's Brewery which stood next door. The pub closed on 24 February 2008 for conversion to a hotel. ***
Following renovation, this venture reopened in 2011 as a pub called the Jugged Hare with a restaurant to the rear. *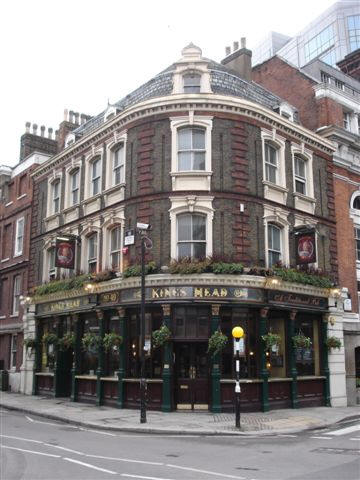 Kings Head, 49 Chiswell Street, EC1 - in October 2006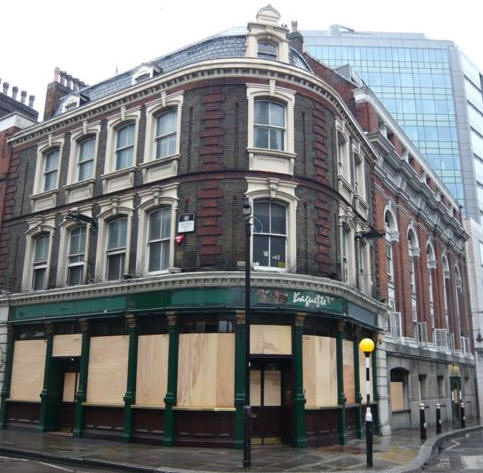 Kings Head, 49 Chiswell Street, EC1 - in March 2008
Both kindly provided by Stephen Harris
Residents at this address.
1796/Peter Wilson/../../../Proceedings of the Old Bailey

1825/Mr Wilson, Kings Head, Chiswell street /../../Licensed Victuallers Association

1829/W Wilson, Kings Head, 49 Chiswell street/../../Robsons Directory

1837/William Wilson / Victualler /../../Sun Fire Office records held at Guildhall Library **

1841/William Wilson, Kings Head, 49 Chiswell street/../../Post Office Directory ***

1845/William Wilson/../../../Post Office Directory **

1851/William Wilson/../../../Post Office Directory

1851/William Wilton/Licensed Victualler/69/Rippon, Yorkshire/Census
1851/Hetty Isabell Wilton/Wife/62/St James Palace/Census
1851/Hetty Isabell Wilton/Daughter/35/St Lukes/Census
1851/Robert Acton Wilton/Son, Sculptor/30/St Lukes/Census
1851/Harriett Hetty Wilson/Grand Daughter/10/Christchurch, Surrey/Census
1851/Ann Wilson/Nurse, Widow/62/Bethnal Green/Census
1851/Ann Matilda West/Waitress/21/Lambeth/Census
1851/Margaret Murphy/Housemaid/22/Ireland/Census
1851/John Robinson/Potboy/19/Bethnal Green/Census

1852/William Wilson/../../../Watkins Directory ***

1851/Mrs Hetty Isabella Wilson/../../../Post Office Directory

1856/Mrs H I Wilson/../../../Post Office Directory

1861/Hetty Isabella Wilson/Licensed Victualler, Widow/72//Census
1861/Harriet Wilson/GrandDaughter/20/Christchurch, Surrey/Census
1861/William Wilson/Grandson/18/Christchurch, Surrey/Census
1861/Emma Wilson/Grand Daughter/16/Shoreditch, Middlesex/Census
1861/Ann Wilson/Servant, Widow, Cook/72/Bethnal Green, Middlesex/Census
1861/Catherine Donahue/General Servant/25/Ireland/Census
1861/James Bowers/Potman/34/Bethnal Green, Middlesex/Census

1862/Mrs Hetty I Wilson/../../../Post Office Directory ***

March 1866/Owen Morey/License renewal/../Clerkenwell News

1869/Mrs Martha Saunders/../../../Post Office Directory ***

February 1872/M Saunders/Outgoing Licensee/../../Era

February 1872/Har Taylor/Incoming Licensee/../../Era

1876/Harry William Taylor/../../../Post Office Directory ***

1879/Harry William Taylor/../../../Post Office Directory ***

1880/Harry William Taylor/../../../Post Office Directory ***

1881/Harry W Taylor/Wine + Spirit Merchant/38/Herne, Suffolk/Census
1881/Eliza Taylor/Wife/39/Bury St Edmunds, Suffolk/Census
1881/Harry J Taylor/son/6/St Lukes, Middlesex/Census
1881/Lizzie Lees/Niece/17/Stonewell, Stafford/Census
1881/Hannah Debenham/Visitor, Draper/72/Bottingale, Suffolk/Census
1881/Mary A Rudkin/Barmaid/28/London, Middlesex/Census
1881/Robert Turner/Barman/21/London City, Middlesex/Census
1881/Louisa Clapp/Barmaid/17/Tiverton, Devon/Census
1881/Margaret Ross/Cook, Widow/61/London City, Middlesex/Census
1881/Henry Jeffreys/Potman/19/Shoreditch, Middlesex/Census

1882/Harry William Taylor/../../../Post Office Directory ***

1884/Harry W Taylor/../../../Post Office Directory ***

1885/Harry William Taylor/../../../Post Office Directory ***

1889/Harry William Taylor/../../../Post Office Directory ***

1891/Harry William Taylor/../../../Post Office Directory ***

1892/Harry William Taylor/../../../Post Office Directory **

1895/Harry William Taylor/../../../Post Office Directory ***

1899/Harry William Taylor/../../../Post Office Directory

1900/Harry William Taylor/../../../Post Office Directory ***

1901/Alice Leech/Head Barmaid/25/Tendring, Essex/Census
1901/Elizabeth Unwin/Barmaid/26/Stepney, London/Census
1901/Jessie Corry/Barmaid/20/Pimlico, London/Census
1901/Jane Johnson/Cook/30/Blackfriars, London/Census
1901/Frederick Clarke/Potman/22/St James, London/Census
1901/Alfred Pope/Barman/27/Kilburn, Middlesex/Census
1901/Mary Klenbarfor/Housemaid/18/Brighton, Sussex/Census

1904/Harry William Taylor/../../../Post Office Directory **

1910/Harry William Taylor/../../../Post Office Directory

1921/Improved Public House Co Ltd/../../../Post Office Directory

1927/Improved Public House Co Ltd/../../../Post Office Directory

1934/Improved Public House Co Ltd/../../../Kelly Directory

1944/Improved Public House Co Ltd/../../../Post Office Directory



* Provided by Tris

** Provided by Peter Gamble

*** Provided By Stephen Harris

Provided By Kevan