Search London wiki and Pub wiki history sites
All public house, restaurants, bars etc closed for the forseeable future from 20th March 2020, but this is a history site.
City Arms, 271 & 273 City road, St Luke EC1
The address is Andersons Buildings, City Road in 1856 and earlier (also listed as Bridge Place, City Road in the 1839 Directory), prior to street renumbering. Not to be confused with the City Arms at 150 City Road. *
By the early 1980s it was trading as the 'Stick & Weasel' and in 2006 it was renamed 'Offside'. In 2011 this pub was renamed the New Red Lion. ** Closed circa 2012 and converted into a branch of the Co-op in 2014. *+
St Luke pub history index
A listing of historical London public houses, Taverns, Inns, Beer Houses and Hotels in St Luke parish of London, Middlesex - now in East London. The St Luke parish of London listing uses information from census, Trade Directories and History to add licensees, bar staff, Lodgers and Visitors.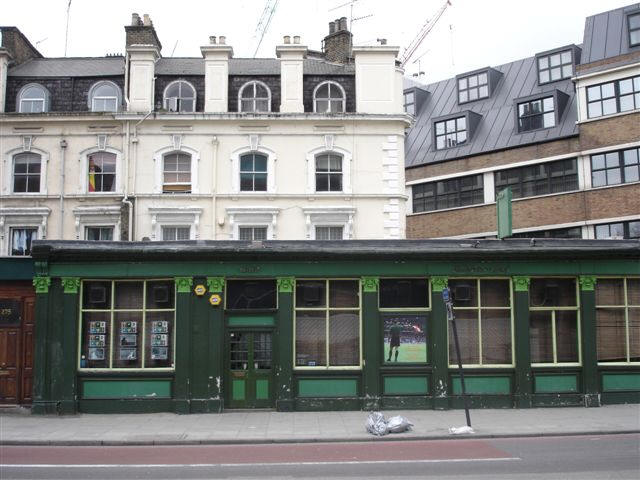 City Arms, 273 City Road - in March, 2007
Kindly provided by Stephen Harris
Residents at this address.
1789/Mr Blackburn/victualler/../../Sun Fire Office records held at the London Metropolitan Archives *

1808/Richard & Samuel Howard / Victuallers /../../Sun Fire Office records held at Guildhall Library **

1808/John Howard / Victualler /../../Sun Fire Office records held at Guildhall Library **

1809/Elizabeth Howard / Victualler /../../Sun Fire Office records held at Guildhall Library **

1814/Robert Howard / Victualler /../../Sun Fire Office records held at Guildhall Library **

1816/Elizabeth Howard / Victualler /../../Sun Fire Office records held at Guildhall Library **

1820/Robert Howard / Victualler /../../Sun Fire Office records held at Guildhall Library **

1821/Robert Howard / Victualler /../../Sun Fire Office records held at Guildhall Library **

1822/Robert Howard / Victualler /../../Sun Fire Office records held at Guildhall Library **

1823/Robert Howard/../../../Proceedings of the Old Bailey **

1824/Robert Howard / Victualler /../../Sun Fire Office records held at Guildhall Library **

1825/Mr Howard, City Arms, City road/../../Licensed Victuallers Association

1829/John Howard, William Howard, Richard Howard, Samuel Howard, Robert Howard & John Jones / Victuallers /../../Sun Fire Office records held at Guildhall Library **

1833-34/Rachael Jones, City Arms, Andersons buildings, City road/../../Pigots Directory

1839/John Pettinger/../../../Pigotís Directory **

1842/John Pettinger/../../../Robsonís Directory **

1848/Mrs Ann Caudwell/../../../Post Office Directory *

1851/Ann Caudwell/../../../Finsbury Petty Sessions

1851/Mrs Ann Caudwell/../../../Kellys Directory

1852/John Boorman/../../../Watkins Directory **

1856/Erasmus Lawrence/../../../Post Office Directory

1862/Erasmus Lawrence/../../../Post Office Directory **

March 1866/Erasmus Lawrence/License renewal/../Clerkenwell News

1869/E Lawrence/../../../Post Office Directory

July 1869/E Lawrence/Outgoing Licensee/../../Era

July 1869/Charles James/Incoming Licensee/../../Era

1871/Charles James/Victualler/61/Hackney, Middlesex/Census
1871/Sarah James/Wife/57/Hackney, Middlesex/Census
1871/John H James/Son/19/Hackney, Middlesex/Census
1871/Stephen Sutton/Barman/23/Chobham, Surrey/Census
1871/Thomas Dymock/Barman/30/Cripplegate, City/Census
1871/John Turner/Potman/21/Thetford, Suffolk/Census
1871/Jane Williams/General Servant/30/Louth, near Boston/Census

1881/Thomas Musgrove/Publicians Manager/32/Braintree, Essex/Census
1881/George Kemp/Barman/21/Plumstead, Kent/Census
1881/Benjamin Webb/Barman/21/Clapton, Middlesex/Census
1881/Ann Wood/Servant Domestic, Widow/39/Kensington, Middlesex/Census

1882/Thomas Musgrave/../../../Post Office Directory

1883/Chas Joseph James/../../../Post Office Directory **

1884/Charles J James/../../../Business Directory of London **

1886/Charles J James/../../../Business Directory of London **

1891/Henry Turner/../../../Post Office Directory

1892/Henry Turner/../../../Post Office Directory **

1895/Henry Turner & Sons/../../../Post Office Directory

1899/William Binfield/../../../Post Office Directory

1902/William Binfield/../../../Post Office Directory **

1910/Maurice Wiltshire Gregory/../../../Post Office Directory

1915/Frederick Geo Backlog/../../../Post Office Directory

1921/Joseph Rondan/../../../Hughes Directory

1922/Claude Milton Chappell/../../../London Gazette, 12 May 1922 **

1933/James Arthur Bonnor / Licensed Victualler /../../London Gazette, 10 November 1933 **

1934/James Arthur Bonnor/../../../Kellys Directory

1938/Edgar Rd Foskett/../../../Post Office Directory

1944/Edgar F. C. Foskett/../../../Post Office Directory *



* Provided By Ewan

*+ Provided By Tris

** Provided By Stephen Harris