Search London wiki and Pub wiki history sites
All public house, restaurants, bars etc closed for the forseeable future on 20th March 2020, but this is a history site. But how about the landlords give their tenants a break, no business, then please charge them no rent.
The Perseverance, 106 Ironmonger row, St Luke EC1
The address is 3 Pitmans Buildings in 1871 and earlier, prior to street renaming. * This pub had closed by 1934, by which time the premises were in use as a cafe. **
St Luke pub history index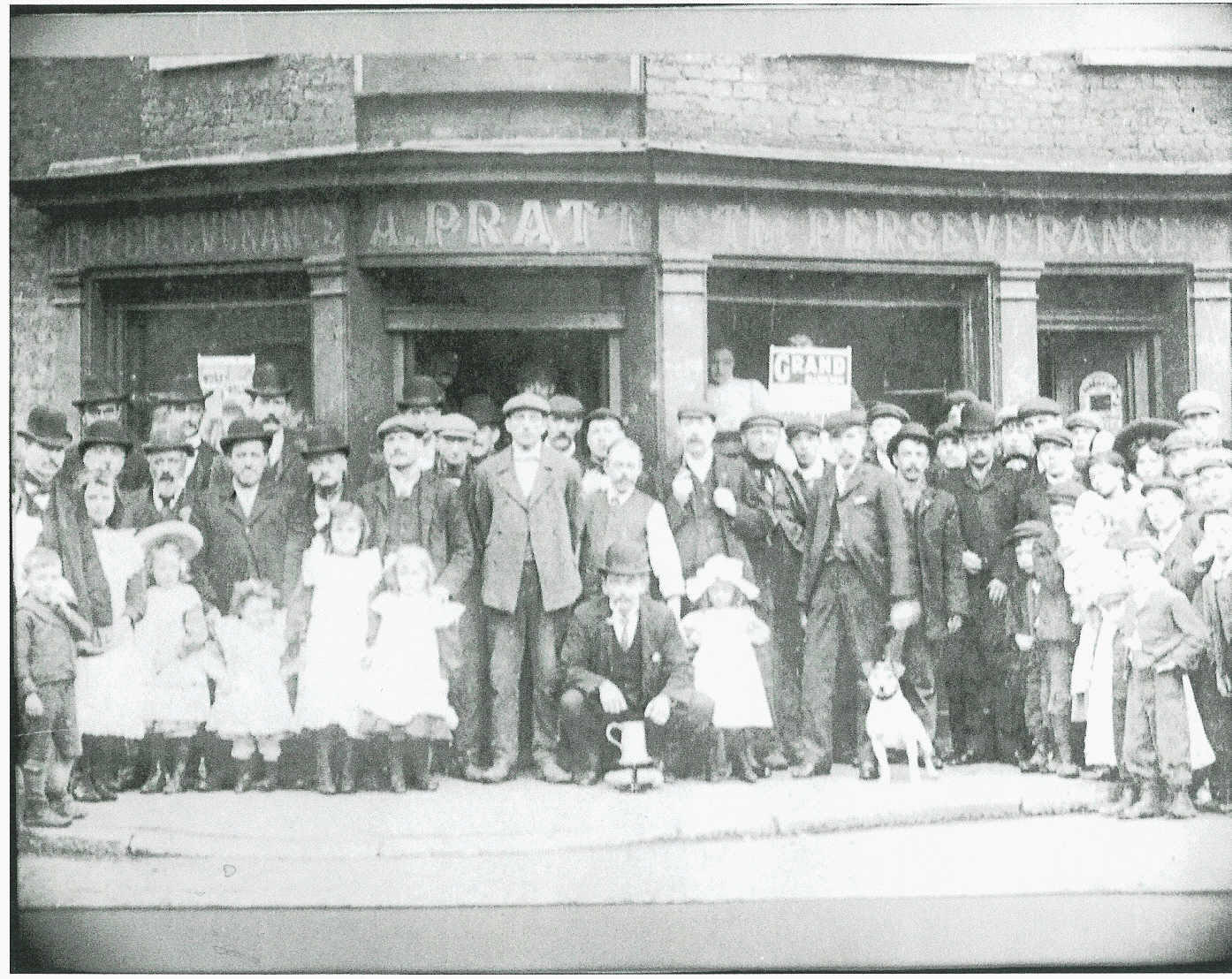 A family photograph that belongs to my grandmother (nee Pratt) We have dated the photograph to around 1910. My grandmother says that she was inside the pub when the picture was taken (yes she will be 100 years old this December - 2006) and it was taken after a boxing match she thinks. The name A Pratt above the door is in reference to William Charles Pratt's mother. The pub belonged to his father William Pratt and he died in 1883 and left his estate to Anne Pratt. William Charles Pratt died in 1910. ***
Photograph kindly provided by Nicola Norton
Residents at this address.
1848/Henry Osborn/beer retailer/../../Post Office Directory *

1856/Stephen Hall/beer retailer/../../Post Office Directory *

1861/Stephen Hall/Beer Seller/61/Elvetham, Hampshire/Census
1861/Ann Hall/Wife/56/Brentford, Middlesex/Census
1861/James Tune/Boarder, Porter/57/Isle of Wight, St Helens/Census

1869/William Pratt/beer retailer/../../Post Office Directory *

Perseverance, 3 Pitmans buildings :
1871/William Pratt/Beer Seller/36/Dunmow, Essex/Census
1871/Isaac Golledge/Boarder/17/St Leonards, Shoreditch/Census

1871/Mrs Pratt/Beer Seller, Married/34/Caundle, Hampshire/Census
1871/Charles Pratt/Son/7/St Lukes, Middlesex/Census
1871/Annie Pratt/Daughter/4/St Lukes, Middlesex/Census
1871/Kate Pratt/Daughter/1/St Lukes, Middlesex/Census
1871/Alice Coote/Visitor/16/Newberry, Berkshire/Census
1871/William Pratt/Visitor/70/Dunmow, Essex/Census

1877/William Pratt / Beerhouse Keeper /../../Proceedings of the Old Bailey **

1881/William Pratt/Beer Seller/46/Dunmow, Essex/Census
1881/Anne Pratt/Wife/46/Heartley Row, Hampshire/Census
1881/William C Pratt/Son/16/St Lukes, Middlesex/Census
1881/Annie F Pratt/Daughter/13/St Lukes, Middlesex/Census
1881/Isabel H J Pratt/Daughter/11/St Lukes, Middlesex/Census
1881/Robert Allen/Potman/36/Ashensworth, Hampshire/Census
1881/Margaret A Shaw/Sewrvant/17/Stafford, Stafford/Census

1882/William Pratt/Beer Retailer/../../Post Office Directory

1887/Mrs Ann Pratt / Beer Retailer /../../P.O. Directory **

1891/Mrs Ann Pratt/Beer Retailer/../../Post Office Directory

1891/Ann Pratt/Publican, Widow/55/Farnham, Surrey/Census
1891/Charles Pratt/Son/26/St Lukes, Middlesex/Census
1891/Annie F Pratt/Daughter/23/St Lukes, Middlesex/Census
1891/Kate Pratt/Daughter/21/St Lukes, Middlesex/Census
1891/Maria Johnson/Cook, Widow/53/Cardiff/Census

1895/Mrs Ann Pratt/Beer Retailer/../../Post Office Directory

1899/Mrs Ann Pratt/Beer Retailer/../../Post Office Directory

1901/Ann Pratt/Beer House Keeper, Widow/55/Netley, Hampshire/Census
1901/Kate Pratt/Daughter, Assistant/31/St Lukes, London/Census
1901/Eliza Waymark/General Servant, Widow/47/Hoxton, London/Census
1901/James Wateridge/Potman/20/Hoxton, London/Census

1910/William Chas Pratt/Beer Retailer/../../Post Office Directory

1911/Charlotte Esther Pratt/Beer Retailer, Widow/31/Lambeth, London/Census
1911/William Frederick Pratt/Stepson/17/Islington, London/Census
1911/Sidney John Pratt/Stepson/14/Islington, London/Census
1911/Violet Victoria Pratt/Step Daughter/10/Islington, London/Census
1911/Florence Ada Minnie Pratt/Daughter/4/Finsbury, London/Census
1911/Elizabeth Emma Bewer/Domestic Servant/19/Hoxton, London/Census
1911/Edward George Arris/Potman/61/Lambeth, London/Census

1915/Tom Jales/Beer Retailer/../../Post Office Directory

1921/Tom Jales/Beer Retailer/../../Post Office Directory



* Provided By Ewan

** Provided by Stephen Harris

*** Provided by Nicola Norton

Provided By Kevan