Search London wiki and Pub wiki history sites
All public house, restaurants, bars etc closed for the forseeable future from 20th March 2020, but this is a history site.
Oakley Arms, 32 Hall street, City road EC1
The address is 22 Hall Street in 1921 and earlier, prior to street renumbering. In earlier directories, the name is spelled as the Oakeley Arms. * At the c/o James Street & New Charles Street in 1881; and later at 22 Hall Street by 1884; The pub remains open and was renamed Jack Beard's in 1999 ** Closed circa 2011 and demolished in 2013. *+
St Luke pub history index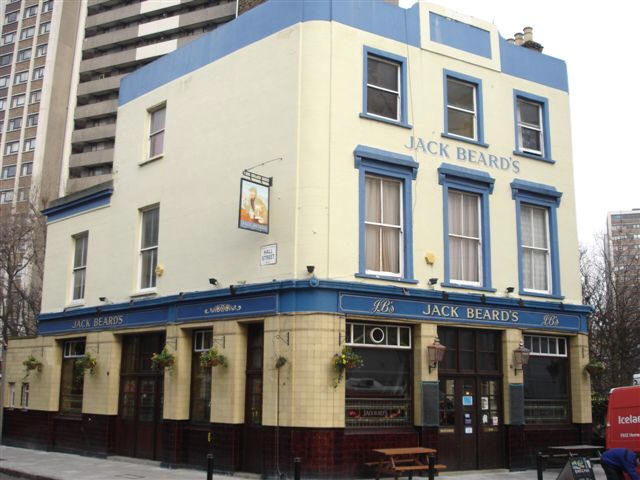 Oakley Arms, 32 Hall Street - in December 2006
Kindly provided by Stephen Harris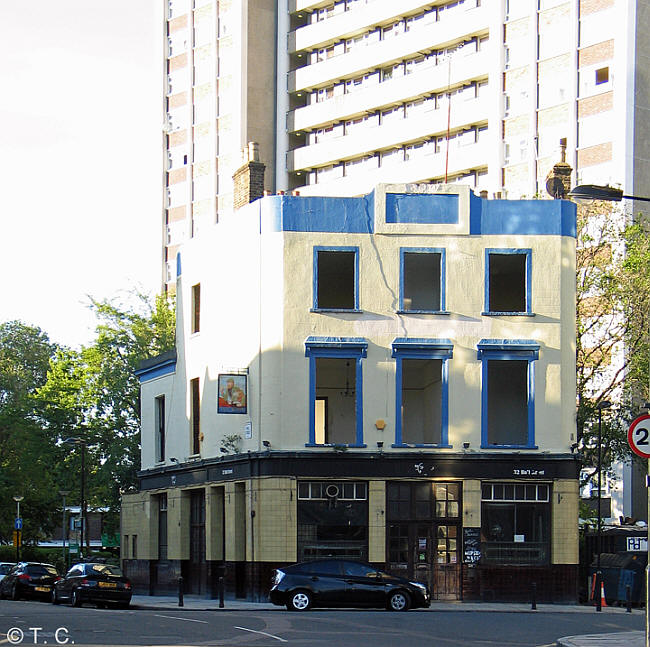 Oakley Arms, 22 Hall Street, EC1 - in February 2014
Kindly provided by Tris
Residents at this address.
September 1853/Thomas James Phillips/ Outgoing Licensee /../../The Era

September 1853/John Edmunds/ Incoming Licensee /../../The Era

1856/John Edmunds/../../../Post Office Directory *

1866/George Robert Linford/../../../P.O. Directory **

March 1866/James Bennett/License renewal/../Clerkenwell News

1869/James Bennett/../../../Post Office Directory

1871/James Bennett/Licensed Victualler/50/Maidstone, Kent/Census
1871/Caroline Bennett/Wife/49/East Malling, Kent/Census
1871/Ann Burgess/Aunt, Widow/78/Sussex/Census
1871/William Mitchell/Son in Law, Mercantlie Clerk/30/Clerkenwell, London/Census
1871/Caroline Mitchell/Grand Daughter/9 months/St Lukes, London/Census
1871/Charlotte Hooker/Niece, Barmaid/17/Lambeth, London/Census
1871/John Evans/Potman/20/Bethnal Green, London/Census

1879/Oswald Halliwell/../../../P.O. Directory **

1881/Oswald Joseph Halliwell/Publican/43/Holloway, Middlesex/Census
1881/Eliza Sophia Halliwell/Wife/36/Bryanston/Census
1881/Oswald Henry Halliwell/Son/10/Buckingham St Wing/Census
1881/Alice Louisa Halliwell/Daughter/7/Buckingham St Wing/Census
1881/Frank Edward Halliwell/Son/4/Albany St Regents Park/Census
1881/Infant Halliwell/Daughter/6 days/St Lukes/Census
1881/Julia Elizabeth Brown/Wifes Sister/37/London, Middlesex/Census
1881/Elizabeth Mary Webb/Barmaid/18/Fulham, Middlesex/Census
1881/James Cave/Potman/24/Richmond, Surrey/Census
1881/Sarah Laing/Nurse/47/Frasthorpe, Norfolk/Census

1882/Oswald Halliwell/../../../Post Office Directory *

1884/Oswald J Halliwell/../../../Post Office Directory

1885/Oswald Joseph Halliwell / Public House Keeper /../../Proceedings of the Old Bailey **

1891/Richard Blunden/../../../Post Office Directory

1895/Richard Blunden/../../../Post Office Directory

1899/Charles Baxter/../../../Post Office Directory

1901/Charles Baxter/Licensed Victualler/33/Limehouse, London/Census
1901/Alice S E Baxter/Wife/27/Poplar, London/Census
1901/Maud A Baxter/Daughter/2/St Luke, London/Census
1901/Thomas Pearce/Barman/26/Lambeth, London/Census
1901/Thomas Maynard/Barman/20/Beckenham, Kent/Census
1901/Florence E A Burton/Barmaid/26/Kilburn, London/Census
1901/Annie Willis/Barmaid/22/East Moors, Wales/Census
1901/Elizabeth A Cooper/Cook/28/Marylebone, London/Census
1901/Florence Ellins/Domestic Servant/21/Kensington, London/Census

1910/John Frost White/../../../Post Office Directory

1915/John Frost White/../../../Post Office Directory *

1921/William O. Holmes/../../../Hughes Directory *

1934/Mrs Louisa Yell/../../../Kellys Directory

1938/Mrs Louisa Yell/../../../Post Office Directory

1944/Harry Geo Miller/../../../Post Office Directory

1950/Mrs & Mrs J W McGuinness/../../../Black Eagle Journal ***



* Provided By Ewan

*+ Provided By Tris

** Provided By Stephen Harris

*** Provided by Alex Wilkinson