Search London wiki and Pub wiki history sites
All public house, restaurants, bars etc closed for the forseeable future from 20th March 2020, but this is a history site.
Old Rodneys Head, 12 Old street EC1
The address is 4 Old Street in 1856 and earlier, prior to street renumbering. * aka Rodneys Head before 1895; This pub is now closed and the premises are in use as a charity's HQ offices ***
St Luke pub history index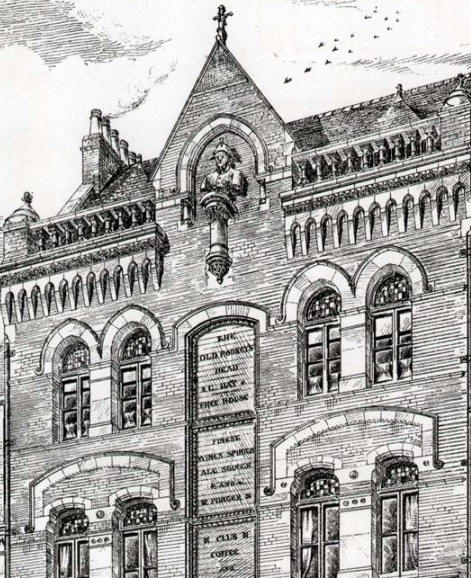 Old Rodneys Head in 1879, the statue of Nelson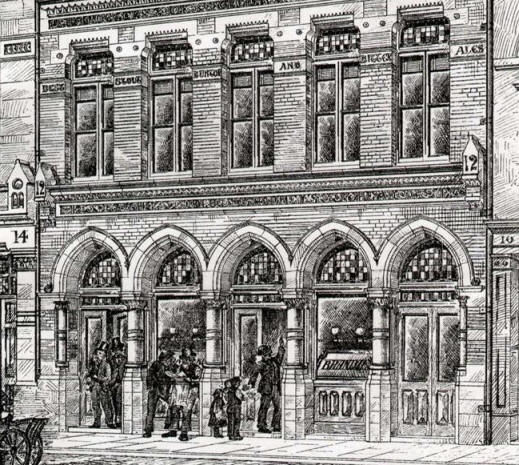 Old Rodneys head, 12 Old Street in 1879
Kindly provided by Colleen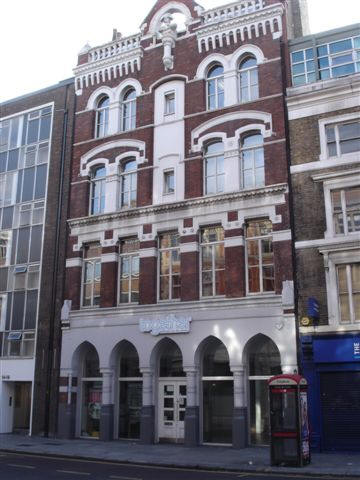 (Old) Rodney's Head, 12 Old Street, EC1 - in November 2007
Kindly provided by Stephen Harris
Residents at this address.
1794/Nathaniel Goddin / Victualler /../../Sun Fire Office records, held at Guildhall Library **

1811/William Walker, Rodneys Head, 4 Old street/../../Holdens Directory

1825/Mr Tapscott, late of the Rodneys Head, Old street/../../Licensed Victuallers Association

1829/W Cowing, Rodneys Head, 4 Old street, St Lukes/../../Pigots Directory

1832/William Pulsford/Rodneys Head, 4 Old street/../../Robsonís Directory

1833-34/William Pulsford, Rodneys Head, 4 Old Street/../../Pigots Directory

1839/Joseph Ramsden/../../../Pigotís Directory **

1842/Thomas Harding/../../../Robsonís Directory **

1844/Thomas Harding/../../../Thompsons Directory **

1848/James Roberts/../../../Post Office Directory *

1851/James Roberts/../../../Post Office Directory

1851/James Roberts/../../../Finsbury Petty Sessions

1851/James Roberts/Licensed Victualler/31/Bethnal Green, Middlesex/Census
1851/Jane Roberts/Wife/28/Bethnal Green, Middlesex/Census
1851/James Roberts/Son/8/Bethnal Green, Middlesex/Census
1851/Henry Roberts/Son/2/Saint Luke, Middlesex/Census
1851/Allice Christmas/Servant/16/Clerkenwell, Middlesex/Census

1856/James Roberts/../../../Post Office Directory *

1861/James Roberts/Victualler/40/Middlesex/Census
1861/Jane Roberts/Wife/39/Middlesex/Census
1861/James Roberts/Son, Barman/18/Middlesex/Census
1861/Selina Roberts/Daughter/3/St Lukes, Middlesex/Census
1861/Elizabeth Roberts/Boarder/75/Gloucestershire/Census
1861/Elizabeth Weatherley/Bar Woman/29/Chiswick/Census
1861/Ruth Clemetson/Widow/40/St Sepulchre/Census
1861/Charles Beach/Potman/23/Middlesex/Census

September 1864/Charles Barrett/Outgoing Licensee/../../Era

September 1864/Robert Dean/Incoming Licensee/../../Era

March 1866/Robert Dean/License renewal/../Clerkenwell News

July 1867 /Robert Dean/Outgoing Licensee/../../Era

July 1867 /Ann Elizabeth Webb/Incoming Licensee/../../Era

1869/Mrs Anne E Webb/../../../Post Office Directory

1871/Ann Elizabeth Webb/Licensed Victualler, Widow/60/Wormley, Hampshire/Census
1871/Mary Webb/Daughter, Assistant/30/Royden, Essex/Census
1871/William Webb/Son, Assistant/31/Royden, Essex/Census
1871/Clara Webb/Daughter, Assistant/28/Royden, Essex/Census
1871/John Webb/Son, Assistant/26/Royden, Essex/Census
1871/Fanny Webb/Daughter, Assistant/23/Royden, Essex/Census
1871/Henrietta Webb/Daughter, Assistant/20/Royden, Essex/Census
1871/Florence Webb/Daughter, Assistant/17/Royden, Essex/Census
1871/Ellen Webb/Daughter, Assistant/15/Royden, Essex/Census
1871/Harriett Clark/Servant/26/Welwyn, Hertfordshire/Census

1874/A Elizabeth Webb/../../../H D Miles London & Suburban Licensed Victuallers Directory **

1876/Walter Day/..../../Post Office Directory **

1881/James Tatnell/Licensed Victualler/54/Ramsgate, Kent/Census
1881/Emma Tatnell/Wife/53/Radwinter, Essex/Census
1881/Alfred J Tatnell/Son, Licensed Victualler/25/Thanet, Kent/Census
1881/Julia E Tatnell/Daughter in Law/29/Dover, Kent/Census
1881/Harry Woolf/Potman/24/London, Middlesex/Census

1882/Alfred Jas Tatnell/..../../Post Office Directory

1883/Alfred Jas Tatnell/..../../Post Office Directory **

1884/A J Tatnell/..../../Post Office Directory **

1885/Geo John Sayer/..../../Post Office Directory **

1891/George Bishop/..../../Post Office Directory **

1895/Walter Unwin/..../../Post Office Directory **

1899/Walter Unwin/..../../Post Office Directory **

1910/Charles Guttridge/../../../Post Office Directory *

1915/Jn H Osborn/../../../Post Office Directory



* Provided By Ewan

** Provided By Stephen Harris