Search London wiki and Pub wiki history sites
Rose & Crown, 83 Bunhill row, St Luke EC1
This is the Excelsior Music Hall in 1869. It was damaged by enemy action and closed in September 1940; and in December 1942 it was completely destroyed by enemy action and a fire.
St Luke pub history index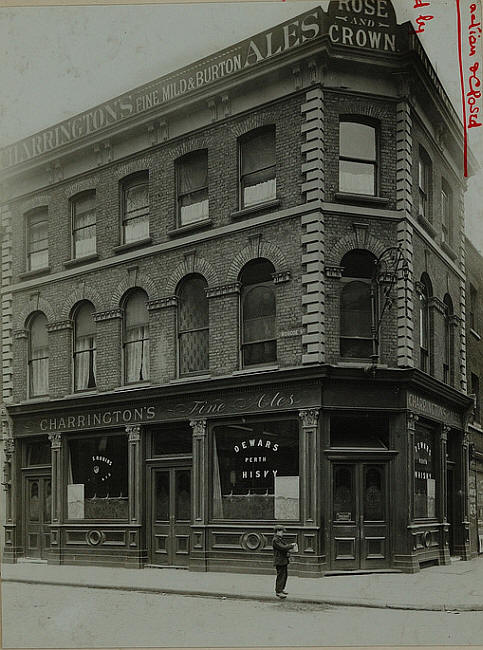 Rose & Crown, 83 Bunhill Row, St Luke, London - in 1919
Residents at this address.
1743/William Stepple / Public House Keeper /../../Proceedings of the Old Bailey **

1791/John Fitshee / Public House Keeper /../../Proceedings of the Old Bailey **
1791/Elizabeth Fitshee / Wife /../../Proceedings of the Old Bailey

1795/John Fitchen / Victualler /../../Sun Fire Office records, held at Guildhall Library **

1803/Turk / Victualler /../../Sun Fire Office records, held at Guildhall Library **

1829/Richard Clayton, Rose & Crown, 83 Bunhill row/../../Pigots Directory

1833-34/Richard Clayton, Rose & Crown, 83 Bunhill row/../../Pigots Directory

1833/Richard Clayton/../../../Licensed Victualler Association
1833/Mrs Sarah Clayton/../../../Licensed Victuallers Association

1839/Elizabeth Green/../../../Pigotís Directory **

1841/Leonard Clifford/../../../Post Office Directory

1842/L Clifford/../../../Robsonís Directory **

1848/William Suggate/../../../Post Office Directory *

1851/William Suggate/../../../Finsbury Petty Sessions

1856/Alexander Shaw/../../../Post Office Directory *

March 1866/Alexander Shaw/License renewal/../Clerkenwell News

1869/Alex Shaw/Excelsior Music Hall/../../Post Office Directory

1871/Alexander Shaw/Licensed Victualler/52/Chelmsford, Essex/Census
1871/Harriett Shaw/Wife/56/Brampton, Suffolk/Census
1871/William Shaw/Son, Medical Student/33/Islington, Middlesex/Census
1871/George Goslin/Servant/26/Rattlesden, Suffolk/Census
1871/Emily Hurley/Servant/15/St Luke, Middlesex/Census

1874/W G Shaw/../../../H.D. Miles London & Suburban Licensed Victuallers' Directory **

1881/George M Maxwell/Licensed Victualler/35/Islington, Middlesex/Census
1881/Rebecca Maxwell/Wife/36/Ridge, Hertford/Census
1881/Arthur Venables/Stepson/13/Paddington, Middlesex/Census
1881/Florence Maxwell/Daughter/8/Paddington, Middlesex/Census
1881/Alice Webb/Barmaid/18/Paddington, Middlesex/Census
1881/Alice Neale/Domestic Servant/22/Poplar, Middlesex/Census

1882/Geo Meyer Maxwell/../../../Post Office Directory

1884/George M Maxwell/../../../Post Office Directory

1891/George M Maxwell/../../../Post Office Directory

1895/Fredk James Bullock/../../../Post Office Directory

1899/Charles Turner/../../../Post Office Directory

1910/James Munday/../../../Post Office Directory *

1913-1922/Munday/../../../Leasehold

1915/James Munday/../../../Post Office Directory

1921/James Monday/../../../Post Office Directory *

1923-1926/O'Connell/../../../Leasehold

1927-1930/Buebler/../../../Leasehold

1931-1934/Tompkins/../../../Leasehold

1934/Philip Harry Tompkins/../../../Kellys Directory

1935-1937/Hookham Rowe/../../../Leasehold

1938/William Alfred Rowe/../../../Post Office Directory

1938-1939/Eden/../../../Leasehold



* Provided By Ewan

** Provided By Stephen Harris