Royal Star, 238 City road EC1
The pub is named as the Victory in the 1871 census return. * At 220 City Road through road renumbering by 1915; The pub should not be confused with the Green Gate, which was formerly at 220 City Road, but is now at 198 City Road . The Royal Star stands at the junction of Mora Street, which was formerly Nelson Street. The pub was rebuilt at some point, probably in the 1960s.
St Luke pub history index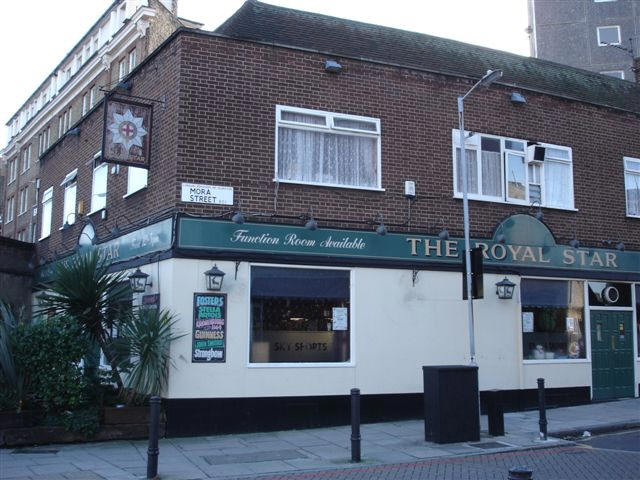 Royal Star, 220 City Road EC1 - in November 2006
Kindly provided by Stephen Harris
Residents at this address.
1861/Eleanor Hayward/Beer Retailer (Widow)/52/London/Census *
1861/Lewis Hayward/Son, Carver/26/Lambeth, Surrey/Census
1861/Charles Hayward/Son, Auctioneer/18/Shoreditch, Middlesex/Census
1861/Louise Hayward/Daughter/7/Hoxton, Middlesex/Census

1862/William Trawley/../../../Post Office Directory **

1869/Samuel Burgess/beer retailer/../../Post Office Directory *

1871/Samuel Burgess/Beer Retailer/45/Frome, Somerset/Census *
1871/Mary Burgess/Wife/35/Kew, Surrey/Census
1871/Samuel Burgess/Son/10/City Road/Census
1871/William Burgess/Son/7/City Road/Census
1871/Walter C. Burgess/Son/2/City Road/Census
1871/Edward J. Burgess/Son/3 months/City Road/Census
1871/Jane Cryster/Sister-in-Law/13/Kew, Surrey/Census
1871/Elizabeth Moor/Niece, General Servant/28/Hoxton/Census
1871/James Hillier/Boarder (Widower), Glass Blower/72/Liverpool/Census

1872/S Burgess/../../../Brabner's Hackney Directory **

1882/Samuel Burgess/Beer Retailer/../../Post Office Directory

1883/Samuel Burgess/../../../P.O. Directory **

1885/Samuel Burgess/Beer Retailer/../../Post Office Directory **

1892/Mrs Mary Ann Mead/../../../P.O. Directory **

1891/Mrs Mary Ann Mead/beer retailer/../../Post Office Directory *

1895/Sydney Alfred Addiscott/Beer Retailer/../../Post Office Directory

1899/Frederick Charles Barton/Beer Retailer/../../Post Office Directory

1901/Frederick C Barton/Beer House Keeper/27/Southampton, Hants/Census
1901/Annie Barton/Wife/26/Old Ford, London/Census
1901/Nellie Craske/Domestic Servant/19/Forest Gate, Essex/Census
1901/Elsie Barton/Sister/13/Southampton, Hants/Census
1901/Mary Ridley/Boarder, Governess/45/Bow, London/Census
1901/Edith Watson/Boarder, Machinist/21/Camberwell, London/Census
1901/Maud Watson/Boarder, Machinist/19/Camberwell, London/Census
1901/Willie Watson/Boarder, Clerk Wine Merchants Office/18//Census
1901/Ada Watson/Boarder, Stationers Assistant/16/Newhead, London/Census
1901/George Watson/Boarder/14/Newhead, London/Census

1902/Frederick Charles Barton/../../../P.O. Directory **

1910/Elias Myers/Beer Retailer/../../Post Office Directory

1915/Herbert John Oates/Beer Retailer/../../Post Office Directory

1919/Claud Sole/Beer Retailer/../../Post Office Directory **



* Provided By Ewan

** Provided by Stephen Harris