Search London wiki and Pub wiki history sites
All public house, restaurants, bars etc closed for the forseeable future on 20th March 2020, but this is a history site. But how about the landlords give their tenants a break, no business, then please charge them no rent.
Ship, 127 Finsbury Pavement, St Luke EC2A
At Finsbury Place in 1851 & 7 Finsbury Place in 1869 and 1871 census; By 1983, the Ship had been renamed the London General. It was demolished in February 1998. A new, replacement pub was then built at the foot of a new office block - this was named the All Bar One. **
St Luke pub history index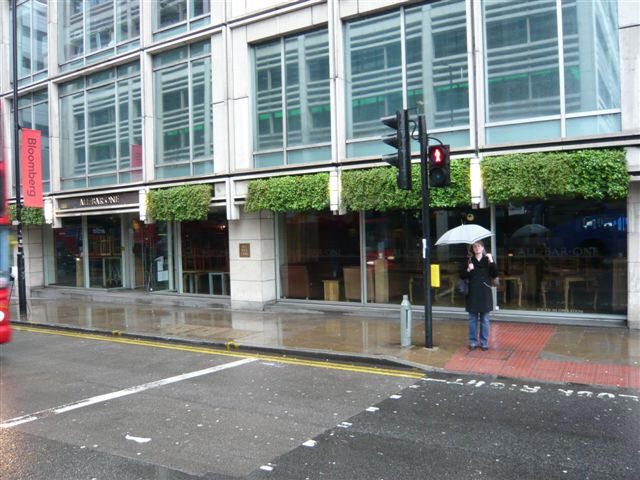 All Bar One, 127 Finsbury Pavement, WC2 - in March 2008
Kindly provided by Stephen Harris
Residents at this address.
1842/Mary Bentzing/../../../Robsonís Directory **

October 1848/Thomas Sell, deceased/ Outgoing Licensee /../../The Era

October 1848/Mary Ann Sell, widow of Thomas Sell/ Incoming Licensee /../../The Era

June 1849/Mary Ann Sell/ Outgoing Licensee /../../The Era

June 1849/Geo Greengrass/ Incoming Licensee /../../The Era

1851/George Greengrass/../../../Finsbury Petty Sessions

1860/George Greengrass/../../../P.O. Directory **

March 1866/George Greengrass/License renewal/../Clerkenwell News

1869/George Hughes/../../../Post Office Directory

1871/George Hughes/Licensed Victualler (The Ship)/32/Leytonstone, Essex/Census
1871/Elizabeth Peverall Hughes/Wife/31/Shoreditch, Middlesex/Census
1871/Henry James Bodily/Clergyman C o E/41/Cripplegate, Middlesex/Census
1871/George Dunning/Clergyman/19/Two Waters, Hertfordshire/Census
1871/Eliz Jane Midgeley/Assistant/20/St Giles, Camberwell/Census
1871/Edward Thomas Dudman/Porter/23/Strand, Middlesex/Census
1871/Elizabeth Wooley/Servant/33/Rye, Sussex/Census

May 1872/George Hughes/ Outgoing Licensee /../../The Era

May 1872/John Charles Bell/ Incoming Licensee /../../The Era

1881/Charles J Baker/Licensed Victualler/42/Hampstead, Middlesex/Census
1881/Rosa F Baker/Wife/30/Mile End Rd, Middlesex/Census
1881/Albert E Baker/Son/4/Finsbury/Census
1881/Elizabeth R Ford/Barmaid, Widow/28/Cromer, Norfolk/Census
1881/Rhoda L Windon/Barmaid/21/Berkley, Kent/Census
1881/Joseph Parker/Barman/23/Rotherhithe, Surrey/Census
1881/Eliza J Wall/Waitress/17/Barnstaple, Devon/Census
1881/Emma Saunders/Cook/30/Mile End Rd, Middlesex/Census
1881/Maud Turner/Housemaid/21/Hoxton, Middlesex/Census

1882/Charles James Baker/../../../Post Office Directory

1884/Charles James Baker/../../../Post Office Directory

1885/Charles James Baker/../../../Post Office Directory **

1891/Clement Stewart/../../../Post Office Directory

1895/William Chattey/../../../Post Office Directory

1899/William Chattey/../../../Post Office Directory

1901/Kathlon Aherd/Licensed Victuallers Assistant/24/Ireland/Census
1901/Gertrude Clark/Licensed Victuallers Assistant/22/Scotland/Census
1901/Daisy Wright/Licensed Victuallers Assistant/20/Chelsea, London/Census
1901/Rose Bird/Licensed Victuallers Assistant/26/Greenwich, Kent/Census
1901/Anne Austin/Barmaid/25/St Pancras, London/Census
1901/Florence Neary/Barmaid/27/Bermondsey, London/Census
1901/Florene Cushing/Housemaid/26/Islington, London/Census

1904/William Chattey/../../../Post Office Directory **

1910/William Chattey/../../../Post Office Directory

1921/Cambrian Catering Co Ltd/../../../Post Office Directory

1938/Modern Inns & Taverns Ltd/../../../Post Office Directory



** Provided By Stephen Harris