Pub history, pubwiki and London
Two Brewers, 121 Whitecross Street EC1
The address is 189 Upper Whitecross Street in 1884 and earlier, prior to street renaming (it is sometimes given as 189 Whitecross Street in earlier sources). *

The Two Brewers, Whitecross Street in 2005
Thanks to Peter gamble
St Luke pub history index
A listing of historical London public houses, Taverns, Inns, Beer Houses and Hotels in St Luke parish of London, Middlesex - now in East London. The St Luke parish of London listing uses information from census, Trade Directories and History to add licensees, bar staff, Lodgers and Visitors.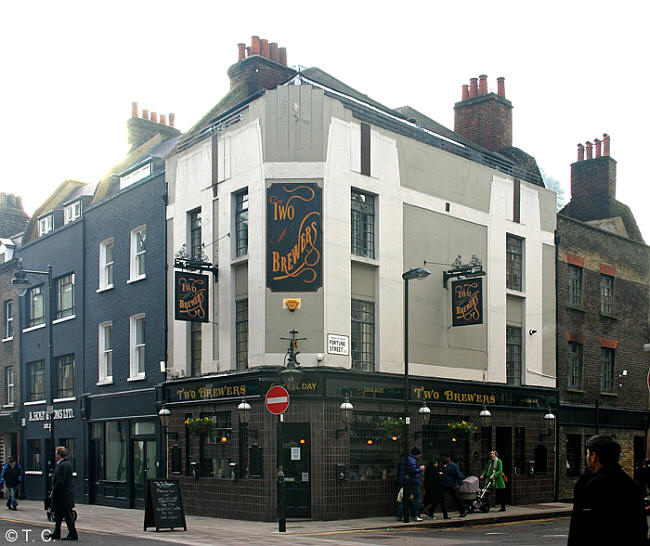 Two Brewers, 121 Whitecross Street EC1 - in June 2013
Kindly provided by Tris
Residents at this address.
1778/Joseph Bailey/victualler/../../Middlesex Sessions of the Peace records held at the London Metropolitan Archives *

1804/Joseph Poultney/victualler/../../Sun Fire Office records held at the London Metropolitan Archives *

1827/George Greenland/../../../Licensed Victuallers Association

1836/George Greenland/victualler/../../Sun Fire Office records held at the London Metropolitan Archives *

1839/George Greenland/../../../Pigotís Directory **

1842/Frs. Greenland/../../../Robsonís Directory **

1848/Mrs Frances Greenland/../../../Post Office Directory *

1851/Francis Greenland/../../../Finsbury Petty Sessions

1851/Francis Greenland/Victualler, Widow/52/Deal, Kent/Census
1851/William Greenland/Son, Victualler/28/Limehouse, Middlesex/Census
1851/James Gordon/Servant/30/Surrey/Census
1851/Charlotte Moores/General Servant/22/Hereford/Census

1852/Francis Greenland/../../../Trade Directory

1856/Mrs Frances Greenland/../../../Post Office Directory *

1861/Francis Greenland/Victualler,Widow/62/Kent/Census
1861/William Greenland/Son/38/Millwall, Middlesex/Census
1861/Frances Greenland/Daughter/21/St Lukes, Middlesex/Census
1861/Frances Duling?/Barmaid/22/Dorsetshire/Census
1861/Elizabeth Silness?/Servant/20/Bethnal Green, Middlesex/Census

1866/Francis Greenland & Son/../../../P.O. Directory **

March 1866/Frances Greenland & William Henry Greenland/License renewal/../Clerkenwell News

1869/Francis Greenland & Son/../../../Post Office Directory

January 1869/William Henry Greenland/Outgoing Licensee/../../Era

January 1869/John Cooper Tilley/Incoming Licensee/../../Era

July 1869/J C Tilley/Outgoing Licensee/../../Era

July 1869/William Joseph Senior/Incoming Licensee/../../Era

1871/William Senior/Licensed Victualler/32/Hoxton, Middlesex/Census
1871/Barbara Senior/Wife/28/Yalding, Kent/Census
1871/Harriet E Senior/Daughter/10 months/St Luke, Middlesex/Census
1871/Louis Jones/Brother in Law, Butcher/24/Yalding, Kent/Census
1871/Henry Suker/Barman/22/Uxbridge, Middlesex/Census
1871/James F Jones/Barman/18/St Luke, Middlesex/Census

1881/Barbara Senior/Licensed Victualler, Widow/37/Yalding, Kent/Census
1881/Ellen Jones/Sister, Assistant(IS)/29/Yalding, Kent/Census
1881/Barbara Jones/Niece/5/Folkstone, Kent/Census
1881/George Brookbank/Manager(Innkeeper)/31/Paddington, Middlesex/Census
1881/Henry Messinger/Barman/21/Folkstone, Kent/Census
1881/Eliza Jordan/General Servant/30/Mulding, Essex/Census

1882/Mrs Barbara Senior/../../../Post Office Directory

1884/Barbara Senior/../../../Post Office Directory *

1891/Mrs Barbara Senior/../../../Post Office Directory

1892/Mrs Barbara Senior/../../../P.O. Directory **

1895/James Wm Dunn/../../../Post Office Directory

1899/Peter Joseph Hagon/../../../Post Office Directory

1901/Martin Scholler/Licensed Victualler/57/Germany/Census
1901/Sophia Scholler/Wife/53/Chelsea, London/Census
1901/Joseph Scholler/Son/25/Kensington, London/Census
1901/Martin Scholler/Son/20/Peckham, London/Census
1901/Amelia Scholler/Daughter/15/Tottenham, London/Census
1901/Mary Hamilton/Boarder/43/Yorkshire/Census
1901/Annie Brand/Domestic Servant/21/City of London/Census

1902/Mary Hamilton/../../../P.O. Directory **

1903/Mary Hamilton/../../../P.O. Directory **

1910/Alfred Chas Golder/../../../Post Office Directory

1915/Alfred Chas Golder/../../../Post Office Directory

1921/Alfred J. Algar/../../../Hughes Directory *

1938/Edward Lengthorn/../../../Post Office Directory

1944/Mrs Alice Susan Goodman/../../../Post Office Directory *



* Provided By Ewan

Provided By Kevan