Search London wiki and Pub wiki history sites
All public house, restaurants, bars etc closed for the forseeable future on 20th March 2020, but this is a history site. But how about the landlords give their tenants a break, no business, then please charge them no rent.
White Lion, 37 Central street EC1
St Luke pub history index
The address in 1856 is the White Horse, 6 Brick lane, and at the junction with Noble Street. Closed in 2014 and currently boarded up. ***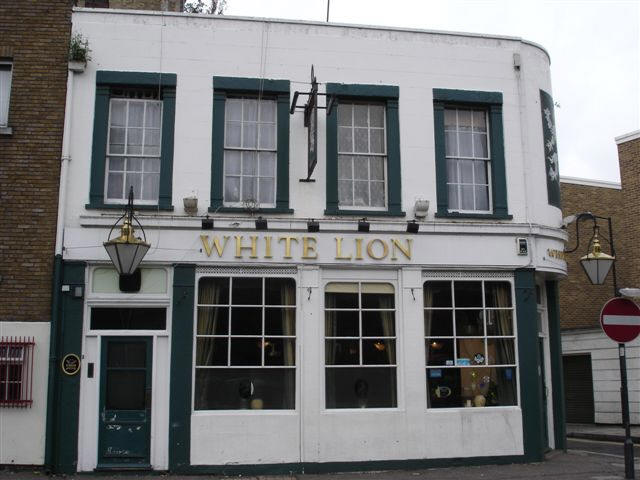 White Lion, 37 Central Street EC1 - in September 2006
Kindly provided by Stephen Harris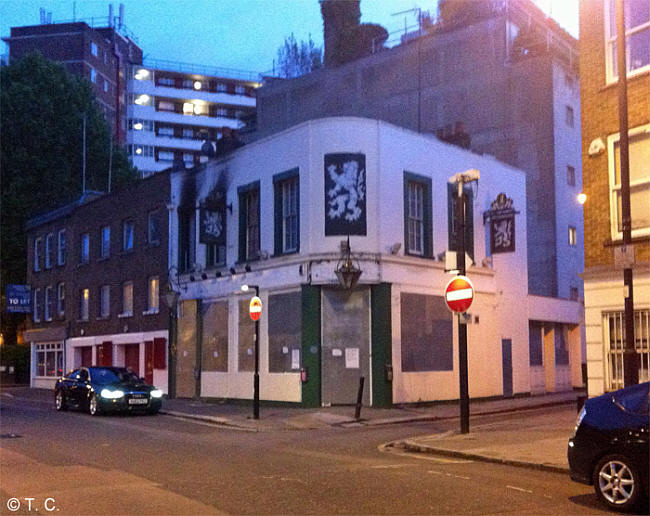 White Lion, 37 Central Street, EC1 - in May 2014
Kindly provided by Tris
Residents at this address.
1794/George Marshall/victualler/../../Sun Fire Office records held at the London Metropolitan Archives *

1807/Sarah Wood/victualler/../../Sun Fire Office records held at the London Metropolitan Archives *

1814/Felix Wills/victualler/../../Sun Fire Office records held at the London Metropolitan Archives *

1818/Felix Wills/victualler/../../Sun Fire Office records held at the London Metropolitan Archives *

1824/William Gibbs/victualler/../../Sun Fire Office records held at the London Metropolitan Archives *

1825/William Gibbs/victualler/../../Sun Fire Office records held at the London Metropolitan Archives *

1829/Thomas Philipson/victualler/../../Sun Fire Office records held at the London Metropolitan Archives *

1839/Benjamin Johnson/../../../Pigot's Directory *

1842/William Jackson/../../../Robson's Directory *

1848/George Arden White/../../../Post Office Directory *

1848/Mrs Maria White/../../../Post Office Directory *

1851/Maria White/Licensed Victualler (Widow)/43/Udelscombe, Somerset/Census *
1851/Mary A. Uphill/Niece/18/St Georges, Middlesex/Census
1851/Harriet Uphill/Niece/20/Oxfordshire/Census
1851/Jane Anderson/Servant/26/Westmoreland/Census
1851/Thomas Larkin/Servant/41/Great Gransden, Huntingdonshire/Census
1851/Emma Irish/Servant/19/St Luke, Middlesex/Census

April 1852/Maria White/Outgoing Licensee/../../Era

April 1852/William Dwyer/Incoming Licensee/../../Era

April 1855/William Beard/Outgoing Licensee/../../Era

April 1855/Susan Dyer/Incoming Licensee/../../Era

1856/Mrs Susan Dyer/../../../Post Office Directory

1866/Henry Gardner/../../../P.O. Directory **

March 1866/Henry Gardner/License renewal/../Clerkenwell News

1869/Henry Gardner/../../../Post Office Directory

January 1869/Henry Gardner/Outgoing Licensee/../../Era

January 1869/George Hart Row/Incoming Licensee/../../Era

January 1871/Thomas Grey Willett/Outgoing Licensee/../../Era

January 1871/George Puzey/Incoming Licensee/../../Era

1871/George Puzey/Licensed Victualler/39/Borough/Census
1871/Jane Alexander/Servant/31/City/Census
1871/George Champ/Barman/39/Egham, Surrey/Census
1871/James Scott/Barman/28/Bromley/Census
1871/Henry Wood/Barman/21/Blackfriars/Census

1881/William Holmes/Licensed Victualler/38/Donyal, Somerset/Census
1881/Marian Holmes/Wife/40/Marylebone/Census
1881/Elizabeth Holmes/Daughter/5/Bloomsbury/Census
1881/William Holmes/Son/4/Bloomsbury/Census
1881/Charles Holmes/Son/2/Bloomsbury/Census
1881/Martha Handfast/Visitor, Widow/45/Mile End/Census
1881/John Mead/Barman/25/Broadbury, Somerset/Census
1881/William Clark/Barman/21/Stratford, Essex/Census
1881/Elizabeth Grant/Nurse/24/Chelsea/Census
1881/Kate Driscoll/General Servant/22/Rotherhithe, Surrey/Census

1882/William Holmes/../../../Post Office Directory *

1884/William Holmes/../../../Post Office Directory *

1886/William Holmes/../../../Business Directory of London **

1895/Wm Snood/../../../Post Office Directory

1899/Simon Ladbury/../../../Post Office Directory

1901/Sophia F Hinckley/Licensd Victualler, Widow/36/Bethnal Green, London/Census
1901/Lily Hinckley/Daughter/14/Millwall, London/Census
1901/Rose Hinckley/Daughter/8/Wandsworth, London/Census
1901/Ernest Hinckley/Son, Book Binder/11/Wandsworth, London/Census
1901/Albert Hinckley/Son/9/Wandsworth, London/Census
1901/Walter Hinckley/Son, Book Binder/16/Millwall, London/Census
1901/Eliza Webb/Domestic Servant/21/City, London/Census
1901/Mary A King/Barmaid/20/Hoxton, London/Census
1901/George Ashwell/Potman/22/Clerkenwell, London/Census

1910/William Albert Taylor/../../../Post Office Directory

1915/Walter John Gowing/../../../Post Office Directory

1921/Arthur Atkinson/../../../P.O. Directory **

1934/Fredk Maybee/../../../Kellys Directory

1938/Fredk Maybee/../../../Post Office Directory

1944/Harry Chas Thursby/../../../Post Office Directory



* Provided By Ewan

*** Provided By Tris

Provided By Kevan