Search my Pub history, pubwiki and London
Windmill, 27 Tabernacle street, St Luke EC2
At 20 Windmill Street before 1891 due to road renaming. The other twist is that this is only the Windmill from about 1865, and prior to this it is called the Maidenhead, at 20 Windmill street.
St Luke pub history index
A listing of historical London public houses, Taverns, Inns, Beer Houses and Hotels in St Luke parish of London.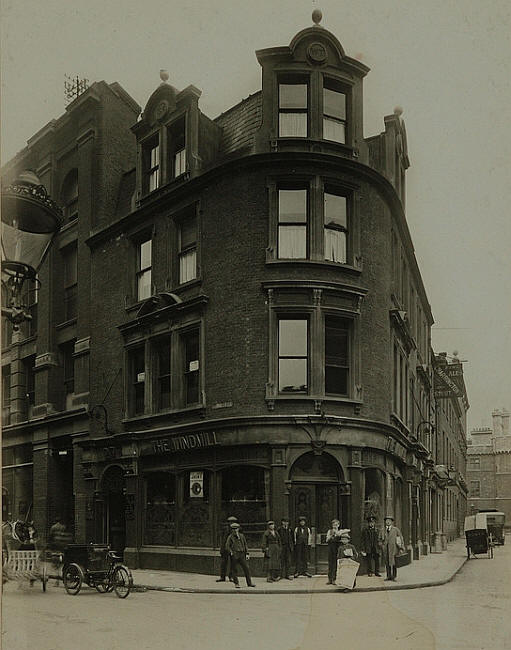 Windmill, 27 Tabernacle Street, Finsbury Square, St Luke EC2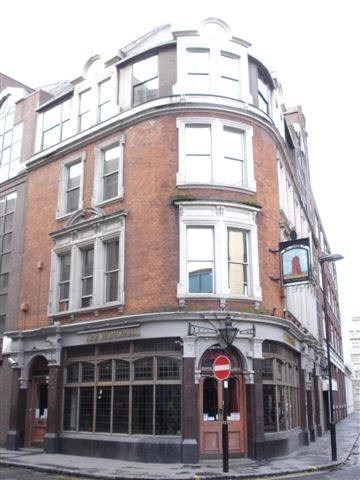 Windmill, 27 Tabernacle Street - in January 2007
Kindly provided by Stephen Harris
Residents at this address.
Maidenhead, 20 Windmill street :

1825/Mr Oxley, Maidenhead, Windmill street, City road/../../Licensed Victuallers Association

1832/W King, Maidenhead, Windmill street, Finsbury/../../Robsons Directory

1833-34/William King, Maidenhead, 20 Windmill street, Finsbury square/../../Pigots Directory

1839/James Hoy/../../../Pigots Directory

1841/James Hoy/../../../Post Office Directory

1842/James Hoy/../../../Robsons Directory

1843/James Hoy/../../../Kellys Directory

1848/James Hoy/../../../Post Office Directory

1856/F Barnett/../../../Post Office Directory

1862/H James/../../../Post Office Directory

Windmill, 20 Windmill street :

1865/Mrs Phoebe Ann James/../../../Post Office Directory

March 1866/Phoebe Ann James/License renewal/../Clerkenwell News

1869/Mrs Phoebe Ann James/../../../Post Office Directory

1871/Phoebe Ann James/Licensed Victualler, Widow/52/London, Middlesex/Census
1871/Henry Robert James/Son, Assistant/17/London, Middlesex/Census
1871/Hannah Dora James/Daughter/15/London, Middlesex/Census
1871/Ellen Louisa James/Daughter/13/London, Middlesex/Census
1871/William James/Brother in Law, Manager, Widow/54/London, Middlesex/Census
1871/James Springhall/Potboy/16/Norwich, Norfolk/Census
1871/Martha Cartwright/General Servant, Widow/29/Yarmouth, Norfolk/Census

1881/Joseph H Ferran/Licensed Victualler/40/Brighton, Sussex/Census
1881/Edith Holloway/Housekeeper/22/Chertsey, Surrey/Census
1881/Harriet Grey/Servant, Widow/50/Minster, Oxford/Census
1881/John Laws/Barman/19/(OSF), America/Census

1882/Joseph Henry Ferrar/../../../Post Office Directory

1884/Alf B White/../../../Post Office Directory

1891/Samuel Biscoe/../../../Post Office Directory

1899/Samuel Biscoe/../../../Post Office Directory **

1910/Frederick Slater Ives/../../../Post Office Directory

1915/Ernest Belcher/../../../Post Office Directory

H & F Frost had their offices at 16 Token House Yard, EC2 (St Margaret Lothbury) ***

1921/H & F Frost Ltd/../../../Post Office Directory ***

1934/H D Widdicombe & W A Lill/../../../Kellys Directory

1938/Jeffery H Johns/../../../Post Office Directory

1944/Copes Taverns Limited/../../../Post Office Directory



** Provided By Stephen Harris

*** Provided By John Carnaby