Pub history and pub wiki
London Coffee House Tavern, 42 Ludgate Hill, London EC4
St Martin Ludgate pub history index
Earlier address is 24 to 26 Ludgate Hill. Wm Younger's stained glass which was recently removed, gives a date of 1749. **
A listing of historical London public houses, Taverns, Inns, Beer Houses and Hotels in St Martin Ludgate, City of London. The St Martin Ludgate, City of London Public House Trade Directory uses information from census, Trade Directories and History to add licensees, bar staff, Lodgers and Visitors.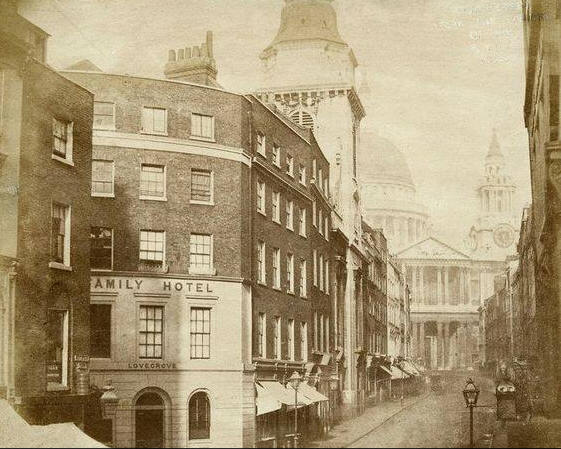 London Coffee House Tavern, Ludgate Hill - Licensee Samuel Lovegrove
St Michael's Ludgate Hill on the left/centre and showing the front of St Pauls Cathedral ahead.
Kindly provided by John Carnaby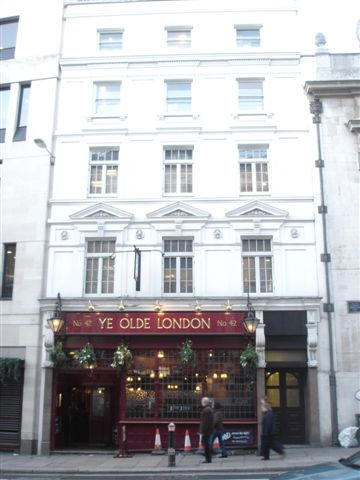 Ye Olde London, 42 Ludgate Hill, EC4 - in February 2008
Kindly provided by Stephen Harris
The following entries are in this format:
Year/Publican or other Resident/Relationship to Head and or Occupation/Age/Where Born/Source.
1805/Dallimore and Leech, London Coffee house, Ludgate street/../../Holdens Directory

1822/Leech & Co, London Coffee House, Ludgate street/../../Pigots Directory

1833-34/Samuel Lovegrove, London Coffee House, 24 Ludgate hill/../../Pigots Directory

1851/Samuel & Jas Lovegrove/Wine Merchants/../../Post Office Directory ***

1851/Samuel Lovegrove/Hotel Keeper/38/St Gregory & St Pauls, London/Census
1851/Ann Lovegrove/Wife/36/Blackheath, Kent/Census
1851/Ann Lovegrove/Daughter/7/Blackheath, Kent/Census
1851/Edward Lovegrove/Son/4/Blackheath, Kent/Census
1851/Elizabeth Lovegrove/Daughter/2/St Martins Ludgate, London/Census
1851/Sarah Lovegrove/Daughter/7 months/St Martins Ludgate, London/Census
1851/Emilia Higgins/General Servant/27/Loughton, Essex/Census
1851/James Stevens/Hotel Clerk/20/Kingston, Oxon/Census
1851/Frances P Rowe/General Servant/27/Cornwall/Census
1851/Adolph Hartman/Hotel Waiter/18/Hamburg/Census
1851/Joseph Softlawn/Hotel Waiter/46/Hounslow, Middlesex/Census
1851/Samuel Read/Hotel Porter/22/St Anns Blackfriars, London/Census
1851/James Thorne/Apprentice to Inn/19/St Brides, London/Census
1851/Michel G Tabal/Cook/32/Paris/Census
1851/Frederick R Hartman/Apprentice to Inn/21/Somers Town, Middlesex/Census
1851/Emily Drummond/Chambermaid/39/Chigwell, Essex/Census
1851/Matilda Giles/Chambermaid/35/Petersham, Surrey/Census
1851/Hannah Wilson/Chambermaid/33/Whitechapel, Middlesex/Census
1851/Ann Rowland/Chambermaid/28/Lyford, Berks/Census
1851/Martha Barford/Chambermaid/28/Little Glenham, Suffolk/Census
1851/Matilda Scater/Chambermaid/20/Dundee/Census
1851/Maria Ingram/Kitchenmaid/24/Cornhill, London/Census
1851/Hester Collingwood/Kitchenmaid/26/Clerkenwell, Middlesex/Census
1851/Ellen Cuthbert/Kitchenmaid/23/Perth, Scotland/Census
1851/Hannah Parkings/Kitchenmaid/21/Truro, Cornwall/Census
1851/Caroline Cadman/Kitchenmaid/24/Newport, Shropshire/Census
1851/Jame Hayde/Kitchenmaid/20/Stratford, essex/Census
1851/August Scholl/Hotel Waiter/24/Rudesheim/Census
1851/Reuben Gray/Hotel Waiter/22/Moreton in Marsh, Gloucester/Census
1851/William Williams/Hotel Waiter/16/St Brides, London/Census
1851/John Taylor/Porter/50/Heath, Yorkshire/Census
1851/Mary Stevens/Chambermaid/22/Chalford, Oxon/Census
1851/Elizabeth Bareham/Chambermaid/36/Lewisham, Kent/Census
1851/Mary Johnson/Chambermaid/18/Southwark, Surrey/Census
1851/Robert Ware/Waiter/16/Hackney Road, Middlesex/Census
+ Visitors

October1853/Samuel Lovegrove and James Lovegrove/Outgoing Licensee/../../Era

October 1853/Edward Ellis/Incoming Licensee/../../Era

1869/James W Strange & Co/../../../Post Office Directory ***

1877/Jothn Jones/../../../Post Office Directory ***

1881/Alfred Jones/Publicans Manager/20/London City, Middlesex/Census
1881/John Salter/Barman/21/Lidbury, Devon/Census
1881/John Clark/Barman/20/Sunderland, Durham/Census
1881/Alfred Burke/Barman/19/Lewisham, Kent/Census
1881/Edward Richman/Barman/20/Camberwell, Surrey/Census
1881/Jenny Petchell/Housekeeper/23/Hatfield, Hertford/Census
1881/Caroline Sampson/Housemaid/22/London City, Middlesex/Census

1884/John Jones/../../../Post Office Directory

1899/Stanley Herbert Gibson/../../../Post Office Directory

1902/John Charles Coe/../../../Post Office Directory ***

1938/Wm Younger & Co Ltd/../../../Post Office Directory ***

1944/Wm Younger & Co Ltd/../../../Post Office Directory ***



** Provided By Tris

*** Provided By Stephen Harris

Provided By Kevan
Search for a pub, an address or person
And Last updated on: Wednesday, 03-Jul-2019 01:19:42 BST