Search London wiki and Pub wiki history sites
All public house, restaurants, bars etc closed for the forseeable future from 20th March 2020, but this is a history site.
Ticket Porter, 17 & 19 Arthur street west EC4
St Martin Orgars pub history index
The early address after 1836, always appears as at 5 Arthur Street west in the census, at 17 & 19 Arthur Street west by 1910
A listing of historical London public houses, Taverns, Inns, Beer Houses and Hotels in St Martin Orgars parish, City of London. The St Martin Orgars, City of London Public House Trade Directory uses information from census, Trade Directories and History to add licensees, bar staff, Lodgers and Visitors.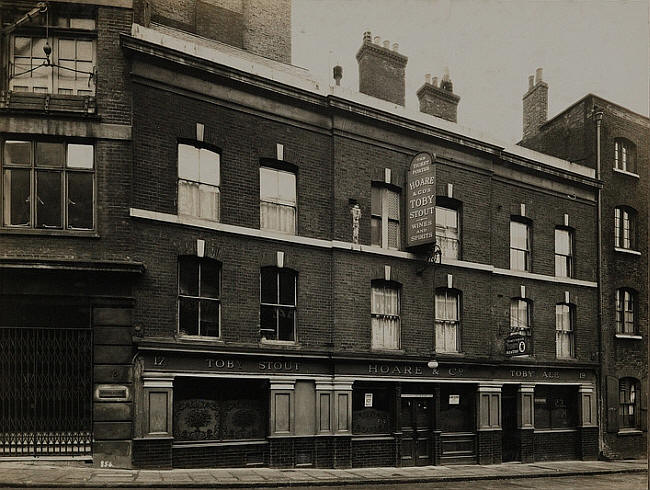 Ticket Porter, 17 & 19 Arthur Street west EC4
Residents at this address
1827/Thomas Wright, Ticket Porter, Martins lane, Cannon street/../../Licensed Victuallers Association

1829/Thomas Wright, Ticket Porter, 17 Martins lane/../../Robsons Directory

1833-34/Thomas Wright, Ticket Porter, 16 Martins lane, Cannon street/../../Pigots Directory

1836/Thomas Wright, Ticket Porter, Arthur street west, City/../../Pigots Directory

1841/J A Harrison/../../../Post Office Directory

1848/John A Harrison/../../../Post Office Directory

1851/John A Harrison/../../../Kellys Directory

1851/John A Harrison/Licensed Victualler/43/Overstone, Norfolk/Census
1851/Elizabeth Harrison/Wife/34/Southwark, Surrey/Census
1851/Elizabeth Harrison/Daughter/10/London/Census
1851/Mary A Harrison/Daughter/8/London/Census
1851/Sarah L Harrison/Daughter/5/London/Census
1851/Avis Heldon/Mother in Law, Widow/72/Havenham, Norfolk/Census
1851/Hannah Rice/Barmaid/31/Skyton, Norfolk/Census
1851/Frances Crook/Cook/30/Southwark/Census
1851/Edward Lane/Potman/21/Gravesend, Kent/Census
1851/William Pemble/Lodger, Carman, Widow/60//Census

1856/John A Harrison/../../../Post Office Directory

1861/Alfred Blackstone/Licensed Victualler/52/Bermondsey, Surrey/Census
1861/Eliza A Blackstone/Wife/44/Bermondsey, Surrey/Census
1861/Ellen Blackstone/Daughter/18/London/Census
1861/Mary A Harrison/Step Daughter/18/London/Census
1861/Sarah L Harrison/Step Daughter/15/London/Census
1861/Sarah A Snelgrove/General Servant/24/Whitechapel, Middlesex/Census
1861/William Good/Potman/21/Edberton, Sussex/Census

March 1864/John Stephens/Outgoing Licensee/../../East London Observer

March 1864/William Lindsay/Incoming Licensee/../../East London Observer

March 1866/William Lindsay/Outgoing Licensee/../../London City Press

March 1866/Henry Brown/Incoming Licensee/../../London City Press

1869/Joseph Hubble/../../../Post Office Directory

1871/Uninhabited////Census

1881/Richard Homan Groom/Head/40/London City, Middlesex/Census
1881/Emma Groom/Wife Manager/26/Leeds, Kent/Census
1881/R J H Groom/Son/2/Surrey/Census
1881/Annie J Stratford/Barmaid/21/Ivingham, Berkshire/Census
1881/Ellen Underwood/Servant, Widow/45/Middlesex/Census
1881/Alfred Willett/Potman/21/Kent/Census
1881/Lewisia Rienson/Housemaid/14/Greenaway, York/Census

1884/Richard Groom/../../../Post Office Directory

1891/Philip T Cook/Licensed Victualler/33/Spitalfields, London/Census
1891/Alfred Street/Boarder, Carpenter/53/Camnberwell, London/Census
1891/Elizabeth Street/Boarder/48/Scotland/Census
1891/Annie Ritts/Barmaid/26/Newington, London/Census

1899/George Western/../../../Post Office Directory

1910/Joseph Herbert Sibley/../../../Post Office Directory

1911/Joseph Herbert Sibley/Licensed Victualler/49/Berden, Essex/Census
1911/Elizabeth Sibley/Wife/49/Lancashire/Census
1911/Katherine Ada Crouch/Servant/40/Brentford, Essex/Census

1921/Hugh Fraser/../../../Post Office Directory

1944/Mrs Lilian Rose Roath/../../../Post Office Directory