Search my Pub history, pubwiki and London
Angel & Crown, 58 St Martins lane, St Martins in Fields WC2N 4EA
telephone: 020 75579841
In 1811 and also in January 1848, the licensing refers to the Two Angels and Crown, at 10 Upper St Martins lane. Transfer to a new house as pulled down. The 1851 and 1856 directory entries name this address as the Corner Pin.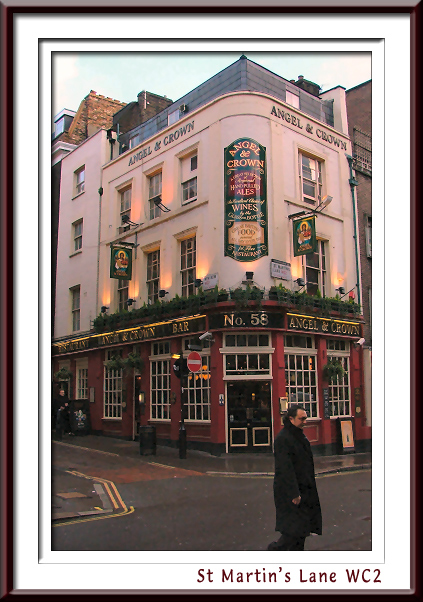 Angel & Crown, St Martins Lane
Copyright bygaspo
St Martins pub history index
A listing of historical public houses, Taverns, Inns, Beer Houses and Hotels in St Martins in Fields, London. The St Martins in Fields , London listing uses information from census, Trade Directories and History to add licensees, bar staff, Lodgers and Visitors.
Residents at this address.
1811/M Jones, Two Angels & Crown, 83 Little St Martins lane, Long acre/../../Holdens Directory

1832/Samuel Bedford, Angel & Crown, 58 St Martins lane/../../../Robsons

1841/D Willson/../../../Post Office

1842/David Willson, Crown, 58 St Martins lane /../../Robsons

1848/Michael Walker/../../../Post Office Directory

1851/Michael Walker/Corner Pin/../../Kellys Directory

1851/Michael Walker/Licensed Victualler/26/Roandsby, Yorkshire/Census
1851/Ann Walker/Wife/25/Leeds, Yorkshire/Census
1851/James Bateman/Barman/21/St Luke, Middlesex/Census
1851/Susan Hatley/General Servant/28/Seacroft, Yorkshire/Census
1851/Thomas Brook/Pot Boy/22/Kippax, Yorkshire/Census
1851/Elizabeth Walker/Niece/7 months/St Martins in Fields, Middlesex/Census

1856/Michael Walker/Corner Pin/../../Post Office Directory

1861/Thomas Webster/Licensed Victualler/36/Newport/Census
1861/Amelia A Webster/Wife/33/Marylebone/Census
1861/Isaac Webster/Brother, Assistant/24/Newport/Census
1861/Sarah Rogers/Visitor, Nurse/63/Buckinghamshire/Census
1861/Mary Smithers/House Servant/28/Somerset/Census
1861/Joseph Elliott/Barman/19/Sudbury/Census
1861/George Ratcliffe/Potman/22/Shropshire/Census

1869/Peter Niven & Co/../../../Post Office Directory

1871/Peter Nevin/Licensed Victualler/41/Scotland/Census
1871/Ann Gains/Barmaid/21/Shoreditch, Middlesex/Census
1871/Henry Wheeler/Barman/24/Whitechapel, Middlesex/Census

1881/Peter Niven/Licensed Victualler/50/Scotland/Census
1881/Gerrard Turner/Sister, Assistant/49/Scotland/Census
1881/Henry Beaven/Barman/21/London, Middlesex/Census
1881/William Berefas/Potman/20/Leamington, Warwick/Census

1882/Peter Niven/../../../Post Office Directory

1884/Peter Niven/../../../Post Office Directory

1891/Leonard Halsey/../../../Post Office Directory

1899/Osmund Alfred Outram/../../../Post Office Directory

1901/Osmund A Outram/Public House Manager/43/St Pancras, London/Census
1901/Emma A Outram/Wife/39/St Pancras, London/Census
1901/Elizabeth Hammond/Cook, widow/50/Whitwell, Derbyshire/Census
1901/Pauline Schwab/Barmaid/20/London/Census
1901/Rosa de Vismeo/Barmaid, Widow/36/Camberwell, London/Census

1911/James Codling/Licensed Victualler/48/Norfolk/Census
1911/Fanny Codling/Wife/47/Hampshire/Census
1911/Stanley Codling/Son, Barman/22/Lincolnshire/Census
1911/Archibald Codling/Son, Bioscope Operator/17/Lincolnshire/Census
1911/Ellen Spice/Housekeeper/69/Kent/Census
1911/Frederick Balls/Barman/36/Colchester, Essex/Census

1921/James Codling/../../../Hughes Directory

1934/Alex Jackson/../../../Kellys Directory

1938/Rimington West Symes/../../../Post Office Directory

1944/Levy & Franks Ltd/../../../Post Office Directory



** Provided By Stephen Harris