Angel & Crown, 58 St Martins lane, St Martins in Fields WC2N 4EA
telephone: 020 75579841
In 1811 and also in January 1848, the licensing refers to the Two Angels and Crown, at 10 Upper St Martins lane. Transfer to a new house as pulled down. The 1851 and 1856 directory entries name this address as the Corner Pin.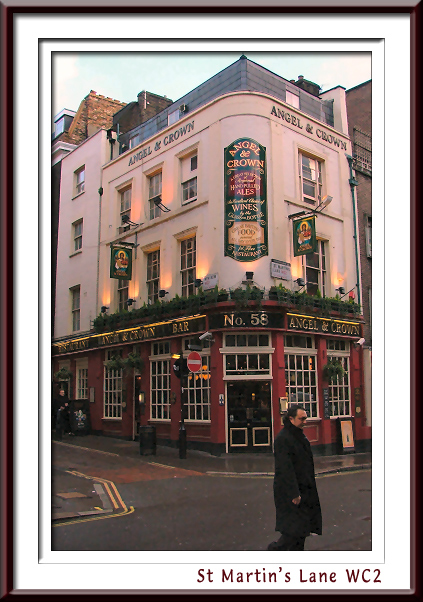 Angel & Crown, St Martins Lane
Copyright bygaspo
St Martins pub history index
A listing of historical public houses, Taverns, Inns, Beer Houses and Hotels in St Martins in Fields, London.
Residents at this address
Windmill Lodge meets at the Two Angels and Crown, Little St Martins lane, London in 1735

1736/Number 79 in seniority, the Crown and Angels, Little St. Martins lane/../../../Masonic Lodges 1736-39

In 1768, the Two Angels and Crown, Little St. Martins Lane is listed as the address for the Masonic Lodge of Concord

Lodge of Concord meets at the Two Angels and Crown, Little St Martins lane, London in 1792

1805/Simon Paterson, brandy merchant, 58 St Martins lane/../../Holdens Directory

Lodge of Concord meets at the Two Angels and Crown, Little St Martins lane, London in 1808

1811/M Jones, Two Angels & Crown, 83 Little St Martins lane, Long acre/../../Holdens Directory

Old French Lodge meets at the Two Angels and Crown, Little St Martins lane, London in 1813

Lodge of Concord meets at the Two Angels and Crown, Little St Martins lane, London in 1814

1819/Mr Loddy, Angel and Crown, St Martins lane/../../Licensed Victuallers Association

1829/Samuel Bedford, Angel & Crown, 58 St Martins lane/../../Robsons Directory

1832/Samuel Bedford, Angel & Crown, 58 St Martins lane/../../../Robsons

1841/D Willson/../../../Post Office

1842/David Willson, Crown, 58 St Martins lane /../../Robsons

1848/Michael Walker/../../../Post Office Directory

1851/Michael Walker/Corner Pin/../../Kellys Directory

1851/Michael Walker/Licensed Victualler/26/Roandsby, Yorkshire/Census
1851/Ann Walker/Wife/25/Leeds, Yorkshire/Census
1851/James Bateman/Barman/21/St Luke, Middlesex/Census
1851/Susan Hatley/General Servant/28/Seacroft, Yorkshire/Census
1851/Thomas Brook/Pot Boy/22/Kippax, Yorkshire/Census
1851/Elizabeth Walker/Niece/7 months/St Martins in Fields, Middlesex/Census

1856/Michael Walker/Corner Pin/../../Post Office Directory

1861/Thomas Webster/Licensed Victualler/36/Newport/Census
1861/Amelia A Webster/Wife/33/Marylebone/Census
1861/Isaac Webster/Brother, Assistant/24/Newport/Census
1861/Sarah Rogers/Visitor, Nurse/63/Buckinghamshire/Census
1861/Mary Smithers/House Servant/28/Somerset/Census
1861/Joseph Elliott/Barman/19/Sudbury/Census
1861/George Ratcliffe/Potman/22/Shropshire/Census

1869/Peter Niven & Co/../../../Post Office Directory

1871/Peter Nevin/Licensed Victualler/41/Scotland/Census
1871/Ann Gains/Barmaid/21/Shoreditch, Middlesex/Census
1871/Henry Wheeler/Barman/24/Whitechapel, Middlesex/Census

1881/Peter Niven/Licensed Victualler/50/Scotland/Census
1881/Gerrard Turner/Sister, Assistant/49/Scotland/Census
1881/Henry Beaven/Barman/21/London, Middlesex/Census
1881/William Berefas/Potman/20/Leamington, Warwick/Census

1882/Peter Niven/../../../Post Office Directory

1884/Peter Niven/../../../Post Office Directory

1891/Leonard Halsey/../../../Post Office Directory

1899/Osmund Alfred Outram/../../../Post Office Directory

1901/Osmund A Outram/Public House Manager/43/St Pancras, London/Census
1901/Emma A Outram/Wife/39/St Pancras, London/Census
1901/Elizabeth Hammond/Cook, widow/50/Whitwell, Derbyshire/Census
1901/Pauline Schwab/Barmaid/20/London/Census
1901/Rosa de Vismeo/Barmaid, Widow/36/Camberwell, London/Census

1911/James Codling/Licensed Victualler/48/Norfolk/Census
1911/Fanny Codling/Wife/47/Hampshire/Census
1911/Stanley Codling/Son, Barman/22/Lincolnshire/Census
1911/Archibald Codling/Son, Bioscope Operator/17/Lincolnshire/Census
1911/Ellen Spice/Housekeeper/69/Kent/Census
1911/Frederick Balls/Barman/36/Colchester, Essex/Census

1921/James Codling/../../../Hughes Directory

1934/Alex Jackson/../../../Kellys Directory

1938/Rimington West Symes/../../../Post Office Directory

1944/Levy & Franks Ltd/../../../Post Office Directory



** Provided By Stephen Harris