Search London wiki and Pub wiki history sites
Bird In Hand, 17 Long Acre, St Martins in Fields WC2E
St Martins pub history index
This pub was present by 1765 and is now demolished. **
A listing of historical public houses, Taverns, Inns, Beer Houses and Hotels in St Martins in Fields, London. The St Martins in Fields , London listing uses information from census, Trade Directories and History to add licensees, bar staff, Lodgers and Visitors.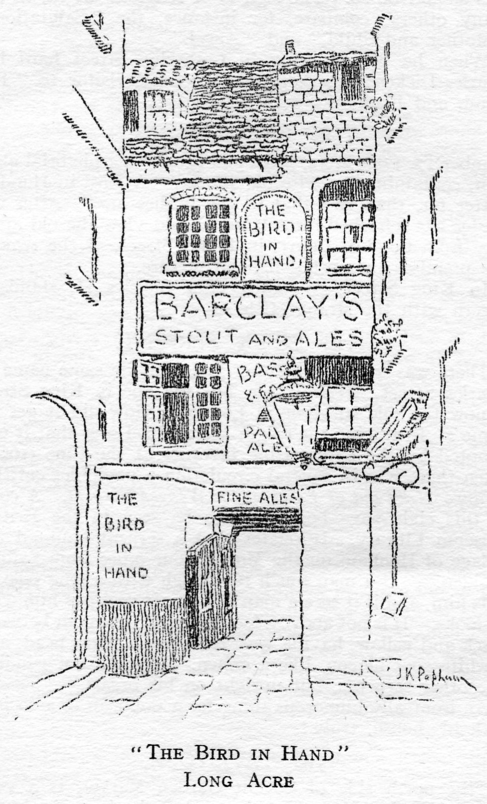 Bird in the Hand, Long Acre caricature - circa 1928
Illustrator - J K Popham
Residents at this address.
1792/Tempest Holt / Victualler /../../Sun Fire Office records, held at London Metropolitan Archives **

1829/Richard Mills, Bird in Hand, 17 Long acre/../../Robsons Directory

1833-34/Richard Mills, Bird in Hand, 17 Long acre/../../Pigots Directory

1839/Richard Mills/../../../Pigots Directory

1841/Richard Mills/../../../Post Office Directory

1842/Rich. Mill/../../../Robsonís Directory **

1846/Richard Mills/../../../Post Office Directory

1848/Richard Mills/../../../Post Office Directory

1851/Isabella Mills/Licensed Victualler, Widow/75/Westmoreland/Census
1851/Thomas Nicholson/Nephew, Barman/29/Surrey/Census
1851/William Hague/Visitor, Painter/31/Cheltenham, Gloucestershire/Census
1851/Hannah Davies/Niece/10/Middlesex/Census
1851/Emma Davies/Niece/1/Middlesex/Census
1851/Ann Hemings/Nursemaid/18/Oxford, Oxfordshire/Census
1851/Ellen Malony/General Servant/24/Ireland/Census
1851/Thomas Harris/Errand Boy/16/Westminster, Middlesex/Census

1856/Mrs I Mills/../../../Post Office Directory

1861/Thomas Nicholson/Licensed Victualler/40/Middlesex/Census
1861/Richard Davis/Scholar/17/Middlesex/Census
1861/Mary Ward/General Servant/20/Ireland/Census
1861/Frederick Berritt/General Servant/17/../Census

1862/Thomas Nicholson/../../../Post Office Directory

1869/George Pryer/../../../Post Office Directory

1871/George Pryer/Licensed Victualler/39/Sutton, Surrey/Census
1871/Eliza Pryer/Wife/34/Chelsea, Middlesex/Census
1871/Peter Pryer/Son/11/Pimlico, Middlesex/Census
1871/Albert Pryer/Son/2/St Martin Fields, Middlesex/Census
1871/Sarah Long/Mother/59/St Georges East, Middlesex/Census
1871/Henry Matthews/Potman/27/Woodbridge, Suffolk/Census
1871/Elizabeth Brown/Domestic Servant/22/Shepton Mallet, Somerset/Census

1869/G Pryer/../../../LV Directory

1881/Thomas J Waldock/Publican/41/Mildrith/Census
1881/Elizabeth Waldock/Wife/42/Shipperton/Census
1881/Elizabeth E Waldock/Daughter/4/Paddington, Middlesex/Census
1881/Nathaniel Binck/Servant Inn/19/../Census
1881/Louisa Bink/Servant Inn/17/../Census

1882/Thomas Jas Waldock/../../../Post Office Directory

1884/Thomas J Waldock/../../../Post Office Directory

1891/Mark Hildyard/Licensed Victualler/34/Westminster, London/Census
1891/Emily Spencer/Manageress/26/Twickemham, Middlesex/Census
1891/John Spencer/Visitor, Plasterers Assistant/18/Tooting, Surrey/Census
1891/William Keman/Potman/22/St Giles, London/Census

1897/Charles Austin Arthur Seymour Bull & Clarence Sydney Flexmore / Licensed Victuallers /../../London Gazette, 14 May 1897 **

1899/Henry Bishop/../../../Post Office Directory

1910/Frederick Henry Berry/../../../Post Office Directory

1915/Frederick Herbert Berry / Deceased, Died 14 February 1915 /../../London Gazette, 19 March 1915 **

1921/Lawrence Hill/../../../Post Office Directory

1921/Lawrence Hill & Henry J Bubb/../../../Post Office Directory

1934/Victuallers Ltd/../../../Kellys Directory

1938/Mrs Olive E Craddock/../../../Post Office Directory

1944/Ushers Wiltshire Brewery Ltd/../../../Kelly's



** Provided By Stephen Harris