Search London wiki and Pub wiki history sites
All public house, restaurants, bars etc closed for the forseeable future from 20th March 2020, but this is a history site.
Bird In Hand, 17 Long Acre, St Martins in Fields WC2E
St Martins pub history index
This pub was present by 1765 and is now demolished. **
A listing of historical public houses, Taverns, Inns, Beer Houses and Hotels in St Martins in Fields, London. The St Martins in Fields , London listing uses information from census, Trade Directories and History to add licensees, bar staff, Lodgers and Visitors.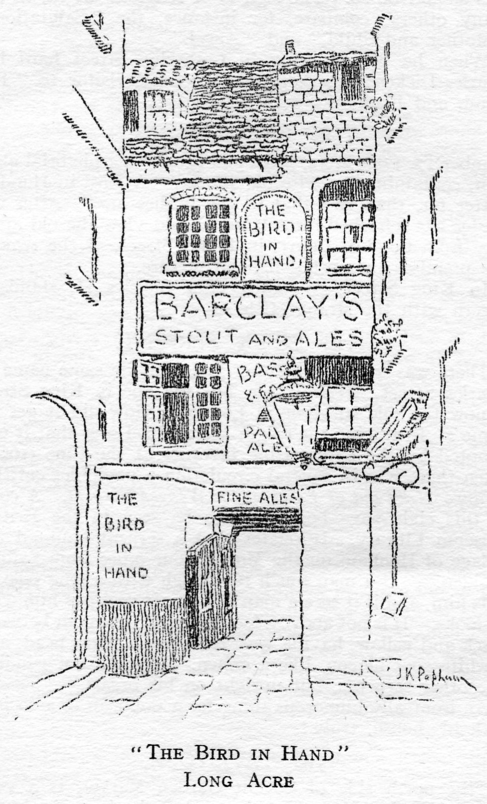 Bird in the Hand, Long Acre caricature - circa 1928
Illustrator - J K Popham
Residents at this address.
1792/Tempest Holt / Victualler /../../Sun Fire Office records, held at London Metropolitan Archives **

1829/Richard Mills, Bird in Hand, 17 Long acre/../../Robsons Directory

1833-34/Richard Mills, Bird in Hand, 17 Long acre/../../Pigots Directory

1839/Richard Mills/../../../Pigots Directory

1841/Richard Mills/../../../Post Office Directory

1842/Rich. Mill/../../../Robsonís Directory **

1846/Richard Mills/../../../Post Office Directory

1848/Richard Mills/../../../Post Office Directory

1851/Isabella Mills/Licensed Victualler, Widow/75/Westmoreland/Census
1851/Thomas Nicholson/Nephew, Barman/29/Surrey/Census
1851/William Hague/Visitor, Painter/31/Cheltenham, Gloucestershire/Census
1851/Hannah Davies/Niece/10/Middlesex/Census
1851/Emma Davies/Niece/1/Middlesex/Census
1851/Ann Hemings/Nursemaid/18/Oxford, Oxfordshire/Census
1851/Ellen Malony/General Servant/24/Ireland/Census
1851/Thomas Harris/Errand Boy/16/Westminster, Middlesex/Census

1856/Mrs I Mills/../../../Post Office Directory

1861/Thomas Nicholson/Licensed Victualler/40/Middlesex/Census
1861/Richard Davis/Scholar/17/Middlesex/Census
1861/Mary Ward/General Servant/20/Ireland/Census
1861/Frederick Berritt/General Servant/17/../Census

1862/Thomas Nicholson/../../../Post Office Directory

1869/George Pryer/../../../Post Office Directory

1871/George Pryer/Licensed Victualler/39/Sutton, Surrey/Census
1871/Eliza Pryer/Wife/34/Chelsea, Middlesex/Census
1871/Peter Pryer/Son/11/Pimlico, Middlesex/Census
1871/Albert Pryer/Son/2/St Martin Fields, Middlesex/Census
1871/Sarah Long/Mother/59/St Georges East, Middlesex/Census
1871/Henry Matthews/Potman/27/Woodbridge, Suffolk/Census
1871/Elizabeth Brown/Domestic Servant/22/Shepton Mallet, Somerset/Census

1869/G Pryer/../../../LV Directory

1881/Thomas J Waldock/Publican/41/Mildrith/Census
1881/Elizabeth Waldock/Wife/42/Shipperton/Census
1881/Elizabeth E Waldock/Daughter/4/Paddington, Middlesex/Census
1881/Nathaniel Binck/Servant Inn/19/../Census
1881/Louisa Bink/Servant Inn/17/../Census

1882/Thomas Jas Waldock/../../../Post Office Directory

1884/Thomas J Waldock/../../../Post Office Directory

1891/Mark Hildyard/Licensed Victualler/34/Westminster, London/Census
1891/Emily Spencer/Manageress/26/Twickemham, Middlesex/Census
1891/John Spencer/Visitor, Plasterers Assistant/18/Tooting, Surrey/Census
1891/William Keman/Potman/22/St Giles, London/Census

1897/Charles Austin Arthur Seymour Bull & Clarence Sydney Flexmore / Licensed Victuallers /../../London Gazette, 14 May 1897 **

1899/Henry Bishop/../../../Post Office Directory

1910/Frederick Henry Berry/../../../Post Office Directory

1915/Frederick Herbert Berry / Deceased, Died 14 February 1915 /../../London Gazette, 19 March 1915 **

1921/Lawrence Hill/../../../Post Office Directory

1921/Lawrence Hill & Henry J Bubb/../../../Post Office Directory

1934/Victuallers Ltd/../../../Kellys Directory

1938/Mrs Olive E Craddock/../../../Post Office Directory

1944/Ushers Wiltshire Brewery Ltd/../../../Kelly's



** Provided By Stephen Harris