Clarence Tavern, 53 Whitehall SW1A 2HP
The early address is at 34 Charing Cross road; At 53 Whitehall SW1 by 1934.The pub was originally called the Duke of Clarence. It was most recently rebuilt in 1862. ***
St Martins pub history index
A listing of historical public houses, Taverns, Inns, Beer Houses and Hotels in St Martins in Fields, London. The St Martins in Fields , London listing uses information from census, Trade Directories and History to add licensees, bar staff, Lodgers and Visitors.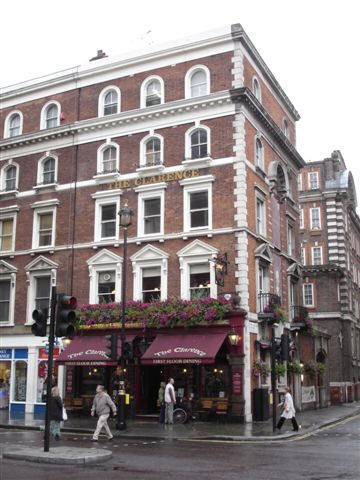 Clarence Tavern, 53 Whitehall, SW1 - in August 2007
Kindly provided by Stephen Harris
The following entries are in this format:
Residents at this address.
1805/J Armstrong, Duke of Clarence, Charing Cross/../../Holdens Directory

1832/Benjamin Joses, Duke of Clarence, 34 Charing Cross/../../Robsons Directory

1839/Loddy & Jones/../../../Pigots Directory

1841/Benj Jones/../../../Post Office Directory

1841/Benjamin Jones/L Victualler/50/../Census *
1841/Sarah Jones/../40/../Census
1841/Matilda Jones/../20/Middlesex/Census
1841/Harriet Jones/../15/Middlesex/Census
1841/George Jones/../13/Middlesex/Census
1841/Phyllis Jones/../6/Middlesex/Census
1841/Marian Jones/../4/Middlesex/Census
1841/Elizth Hagg/Widow/20/../Census
1841/Fredk Bryant/L Victualler/20/Middlesex/Census
1841/Robt Pope/Male Servant/20/../Census
1841/Anthony Pope/Male Servant/15/../Census
1841/Ann Giles/Female Servant/20/Middlesex/Census
1841/Jane Waldock/Female Servant/15/../Census

1851/Benjn Jones/Wine & Spirit Merchant/62/Candover, Shropshire/Census *
1851/Sarah Jones/Wife/53/St Nicholas, Great Yarmouth/Census
1851/Matilda Elizth Jones/Daughter/30/St Pancras, Middlesex/Census
1851/Diana Ann Jones/Daughter/22/St Martin in the Fields/Census
1851/Amelia L Jones/Daughter/21/St Martin in the Fields/Census
1851/Phillis Rowlands Jones/Daughter/15/St Martin in the Fields/Census
1851/Marian Bryant Jones/Daughter/13/St Martin in the Fields/Census
1851/George Jones/Nephewm, Wine & Spirit Merchant/32/St Pancras, Middlesex/Census
1851/Matilda Harriet Cole/Grandchild/7 months/Kennington/Census
1851/Ann Giles/Servant/32/St Pancras, Middlesex/Census
1851/Eliza Saunders/Nurse/20/Brill, Buckinghamshire/Census
1851/William Fork Miller/Barman/26/St Pancras, Middlesex/Census
1851/Thomas Turner/Under Barman/20/Paddington/Census

1861/Benjamin Jones/Victualler/73/Dorrington, Shtropshire/Census *
1861/Sarah Jones/Wife/63/Yarmouth, Norfolk/Census
1861/Matilda Jones/Daughter/40/St Pancras, Middlesex/Census
1861/Amelia Jones/Daughter/31/St Martins, Middlesex/Census
1861/Marrianne Jones/Daughter/22/St Martins, Middlesex/Census
1861/Sarah Jones/Grand Daughter/20/Lambeth, Surrey/Census
1861/Harriett Williams/Grand Daughter/2/Pimlico, Middlesex/Census
1861/Susan Langford/House Servant/20/Westminster, Middlesex/Census
1861/Charles Howe/Barman/26/Burling, Suffolk/Census
1861/George Saxby/Potman/16/Bexley, Kent/Census
1861/Edward Dunn/Errand Boy/16/London, Middlesex/Census

1867/Mr John Jarvis/../../../Licensed Victuallers Association

1869/John Jarvis/../../../Post Office Directory

1871/Henry Adams/Manager/50/Northleigh, Oxfordshire/Census
1871/William Buxton/Barman/26/Middlesex/Census
1871/George Bradman/Barman/19/Egham, Surrey/Census
1871/Albert Streatfield/Barman/26/Hayes, Kent/Census
1871/Frederick Winter/Barman/19/Middlesex/Census
1871/Robert Pheasant/Barman/22/Kings Lynn, Norfolk/Census
1871/Alfred Andrews/Barman/12/Kensington, Middlesex/Census
1871/Susannah Taylor/Housekeeper/42/Titsworth, Oxfordshire/Census

1881/Thomas Whaley/Licensed Victualler/27/Stratford, Essex/Census
1881/Jane Whaley/Wife/27/Oxford St, Middlesex/Census
1881/Daisy Ethel Whaley/Daughter/11 months/Charing X, Middlesex/Census
1881/Maria Angel/Servant (Domestic)/23/Barnsbury, Middlesex/Census
1881/Sarah Fletcher/Servant (Domestic)/20/London, Middlesex/Census
1881/Annie Dix/Servant (Domestic)/18/St Albans, Hertford/Census
1881/Ashwell Clark/Barman/23/Islington, Middlesex/Census
1881/Edmund Howe/Barman/20/Pimlico, Middlesex/Census
1881/William Stoffell/Barman/24/Southwark, Surrey/Census
1881/Herbert Carter/Barman/18/Brixton, Surrey/Census
1881/Alfred Smith/Barman/19/Brill, Buckingham/Census

1882/Thomas Whaley jun/../../../Post Office Directory

1891/William Whaley/Licensed Victualler/38/City, London/Census
1891/Emily Haynes Whaley/Wife/34/Woodstock, Oxon/Census
1891/Emily Sarah Whaley/Daughter/5/St Pancras, London/Census
1891/William Whaley/Son/4/St Pancras, London/Census
1891/Wm Alf Avenell/Barman/25/Islington, London/Census
1891/Wm Edw Fitt/Barman/21/Yarmouth, Norfolk/Census
1891/Albert Victor/Barman/18/Islington, London/Census
1891/George Clarkson/Barman/18/Kensington, London/Census
1891/Arthur Denman/Barman/16/Clapham, London/Census
1891/Maryann Turner/Domestic Servant/23/Stanlake, Oxon/Census
1891/Elizabeth Bray/Domestic Servant/21/Clifton, Beds/Census

1901/Charles H Paine/Hotel manager/48/Brighton, Sussex/Census
1901/Alice E paine/Wife, manageress/42/London/Census
1901/Elizabeth Boult/Housekeeper/37/Brixton, London/Census
1901/Kate K Hale/Barmaid/28/Handsworth, Birmingham/Census
1901/Alice A Mogridge/Barmaid/30/Southwark, London/Census
1901/Emma C May/Barmaid/23/Forest Hill, London/Census
1901/Emily Whitaker/Cook/28/Southwark, London/Census
1901/Miley Girling/Houseaid/23/Bombay, India/Census
1901/Percy Perryman/Barman/27/Liverpool, Lancashire/Census
1901/Wm M Cotterell/Barman/25/Scotland/Census

1910/Thomas Henry Cook/../../../Post Office Directory

1915/Thomas Henry Cook/../../../Post Office Directory

1921/Mrs Maud Cook/../../../Hughes Directory

1934/Wm Harry Holmes/../../../Kellys Directory

2017/../The Clarence, 53 Whitehall, Whitehall, London, SW1A 2HP : Youngs../../../pub directory ***



* Provided By Joan

** Provided By Stephen Harris