Craven Arms, 1 - 3 Craven passage WC2
This pub was listed as the Ship & Shovel in 1874 and earlier; but by 1878 has become the Craven Arms, aka Craven Tavern in 1884. By the 1980s the name had reverted to the Ship & Shovel and this was amended to the Ship & Shovell following restoration in around 1997. The address has been given as both 1 Craven Passage and 3 Craven Court at various times. **
It is still open for business in 2019 as the Ship & Shovell.
St Martins pub history index
A listing of historical public houses, Taverns, Inns, Beer Houses and Hotels in St Martins in Fields, London. The St Martins in Fields , London listing uses information from census, Trade Directories and History to add licensees, bar staff, Lodgers and Visitors.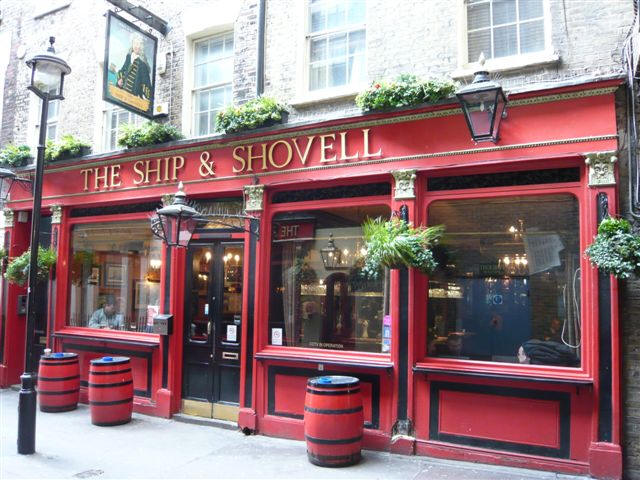 Craven Arms, 1-3 Craven Passage, WC2 - in March 2008
Kindly provided by Stephen Harris
Residents at this address.
1829/Thomas Corby, Ship & Shovel, 3 Craven Court, Strand/../../Robsons Directory

1833-34/Thomas Corby, Ship & Shovel, 3 Craven Court, Strand/../../Pigots Directory

1836/Thomas Corby, Ship & Shovel, 3 Craven Court, Strand/../../Pigots Directory

1839/Thomas Corby, Ship & Shovel, 3 Craven Court, Strand/../../Pigots Directory

1842/Thomas Corby, Ship & Shovel, Craven Court, Strand/../../Robsons Directory

1843/Thomas Corby/../../../Post Office Directory

1852/Thomas Corby/../../../Watkins Directory

1869/Thomas Corby/../../../Post Office Directory

July 1869/James Chessher/ Outgoing Licensee /../../The Era

July 1869/John Dyer/ Incoming Licensee /../../The Era

1871/John Dyer/Licensed Victualler/53/Banbury, Oxfordshire/Census
1871/Fanny Dyer/Wife/45/Ripley, Yorkshire/Census
1871/Charlotte Dyer/Daughter/14/Marylebone, Middlesex/Census
1871/John Anthony Dyer/Son/9 months/St Martins, Middlesex/Census
1871/Margaret Mahony/General Servant/30/Cork, Ireland/Census
1871/Leonard Hayward/Potman/32/St Martins, Middlesex/Census
1871/William Mitchell/Waiter/30/Islington, Middlesex/Census

1874/Fanny Dyer/../../../Licensed Victualler & Hotelier Directory

Emily Jarvis (nee Quinton) and her sisters were my great great aunts! I think James Jarvis died in 1884 – not clear how. In 1871, he and Emily, his wife to be, were working and living at Whitehall Garden National Club, Westminster – he as a valet, and she as a housemaid (4th housemaid, indeed). Their rise seemed to be as fast as their fall. I think Emily died in the 1890s. ***

1878/James Jarvis/../../../Post Office Directory **

1881/James Jarvis/Licensed Victualler/44/Suffolk/Census ***
1881/Emily Jarvis/Wife/39/Croydon, Surrey/Census
1881/Mary A Quinton/Sister In Law, Barmaid/31/Norwood, Surrey/Census
1881/Alice Quinton/Sister In Law, Ladysmaid/26/Croydon, Surrey/Census
1881/James Budd/Boarder, waiter/19/Westbury, Wiltshire/Census
1881/Susan Ball/Cook/38/St Lukes, Middlesex/Census
1881/Jane Branchley/Housemaid/15/Lambeth, Surrey/Census
1881/George Harris/Boarder, Clerk Merchants/25/St Marys Cray, Kent/Census
1881/Stephen Smith/Boarder, Courier/35/St Georges, Middlesex/Census
1881/William Roit/Boarder, Courier/40/Coulogne, Germany/Census
1881/Thomas Cowling/Boarder, Porter/32/Clerkenwell, Middlesex/Census
1881/Walter George/Boarder, Farmer/30/Gayton, Northampton/Census
1881/Charles Henne/Waiter/25/Wurtemberg, Germany/Census

1882/James Jarvis/../../../Post Office Directory ***

1884/James Jarvis/../../../Post Office Directory ***

1891/Charles Henry Waller/../../../Post Office Directory

1891/Joshua Mayhew/Public House Manager/40/London/Census
1891/Emily Benson/Manageress/30/London/Census
1891/Alice Wilson/Barmaid/22/London/Census
1891/Elizabeth Hartley/Barmaid/27/Staffordshire/Census
1891/Rose Dixon/Cook/24/Essex/Census
1891/Jessie Lashwood/Housemaid/21/London/Census
1891/Ephraim Bartlett/Potman/28/Bucks/Census

1904/Jn Alfred Newman/../../../Post Office Directory **

1911/John Alfred Newman/Licensed Victualler/38/Southwark, London/Census
1911/Ellen Newman/Wife/37/Bow Park, Middlesex/Census
1911/John Edward Newman/Son/16/Upton Park, Essex/Census
1911/James Newman/Son/14/Stratford, Essex/Census
1911/William Newman/Son/10/Stratford, Essex/Census
1911/Violet Newman/Daughter/8/Southwark, London/Census
1911/Reginald Newman/Son/5/Charing Cross, London/Census
1911/Alfred Bailey/Barman/29/Leytonstone, Essex/Census
1911/Lizzie Whitmarsh/Domestic Servant/19/West ham, Essex/Census
1911/Ernest Thomas/Visitor/35/Berkeley/Census

1921/Jno Alfred Newman/../../../Post Office Directory **

1941/Jn Alfred Newman/../../../Post Office Directory **



** Provided By Stephen Harris

*** Provided by Julian Baker