Pub history and pub wiki
George, 2 George Court, WC2
The pub was renamed the Retro Bar in around 2000. **
St Martins pub history index
A listing of historical public houses, Taverns, Inns, Beer Houses and Hotels in St Martins in Fields, London. The St Martins in Fields , London listing uses information from census, Trade Directories and History to add licensees, bar staff, Lodgers and Visitors.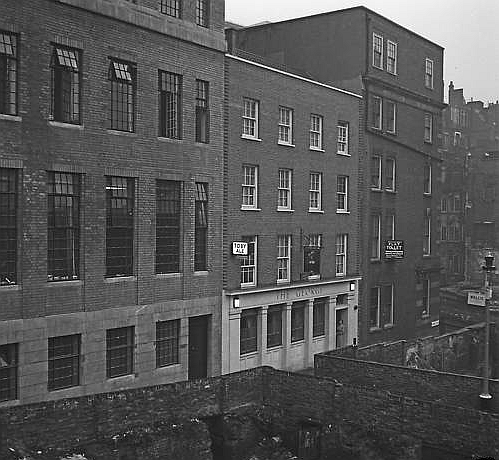 George, George Court, The Strand
Kindly provided by Colleen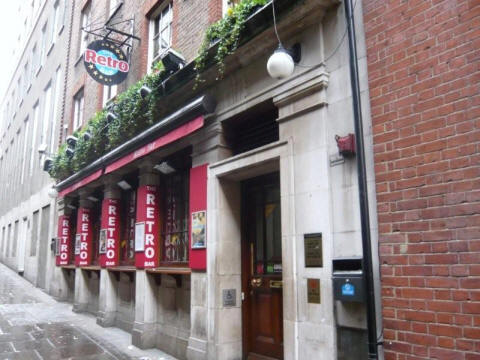 George, 2 George Court, WC2 - in November 2008
Kindly provided by Stephen Harris
The following entries are in this format:
Year/Publican or other Resident/Relationship to Head and or Occupation/Age/Where Born/Source.
1833-34/Ann Prickett, George, 4 George court, Strand/../../Pigots Directory ****

1839/Emily Man/../../../Pigots Directory ****

1841/John Gale/../../../Post Office Directory ****

1842/John Gale/../../../Robsons Directory ****

November 1851/John Jones/Outgoing Licensee/../../Era ****

November 1851/William Prince/Incoming Licensee/../../Era ****

1856/William Prince/../../../Post Office Directory ****

1861/William Prince/Licensed Victualler/43/Binfield, Berkshire/Census ****
1861/Lucy Prince/Wife/33/Windsor, Berkshire/Census
1861/George Curtis/Servant, Widow/53/Banbury, Oxfordshire/Census
1861/Samuel Doodeward/Lodger, Traveller/23/Belguim/Census

1865/John Fairbanks/../../../LV Association ****

1869/J A Margot/../../../Post Office Directory ****

1871/William Cliff/Publican/37/Trentran, Staffordshire/Census ****
1871/Ann Cliff/Wife/39/Newton, Cheshire/Census
1871/Grace Garner/Niece/6/Hoxton, Middlesex/Census
1871/William Randall/Potman/23/../Census
1871/H Holmyard/General Servant/20/St Georges, Middlesex/Census
1871/Rob Hampson/Lodger, Commercial Traveller/50/Lancashire/Census
1871/Jane Hampson/Lodger/42/Poole, Dorset/Census
1871/James Perkenson/Lodger/54/Crediton, Devon/Census
1871/James Cleghorn/Waiter/40/Northumberland/Census
1871/Ralph Cleghorn/Servant Son/12/Durham/Census

1873/William Maddison Hearn/../../../Post Office Directory **

1874/W Maddison Hearn/../../../LV Directory ****

1881/Henry Stuart/Licensed Victualler/29/London, Middlesex/Census ****
1881/Fanny B Stuart/Wife/25/Gainsboro, Lincoln/Census
1881/Sarah Cranthorne/Mother In Law, Assistant, Widow/50/Gainsboro, Lincoln/Census
1881/Samuel R Stuart/Son/4/Hull, York/Census
1881/Winifred B Stuart/Daughter/4 months/Strand, Middlesex/Census
1881/Sylvia Darvill/Domestic/17/Marylebone, Middlesex/Census
1881/Henry Pocock/Potman/26/Walton, Essex/Census

1884/Samuel R Stuart/../../../Post Office Directory **

1885/Henry Burton/../../../Post Office Directory **

1891/Richard Boyd Lipscomb/../../../Post Office Directory ****

1891/Richard B Lipscombe/Licensed Victualler/30/Bermondsey, London/Census ****
1891/Emily Lipscombe/Wife/29/Woolwich, Kent/Census
1891/Georgina Silcock/Barmaid/16/London/Census
1891/Mary Ann Rook/General Servant/19/London/Census
1891/Thomas Bennett/Nephew/12/London/Census

1895/Walter J Selman/../../../Post Office Directory ****

1899/James Ferguson/../../../Post Office Directory ****

1900/James Ferguson/../../../Post Office Directory **

1901/James Fergusson/Licensed Victualler, Widow/61/Dumfrieshire, Scotland/Census ****
1901/Frances Willden/Sister in Law, Housekeeper/50/London/Census
1901/Ann Carter/Barmaid/22/Eastbourne, Sussex/Census
1901/Anna Goodacre/Domestic Servant/63/Stratford, Essex/Census

1910/Henry Casey/../../../Post Office Directory ****

1921/Henry Casey/../../../Hughes Directory ****

1938/Clarence V Dove/../../../Hughes Directory ****



** Provided By Stephen Harris

**** Provided By Kevan
Search for a pub, an address or person
And Last updated on: Wednesday, 03-Jul-2019 01:19:50 BST