Green Man, 45 Bedford street WC2
St Martins pub history index
This pub is now closed and in restaurant use. **
A listing of historical public houses, Taverns, Inns, Beer Houses and Hotels in St Martins in Fields, London. The St Martins in Fields , London listing uses information from census, Trade Directories and History to add licensees, bar staff, Lodgers and Visitors.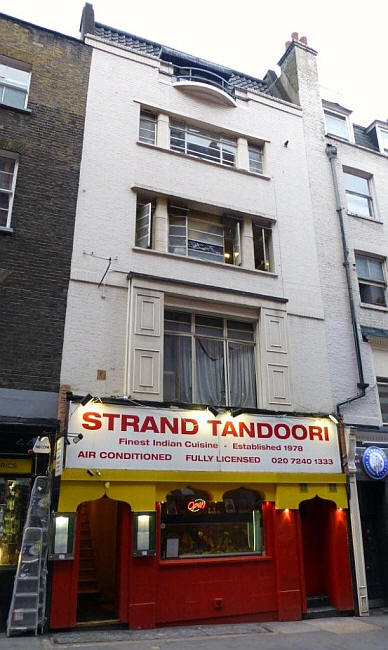 Green Man, 45 Bedford Street, WC2 - in March 2013
Kindly provided by Stephen Harris
Residents at this address.
1827/Charles Chifney, Green man, 45 Bedford street, Covent garden, Feathers, Charles court, Strand/../../Pigot's Directory

1827/John Potts, Green man, 45 Bedford street, Covent garden, Feathers, Charles court, Strand/../../Pigot's Directory

1829/S Potts/../../../Robsons Directory

1832/James Gordon/../../../Robsons Directory

1836/James Gorton/../../../Pigots Directory

1839/Samuel Bedford/../../../Pigots Directory

1842/Sam. Bedford/../../../Robson's Directory **

1843/Job Crowther/../../../Kellys Directory

1851/William Wright/../../../Kellys Directory

1851/William Wright/Publican/34/Ingleby, Derbyshire/Census
1851/Ann Wright/Wife/36/Twyford, Hampshire/Census
1851/George Wright/Son/2/Middlesex/Census
1851/William Wright/Son/1 month/Middlesex/Census
1851/Mary Saunders/Servant/20/../Census
1851/Mary Swan/Servant/18/Derbyshire/Census
1851/George Smith/Servant/19/Leyton, Buckinghamshire/Census

1856/William Wright/../../../Post Office Directory

January 1856/William Wright, deceased/Outgoing Licensee/../../Era

January 1856/Mary Ann Wright, widow of William Wright/Incoming Licensee/../../Era

1861/Henry Denman/Victualler/38/Berrow, Worcestershire/Census
1861/Ellen Denman/Wife/32/Enfield, Middlesex/Census
1861/George Weston/Potman/18/North Morton, Berkshire/Census

March 1864/Henry Denman/Outgoing Licensee/../../Era Newspaper

March 1864/Jane Lawrence/Incoming Licensee/../../Era Newspaper

1869/Hy T Harrison/../../../Post Office Directory

1871/Charles Harrison/Licensed Victualler, widow/47/London/Census
1871/Annie Harrison/Daughter, Barmaid/17/London/Census
1871/Sampson Harrison/Son/12/St Martins, London/Census

1881/John Conrad Habicht/Licensed Victualler/48/Schaffouse (Naturalized British Subject), Switzerland/Census
1881/Catherine Habicht/Wife/43/St Lukes, Middlesex/Census
1881/Harry Ed Habicht/Son/11/St Lukes, Middlesex/Census
1881/Alfred Percy Habicht/Son/4/St Pancras, Middlesex/Census
1881/Sarah Mitchell/Barmaid/28/Newington, Middlesex/Census
1881/Mary Mayers/General Servant/23/St Giles, Middlesex/Census
1881/Rachel Harris/Visitor, Netmaker/28/Stratford West Ham, Essex/Census
1881/Alfred Harding/Potman/59/Clerkenwell, Middlesex/Census

1882/John Conrad Habicht/../../../Post Office Directory

1884/John C Habicht/../../../Post Office Directory

1891/Miss Fanny Gittins/../../../Post Office Directory

1891/Fanny Gibbins/Victualler/46/Chelsea, Middlesex/Census
1891/P C Porter/Barmaid/25/Woolwich, Kent/Census
1891/J E Campbell/Barmaid/21/Limehouse, Middlesex/Census
1891/Louisa Berkett/General Servant/21/Camberwell, Surrey/Census
1891/Joseph Sedgrove/Potman/28/Horsham, Surrey/Census

1895/Miss Fanny Gittins/../../../Post Office Directory

1899/William Ive/../../../Post Office Directory

1901/William Ive/Licensed Victualler/26/Hampton, Middlesex/Census
1901/Florence A Ive/Wife/29/London/Census
1901/Cyril W Ive/Son/1/St Martin in Fields, London/Census
1901/Margaret McCarthy/General Servant/34/Ireland/Census
1901/Lena Beyer/Nurse/19/Germany/Census
1901/George Roberts/Potman/25/Tunbridge Wells, kent/Census
1901/Lilly Duncan/Barmaid/19/Clapham, London/Census

1910/William Ive/../../../Post Office Directory

1921/Miss Mary Ann Emma Squires/../../../Post Office Directory

1927/Bertie Norman Trimmer/../../../Post Office Directory

1934/James Russell/../../../Post Office Directory

1938/Hy Griffin/../../../Post Office Directory

1940/Goodhews Ltd/../../../Post Office Directory

1942/Goodhews Ltd/../../../Post Office Directory

1944/Goodhews Ltd/../../../Post Office Directory



** Provided By Stephen Harris