Griffin Tavern, 9 & 11 Villiers street WC2
This pub was founded in the seventeenth century and in 2005 was renamed the Bell & Compass. The address is at 31 Villiers Street up until at least 1927. The address alters to 9 & 11 Villiers Street by 1932 when the street is renumbered according to the side of the road. It sometimes has an early address of 19 Duke street at the same time and it never actually moves (Duke street is later renamed to John Adam street). **
St Martins pub history index
A listing of historical public houses, Taverns, Inns, Beer Houses and Hotels in St Martins in Fields, London. The St Martins in Fields , London listing uses information from census, Trade Directories and History to add licensees, bar staff, Lodgers and Visitors.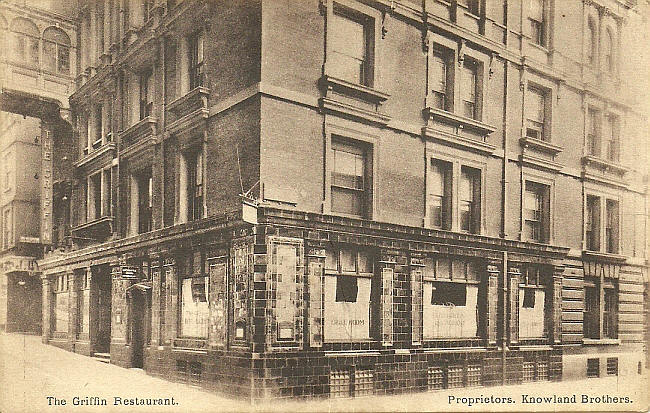 The Griffin, 9 & 11 Villiers Street - circa 1930s
Kindly provided by Jane Long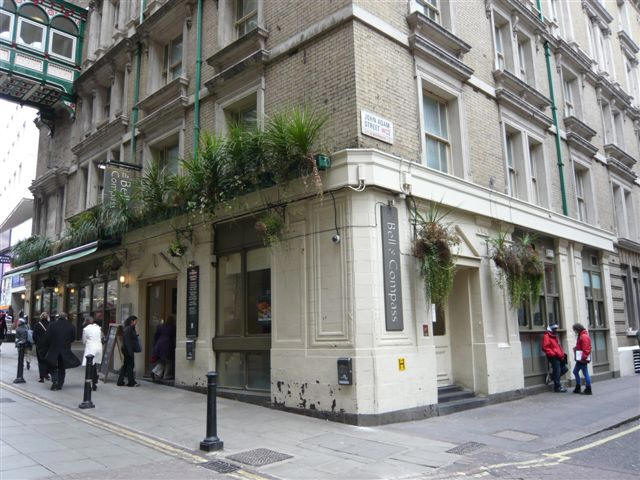 Griffin, 9-11 Villiers Street, WC2 - in March 2008
Kindly provided by Stephen Harris
Residents at this address.
1827/William Prescott, Griffin, 19 Duke street, Adelphi/../../Pigot's Directory

1829/W Prescott, Griffin, 19 Duke street & 30 Villiers street/../../Robsons Directory

1832/W Prescott, Griffin, 30 Villiers street/../../Robsons Directory

1836/William Prescott, Griffin, 19 Duke street, Adelphi/../../Pigots Directory

1839/Henry Todman/../../../Pigots Directory

1843/Henry Todman/../../../Kellys Directory

1848/Henry Todman/../../../Post Office Directory

1851/Henry Todman/../../../Kellys Directory

1851/Henry Todman/Licensed Victualler, Widow/65/London/Census
1851/Ann Prescott/Widow/72/Yorkshire/Census
1851/Jane Smith/Lodger, Works at Seed Warehouse/60/London/Census
1851/James Wood/Lodger, Lighterman/59/London/Census
1851/Catherine Wood/Lodger/62/London/Census
1851/John Robinson/Lodger, Painter/41/Mansfield, Nottinghamshire/Census
1851/John Starger/Potman/21/London/Census
1851/Elizabeth Wood/Barman/30/London/Census
1851/Elizabeth Mongan/House Servant/24/London/Census
1851/Frances Narroway/Barmaid/15/London/Census
1851/Mary Hull/Lodger/40/London/Census

1852/Henry Todman/../../../Watkins Directory **

May 1852/Henry Todman/Outgoing Licensee/../../Era

May 1852/Edward Symonds/Incoming Licensee/../../Era

1856/Edward Symons/../../../Post Office Directory

1861/John Pullen/Licensed Victualler/38/City of London/Census
1861/Elizabeth Pullen/Daughter/7/Clapham, Surrey/Census
1861/Emily Pullen/Daughter/6/Clapham, Surrey/Census
1861/Annette Pullen/Daughter/3/Clapham, Surrey/Census
1861/Elizabeth Roe/Barmaid/21/Lambeth, Surrey/Census
1861/Margaret Mackie/Domestic Servant/21/Dundee, Scotland/Census
1861/Mary Saunders/Domestic Servant/23/Lambeth, Surrey/Census
1861/John Wright/Potman/29/St Giles, Middlesex/Census

1869/William Charker/../../../Post Office Directory

1871/John Moody/Manager of Business/31/Winchester/Census
1871/Sarah Haylor/Barmaid/39/Whittington/Census
1871/Louisa Haylor/Barmaid/29/Whittington/Census
1871/Ann Elizabeth Harvin/Barmaid/26/Chesterfield/Census
1871/Emma Taylor/Barmaid/19/Mile End/Census
1871/Eliza Cunningham/Cook/29/Bath/Census
1871/Perry Howes/Visitor, Waiter/27/Woolwich/Census
1871/Sarah Collins/Housemaid/25/Westminster/Census
1871/Richard Browning/Visitor, Waiter/30/London/Census

1881/William F Thomas/Licensed Victualler/38/Paddington, Middlesex/Census
1881/Emma Thomas/Wife/38/Smithwark, Surrey/Census
1881/Wm Jas Thomas/Son/15/Lambeth, Surrey/Census
1881/Mahala Day/Barmaid/22/Palstead, Suffolk/Census
1881/Emma Broadbridge/Barmaid/22/New Cross, Kent/Census
1881/Alice Broadbridge/Barmaid/19/Strand, Kent/Census
1881/Elizabeth Richardson/Cook/24/Greenock, Kent/Census
1881/Mary Waghorn/Housemaid/21/Northfleet, Kent/Census
1881/Richard Linsey/Barman/25/Bath, Somerset/Census
1881/George Liberty/Potman/22/Barnesbury, Middlesex/Census

1882/Wm Fman Thomas/../../../Post Office Directory

1884/William Thomas/../../../Post Office Directory

1885/Wm Fman Thomas/../../../Post Office Directory **

1891/William Freeman Thomas/../../../Post Office Directory

1891/William J Thomas/Licensed Victualler/46/../Census
1891/Clara Syne/Barmaid/23/Blackfriars/Census
1891/Ellen Wenders/Barmaid/22/Bexley, Kent/Census
1891/Minnie Wenders/Barmaid/23/Bexley, Kent/Census
1891/Flor Mills/Barmaid/21/Tower, London/Census
1891/Hughina Rose/Barmaid/24/Ross County/Census
1891/Annie Tellman/Barmaid/24/Southampton/Census
1891/Sar Harris/Cook/27/Hampstead/Census
1891/Emily Carpenter/Housemaid/20/St Johns Wood/Census
1891/Alf Underwood/Barman/25/Upper Clapton/Census
1891/Fred Holmes/Potman/26/Bermondsey/Census
1891/Harry Kennet/Page/16/Blackfriars/Census

1895/Henry James Towoll/../../../Post Office Directory

1899/Isaac Smith Manley/../../../Post Office Directory

1901/Alfred G Gray/Hotel Manager/37/St Giles, Cambridge/Census
1901/Alberta Gray/Wife, Hotel manageress/32/Whitechapel, London/Census
1901/Ronald E Gray/Son/7/Strand, London/Census
1901/Grace C Brown/Barmaid/22/Huntingdonshire/Census
1901/Maud R Ellis/Barmaid/22/Barnsbury, Middlesex/Census
1901/Alice N Hebbes/Barmaid/19/Brompton, London/Census
1901/Patrick Kevins/Potman/28/Tipperary, Nenagh/Census
1901/Edwin Stevenson/Barman/23/Woodbridge, Suffolk/Census
1901/Edwin M Smith/Barman/20/Chesterton, Cambridgeshire/Census
1901/Harry R Kennett/Waiter in Bar/26/Blackfriars, London/Census
1901/Emma Edgar/Cook, Widow/43/Clerkenwell, London/Census
1901/Elizabeth L Tubb/Housemaid/22/Andover, Hampshire/Census

1911/Leonard Stones/Manager Public House/29/London/Census
1911/Jessie Stones/Wife, Manageress/26/London/Census
1911/Maude Bevan/Barmaid/19/West Kensington/Census
1911/Lily May/Barmaid/25/Leeds/Census
1911/Florence Freegard/Housemaid/31/London/Census
1911/Patrick Gallagher/Porter/28/Ireland/Census
1911/Alfred Shelford/Barman/21/London/Census
1911/Harry Witney/Barman/22/London/Census

1912/Baker & Co/../../../Post Office Directory

1915/Baker & Co/../../../Post Office Directory **

1921/Knowland Brothers/../../../Post Office Directory **

1927/Knowland Brothers/../../../Post Office Directory

1941/Knowland Brothers/../../../Post Office Directory **



** Provided By Stephen Harris