Search London wiki and Pub wiki history sites
All public house, restaurants, bars etc closed for the forseeable future from 20th March 2020, but this is a history site.
Hampshire Hog, 410 Strand, St Martins in Fields WC2
St Martins pub history index
This pub closed in 1887, when it was absorbed as an extension of the Adelphi Theatre. **
A listing of historical public houses, Taverns, Inns, Beer Houses and Hotels in St Martins in Fields, London. The St Martins in Fields , London listing uses information from census, Trade Directories and History to add licensees, bar staff, Lodgers and Visitors.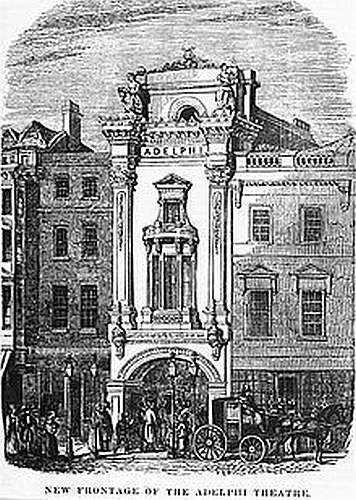 In the enclosed engraving of 1840, the Hampshire Hog is the building to the right of the Adelphi Theatre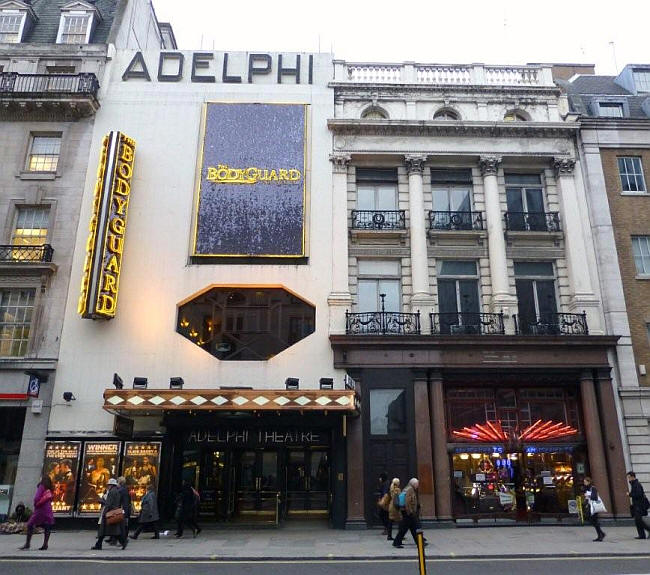 The same view of the Adelphi Theatre in 2013
Kindly provided by Stephen Harris
Residents at this address.
1794/Thomas Davis / Victualler /../../Sun Fire Office records, held at London Metropolitan Archives **

1801/John Greenaway / Victualler /../../Sun Fire Office records, held at London Metropolitan Archives **

1805/John Greenaway, the Hampshire Hog, 410 Strand/../../Holdens Directory

1825/Mr Maw, Hampshire Hog, Strand/../../Licensed Victuallers Association

1830/Mr Salter, Hampshire Hog, 405 Strand/../../Licensed Victuallers Association

1833-34/Thomas Salter, Hampshire Hog, 410 Strand/../../Pigots Directory

1836/Thomas Salter, Hampshire Hog, 410 Strand/../../Pigots Directory

1839/Thomas Salter/../../../Pigots Directory

1842/Thomas Salter/../../../Robsonís Directory **

1843/George Shepherd/../../../Kellys Directory

1848/Benjamin Conquest/../../../Post Office Directory

1851/Benj O Conquest/../../../Kellys Directory

1851/Joseph Taunton/Licensed Victualler/28/Brentford, Middlesex/Census
1851/Amelia taunton/Wife/32/Stepney/Census
1851/Mary Faulkner/Servant/22/Norton, Northamptonshire/Census
1851/Emma Granger/Servant/16/London/Census
1851/Margaret Mahony/Cook/28/London/Census
1851/Charles Wood/Waiter/22/Buckinghamshire/Census

1856/Joseph Taunton jun/../../../Post Office Directory

1861/Joseph Taunton/Victualler/40/Isleworth, Middlesex/Census
1861/Amelia Taunton/Wife/44/Stepney, Middlesex/Census
1861/Amelia E Taunton/Daughter/10/Islington, Middlesex/Census
1861/Joseph W Taunton/Son/7/St Martins Westminster, Middlesex/Census
1861/Alfred Tyreman/Barman/31/St Clement Danes, Middlesex/Census
1861/Sarah Ann Whitchurch/General Servant/29/Weston Turnell, Buckinghamshire/Census

1862/Joseph Taunton/../../../Post Office Directory

1869/Daniel Chalker/../../../Post Office Directory

1871/Daniel Chalker/Licensed Victualler, Widow/56/Sidmouth, Devon/Census
1871/Helena Chalker/Daughter/19/St Botolph, City/Census
1871/William Chalker/Son/17/Bethnal Green/Census
1871/Isabella Welsh/Housekeeper/31/St pancras/Census
1871/Elizabeth Welsh/Visitor/10/Marylebone/Census
1871/James Mansell/Barman/23/Chelsea/Census
1871/Martha Evans/General Servant/19/St Martins/Census

1874/J Ashton/../../../Licensed Victualler & Hotelier Directory

1881/Caroline Hubert/Manageress Inn Keeper, Widow/37/Teddington, Oxford/Census
1881/Emily Ingram/Barmaid/22/London, Middlesex/Census
1881/Arthur More/Barman/21/Cambridge/Census
1881/Jessie Moir/General Servant/30/ackney, Middlesex/Census

1882/John Young/../../../Post Office Directory

1884/Edward Fox/../../../Post Office Directory



** Provided By Stephen Harris