Kembles Head Tavern, 61 & 62 Long Acre, St Martins in Fields WC2E
St Martins pub history index
Listed as the John Kemble in 1851 and 1856, at 61 & 62 Long acre, at the Bow street intersection. The earlier address in 1841 is at 60 Long acre. This would tie in with it being earlier called the Black Boy at 60 Long acre in 1829 and 1833. It appears to have closed in 2007 as a public house, and became a Greek restaurant.
A listing of historical public houses, Taverns, Inns, Beer Houses and Hotels in St Martins in Fields, London.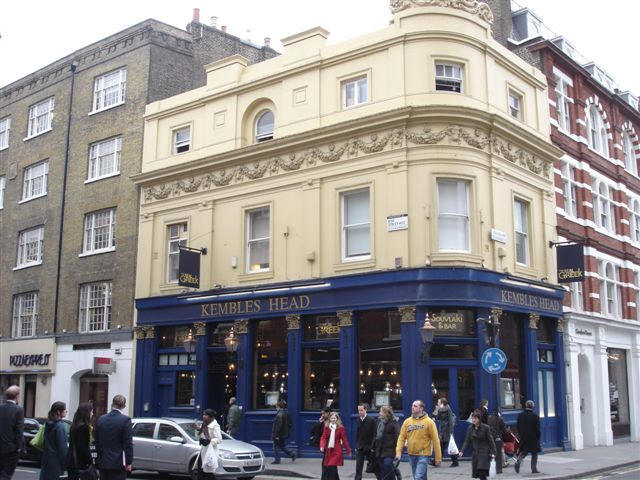 Kembles Head, Long Acre - in January 2007
Kindly provided by Stephen Harris
Residents at this address.
1829/James Byway, Black Boy, 60 Long acre/../../Robsons Directory

1833-34/James Byway, Black Boy, 60 Long acre/../../Pigots Directory

1839/Adam Hill/../../../Pigots Directory

1842/Jessie Ann Baily, Jno Kemble, 60 Long acre/../../Robsons Directory **

1848/Joseph Allen, John Kemble, 60 Long acre/../../Post Office Directory

March 1849/Joseph Allen, deceased/ Outgoing Licensee /../../The Era

March 1849/Mary Ann Allan, widow and administatrix of Joseph Allen/ Incoming Licensee /../../The Era

1851/Thomas Wilkes/John Kemble/../../Kellys Directory

1851/Thomas Wilkes/Victualler/36/Wellington, Hertfordshire/Census
1851/Mary Wilkes/Wife/43/Walton, Yorkshire/Census
1851/James Wilkes/Brother, Pawnbrokers Assistant/Wellington, Hertfordshire//Census
1851/Sophia Lupton/Niece, Barmaid/21/Bloomsbury, Middlesex/Census
1851/George Perry/Nephew/11/Scarborough, Yorkshire/Census
1851/Frances Barnett/Visitor, Farners Son/25/Burghill, Herefordshire/Census
1851/Martha Sulanan/Cook/18/City of London, Middlesex/Census
1851/Henry Read/Waiter/23/Clerkenwell, Middlesex/Census

1856/John David Rochat/John Kemble/../../Post Office Directory

April 1861/Valentine Yarsoll?/Outgoing Licensee/../../Era

April 1861/Thomas Patchett/Incoming Licensee/../../Era

1861/Thomas Patchett/Licensed Victualler/32/Rutlandshire/Census
1861/Elizabeth Patchett/Wife/31/Middlesex/Census
1861/Sarah Jerrad/Sister, Barmaid/24/Middlesex/Census
1861/Sarah Barnet/Servant/46/Birmingham/Census
1861/George Bolwell/Pot Boy/20/Wiltshire/Census

1869/Joseph Wormald/../../../Post Office Directory

1874/J Hoadley/../../../Licensed Victualler & Hotelier Directory

1881/William Hogg/Licensed Victualler/51/Thove Darlington, Durham/Census
1881/Mary Ann Hogg/Wife/35/Windsor, Berkshire/Census
1881/James Hogg/Son, Barman/22/Calne, Wiltshire/Census
1881/Emma Hogg/Daughter, Barmaid/20/London, Middlesex/Census
1881/Mary Hogg/Daughter, Barmaid/18/London, Middlesex/Census
1881/Kate Albert/Cook/26/St James, Middlesex/Census
1881/Thomas Ellis/Potman/25/Lambeth, Surrey/Census
1881/Robert Hogg/Son, Harness Maker/16/London, Middlesex/Census

1882/William Hogg/../../../Post Office Directory

1884/William Hogg/../../../Post Office Directory

1891/Lewis Lake/../../../Post Office Directory

1891/Lewis Lake/Licensed Victualler, Widow/33/Torquay, Devonshire/Census
1891/Ernest E Lake/Son/../St Pancras, London/Census
1891/Lillian R Lake/Daughter/3/St Pancras, London/Census
1891/David Tolhurst/Barman/18/Battersea, Surrey/Census
1891/Emily Juniper/Barmaid/22/Stepney, London/Census
1891/Alice Whitehouse/Waitress/20/St Johns Wood, London/Census
1891/Clara A Bradbury/Barmaid/26/St Martins, London/Census
1891/Sarah A Gillard/Nurse/33/Charlton, Gloucestershire/Census
1891/Helen King/Domestic Servant, Widow/31/Cambridge/Census
1891/Walter Wood/Visitor, Photographic Operator, Widow/56/Brighton, Sussex/Census

1895/Lewis Lake/../../../Post Office Directory

1899/Lewis Lake/../../../Post Office Directory

1901/Lewis Lake/Licensed Victualler, Widow/44/Torquay, Devon/Census
1901/Charles Thomas/Barman, Widow/63/Brixton, London/Census
1901/Annie Stephens/Barmaid/30/Greenwich, London/Census
1901/Lila Charlick/Barmaid/28/Enfield Wash, Middlesex/Census
1901/Rosa Staff/Housemaid/27/Romford, Essex/Census

1910/Lewis Lake/../../../Post Office Directory

1911/Lewis Lake/Licensed Victualler, Widow/52/Torquay, Devon/Census
1911/Lucy Lake/Sister, Housekeeper/56/Torquay, Devon/Census
1911/William Gusette/Barman/37/City of London/Census
1911/Ada Griffiths/Barmaid/37/Birmingham/Census
1911/Lizzie McKenzie/Cook/36/London/Census
1911/Ernest Emil Lake/Son, Accountant/24/London/Census

1915/Lewis Lake/../../../Post Office Directory

1921/J T Davies & Son/../../../Post Office Directory

1934/J T Davies & Son/../../../Kellys Directory

1938/J T Davies & Son/../../../Post Office Directory

In 1939 at 61 & 62 Long Acre, the Kembles Head Tavern, are :
Percy J Smith, Hotel Manager, born 10 Nov 1886;
Sarah E Smith, Hotel Manageress, born 30 Nov 1888 ;
Francis F Roche, Barman, born 21 May 1912;
Hugh McKelvey, Barman, born 7 Jan 1912;
Michael J McCabe, Pot and Barman, born 19 Nov 1920.

1944/J T Davies & Son/../../../Post Office Directory



** Provided By Stephen Harris