Lemon Tree, 4 Bedfordbury, St Martins in Fields WC2
St Martins pub history index
Still open in 2018.
A listing of historical public houses, Taverns, Inns, Beer Houses and Hotels in St Martins in Fields, London. The St Martins in Fields , London listing uses information from census, Trade Directories and History to add licensees, bar staff, Lodgers and Visitors.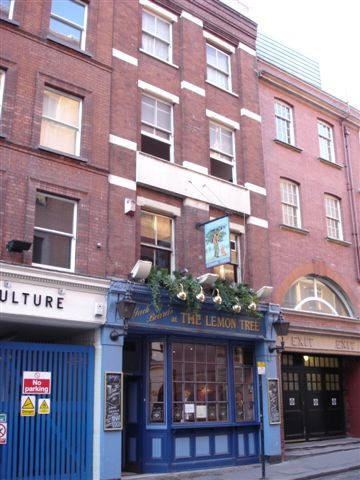 Lemon Tree, Bedfordbury - in December 2006
Kindly provided by Stephen Harris
Residents at this address.
1829/E Carter, Lemon Tree, 4 Bedfordbury/../../Robsons Directory

1832/Carter/../../../Robsons Directory

1833-34/Elizabeth Carter, Lemon Tree, 4 Bedfordbury/../../Pigots Directory

1839/Elizabeth Carter/../../../Pigots Directory

1842/Eliz. Carter/../../../Robson's Directory **

1843/William Owers/../../../Post Office Directory

1848/William Huggins/../../../Post Office Directory

1851/William Huggins/../../../Kellys Directory

1851/Margaret Susams/Licensed Victualler, Widow/61/City of London, Middlesex/Census
1851/Elizabeth Moscrop/Visitor, Servant/49/St James, Middlesex/Census
1851/Mary A Hill/Visitor, Servant/24/Chelsea, Middlesex/Census
1851/Eliza Beale/Servant/13/Bristol, Somerset/Census
1851/Luciana Ariel/Lodger, Traveller/29/Valencia, Spain/Census
1851/William Whitlock/Lodger, Discharges soldier/42/Bath, Somerset/Census
1851/Thomas wilson/Lodger, Servant/24/Coventry, Warwickshire/Census

May 1853/Joseph Hill/Incoming Licensee/../../Era

July 1853/Joseph Hill/Outgoing Licensee/../../Era Newspaper

July 1853/Samuel Sharman/Incoming Licensee/../../Era Newspaper

November 1857/late tenant quit/Outgoing Licensee/../../Era Newspaper

November 1857/William Henry Matthews/Incoming Licensee/../../Era Newspaper

1869/William Henry Matthews/../../../Post Office Directory

January 1870/William H Matthews/Outgoing Licensee/../../Era Newspaper

January 1870/John Nelson/Incoming Licensee/../../Era Newspaper

1871/John Nelson/Licensed Victualler/32/Westmoreland/Census
1871/Martha Nelson/Wife/32/Kirkby Lonsdale/Census
1871/James Nelson/Brother, gardener/19/Westmoreland/Census
1871/George Sherman/Potman/19/Clerkenwell/Census
1871/Louisa Tilford/Servant/18/Westminster/Census

1874/G Savage/../../../Licensed Victualler & Hotelier Directory

1881/William Swainson/Licensed Victualler/36/Lambeth, Surrey/Census
1881/Mary Ann Swainson/Wife/38/Lincolns Inn, Middlesex/Census
1881/Walter Swainson/Son/5/Bermondsey, Kent/Census
1881/Edward Swainson/Son/4/Bermondsey, Kent/Census
1881/Arthur Stanley Swainson/Son/3/Bermondsey, Kent/Census
1881/Francis Henry Swainson/Son/11 months/Greenwich, Kent/Census
1881/James Nelson/Potman/28/Westmorland/Census

1882/William Swainson/../../../Post Office Directory

1884/Walter Swainson/../../../Post Office Directory

1891/George Turner/../../../Post Office Directory

1891/John Hickey/Manager for Licensed Victualler/24/Westminster, London/Census
1891/Henrietta Hickey/Wife/22/St Martins in the Fields, London/Census
1891/Florence Hickey/Daughter/1/Lambeth, London/Census
1891/Thomas Petersen/Barman/46/Westminster, London/Census
1891/Minnie Williams/Nurse/14/Surrey/Census

1895/Harry F Skeate/../../../Post Office Directory

1899/Martin Willis/../../../Post Office Directory

1901/Richard Davis/Licensed Victualler/45/London/Census
1901/Alice Kennard/Domestic Servant/23/Deptford, London/Census
1901/Ellen Evans/Assistant/20/St Albans, Hertfordshire/Census

1906/Richard Nathaniel Davis/../../../Post Office Directory

1910/James William Arthur Bobbett/../../../Post Office Directory

1911/Arthur John Bobbett/Gentleman/49/Westminster, London/Census
1911/Maria Ann Bobbett/Wife, Licensed Victualler/49/Chelsea, London/Census
1911/Annie Sewel/Barmaid/23/Drummond Street, Euston/Census
1911/Ethel Maud/Powell/Barmaid/24/Clapham, London/Census

1921/M A Bobbett/../../../Post Office Directory

1927/Mrs Mary Gardner/../../../Post Office Directory

1934/Jas E Murphy/../../../Kellys Directory

1938/Jas R Murphy/../../../Post Office Directory

1944/Charles Stern/../../../Post Office Directory



** Provided By Stephen Harris