Search London wiki and Pub wiki history sites
All public house, restaurants, bars etc closed for the forseeable future from 20th March 2020, but this is a pub history site.
Lukes Head, 25 Mercer street WC2
St Martins pub history index
This pub is now closed. I cannot be certain thatthe current building at this address is the former pub – but it looks to be old enough. **
A listing of historical public houses, Taverns, Inns, Beer Houses and Hotels in St Martins in Fields, London. The St Martins in Fields , London listing uses information from census, Trade Directories and History to add licensees, bar staff, Lodgers and Visitors.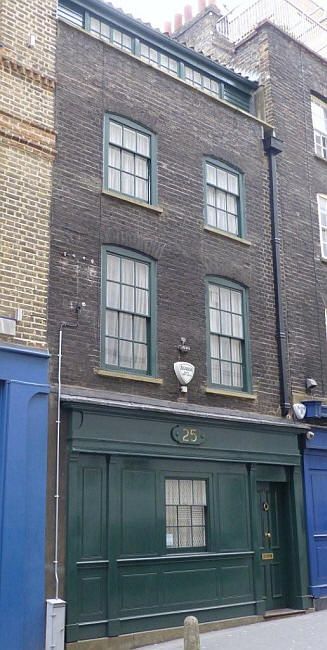 Luke's Head, 25 Mercer Street, WC2 - in March 2013
Kindly provided by Stephen Harris
Residents at this address.
1792/John Hampton / Victualler /../../Sun Fire Office records, held at London Metropolitan Archives **

1834/George Roberts / Victualler /../../Sun Fire Office records, held at London Metropolitan Archives **

1839/Chas Bardill/../../../Pigots Directory

1842/John Walton/../../../Robson's Directory **

1851/Joseph Adkins/../../../Kellys Directory

1851/Joseph Adkins/Licensed Victualler/45/Windsor, Berkshire/Census
1851/Mary Adkins/Wife/33/Eaton, Buckinghamshire/Census
1851/Mary Adkins/Daughter/5/St Marylebone, Middlesex/Census
1851/Emma Adkins/Daughter/3/St Giles in the Fields, Middlesex/Census
1851/Margaret Elizabeth Birmingham/General Servant/16/Islington, Middlesex/Census

May 1852/Joseph Adkins/Outgoing Licensee/../../Era

May 1852/William Green/Incoming Licensee/../../Era

July 1853/Joseph Hammond, deceased/Outgoing Licensee/../../Era Newspaper

July 1853/Sophia Hammond, widow and administrtarix of Joseph Hammond/Incoming Licensee/../../Era Newspaper

October1853/Sophia Hammond/Outgoing Licensee/../../Era

October 1853/John Smith/Incoming Licensee/../../Era

1856/Jacob Beard/../../../Post Office Directory

March 1863/Lukes Head, Mercer street, David Wark to Edward John Harvey/../../Morning Advertiser

March 1864/Edward John Harvey/Outgoing Licensee/../../Era Newspaper

March 1864/James Kay/Incoming Licensee/../../Era Newspaper

1866/Urbain Brizzard / Licensed Victualler /../../London Gazette, 23 October 1866 **

1869/A W Robinson/../../../Post Office Directory

1871/David Davies/Tavern Keeper/65/Elys Back, Derbyshire/Census
1871/Owen Davies/Brother, Tavern Keeper/48/Elys Back, Derbyshire/Census
1871/Mary Davies/Sister, Housekeeper/60/Elys Back, Derbyshire/Census
+ Lodgers

1871/George Elijah Kiddell / Waiter /../../London Gazette, 12 December 1871 **

1881/James F Hookham/Publican/78/Shoreditch, Middlesex/Census
1881/Amelia Hookham/Wife/72/Plymouth, Devon/Census
1881/Charles Hookham/Son, French Polisher/38/Lambeth, Surrey/Census
1881/James Hookham/Son, Publicans Assistant/28/St Andrews, Middlesex/Census
1881/Augusta Hook/Grand Daughter/15/Islington, Middlesex/Census
1881/James Hook/Grand Son/13/Islington, Middlesex/Census

1882/Hookham & Burtt/../../../Post Office Directory

1891/Charles Hookham/../../../Post Office Directory

1891/Charles Hookham/Publican/47/Kennington/Census
1891/Amelia Brett/Sister, Helper/47/Kennington/Census
1891/Annie Goodhew/Domestic Servant/16/35 Brouchead Street/Census
1891/Frances Welch/Lodger/../23 Porter Street/Census
1891/Dorothy Welch/Lodger/../9 Newport Street/Census



** Provided By Stephen Harris