Search London wiki and Pub wiki history sites
Marquis of Granby, 51 Chandos street, Covent Garden WC2
This pub closed in December 2006. ** Now known as the Marquis (2014).
St Martins pub history index
A listing of historical public houses, Taverns, Inns, Beer Houses and Hotels in St Martins in Fields, London. The St Martins in Fields , London listing uses information from census, Trade Directories and History to add licensees, bar staff, Lodgers and Visitors.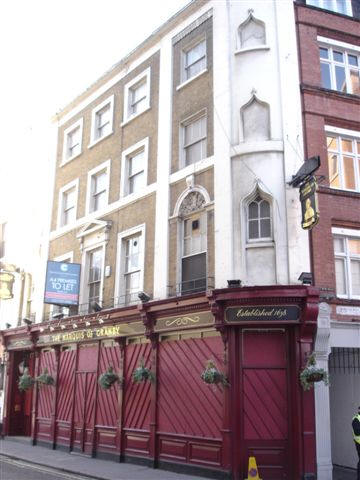 Marquis of Granby, Chandos Street - in December 2006
Kindly provided by Stephen Harris
Residents at this address.
1811/J Stewart, Marquis of Granby, Chandos street, Covent garden/../../Holdens Directory

August 1829/Francis Loder, 51 Chandos Street Covent Garden, spirit dealer and victualler/../../Sun Fire Insurance records held at the LMA

1829/Francis Loder/../../../Robsons Directory

May 1830/Francis Loder, 51 Chandos Street Covent Garden, victualler, wine and spirit merchant/../../Sun Fire Insurance records held at the LMA

1832/Francis Loder/../../../Robsons Directory

1839/Thomas Garrod/../../../Pigots Directory

1851/John Doyle/../../../Kellys Directory

1851/John Doyle/Victualler, Widow/40/City of London, Middlesex/Census
1851/Eliza Stiles/Housekeeper/23/Pimlico, Middlesex/Census
1851/Comfort Hambleton/Barmaid/22/Westminster, Middlesex/Census
1851/John Wyatt/Porter & Waiter/23/Kidderminster, Worcestershire/Census
1851/Margaret Evans/Cook, Widow/48/At Sea/Census

August 1855/Henry Humphreys and John Peter Craven/Outgoing Licensee/../../Era Newspaper

August 1855/Benjamin Boulter/Incoming Licensee/../../Era Newspaper

1861/Benjamin Boulter/Licensed Victualler/58/Bermondsey, Surrey/Census
1861/Mary Boulter/Wife/42/Abbots Langley, Hertfordshire/Census
1861/Rosa Boulter/Daughter/4 months/London, Middlesex/Census
1861/Martha Fox/Daughter in Law/13/London, Middlesex/Census
1861/Eliza Graydon/Barmaid/14/Southwark, Surrey/Census
1861/Francis Bass/Barman/20/London, Middlesex/Census
1861/John Jas Longhurst/Pot Boy/17/Westminster, Middlesex/Census
1861/Hannah Roach/General Servant/22/Queens Town, Ireland/Census
1861/Ann Hollies/Nurse/23/Oxford/Census
1861/Mary Fuller/Visitor, Veterinary Surgeojns Wife/27/Weston, Huntingdonshire/Census

1869/Mrs Jane Skeate/../../../Post Office Directory

1871/Jane Skeate/Licensed Victualler, Widow/35/Ireland/Census
1871/Thomas Skeate/Son/16/Australia/Census
1871/Harry Skeate/Son/12/Ireland/Census
1871/Kate Sweeny/Servant, Widow/48/Ireland/Census
1871/Henry Westlake/Barman/22/Somerset/Census
1871/William Cassell/Barman/20/Barkway, Hertfordshire/Census

1881/Thomas Arthur Skeate/Publican/27/Victoria, Australia/Census
1881/Annie Banks/Housekeeper/79/Middlesex/Census
1881/Henry Billington/Barman/24/Middlesex/Census
1881/William Redcliffe/Barman/21/Middlesex/Census
1881/Issabella Smithey/Domestic Servant/22/Norwich, Norfolk/Census

1882/Thomas Arthur Skeate/../../../Post Office Directory

1884/Thomas A Skeate/../../../Post Office Directory

1891/George Marshall/../../../Post Office Directory

1891/George Marshall/Licensed Victualler/37/St Pancras, London/Census
1891/Amelia Marshall/Wife/33/Greenwich, Kent/Census
1891/Edgar Marshall/Brother, Manager/20/St Pancras, London/Census
1891/Rose Goodman/Barmaid/22/Camden Town, London/Census
1891/Edith Wheatley/Barmaid/23/Tunbridge Wells, Kent/Census
1891/Matilda Leggett/Barmaid/25/Canterbury/Census
1891/Nellie Bransfield/Cook/30/Ireland/Census
1891/Annie Cavel/Housemaid/22/Bath/Census
1891/Frank Watson/General Porter/19/Battersea, London/Census

1895/George Marshall/../../../Post Office Directory

1899/Henry Fitt/../../../Post Office Directory

1901/Henry M Fitt/Licensed Victualler/42/Greenhoe, Norfolk/Census
1901/Florence S Fitt/Wife/33/Whitechapel, London/Census
1901/Madeleine Fitt/Daughter/7/St Clement Danes, London/Census
1901/Harold Fitt/Son/5/Bermondsey, London/Census
1901/Frederick Fitt/Son/1/St Martins, London/Census
1901/Richard Yare/Barman/19/Ramsgate, Kent/Census
1901/Berty C Le Keppleman/Barman/19/Jersey/Census
1901/Hugh Whitton/Billiard Marker/19/Chelmsford, Essex/Census
1901/Lucy A Draper/Barmaid/22/Croydon, Surrey/Census
1901/Elizabeth S C Doughs/Nursemaid/36/Scotland/Census
1901/Annie F Marshall/Cook, widow/29/Isle of Man/Census
1901/Ellen Hartnett/Housemaid/23/Somers Town, London/Census

1911/Henry Martin Fitt/Licensed Victualler, Widow/52/Gunthorpe, Norfolk/Census
1911/Madeline Fitt/Daughter/17/St Clements Danes, London/Census
1911/Harold Fitt/Son/15/Bermondsey, London/Census
1911/Frederick Henry Fitt/son/11/St Martin in the Fields, London/Census
1911/Annie Sylvia Fitt/Daughter/9/St Martin in the Fields, London/Census
1911/Margery Carrington/Manageress/26/Northfleet, Gravesend/Census
1911/Percy Charles Philip/Barman/20/Lambeth, London/Census
1911/Josep Churchill Jukes/Barman/22/Staffordshire/Census
1911/Margaret Doughty/Cook/44/Dumfries, Scotland/Census
1911/Elizabeth Mary Law/Housemaid/33/Lambeth, London/Census



* Provided By Tris

** Provided By Stephen Harris