Northumberland Hotel, 10 - 11 Northumberland street WC2N
This pub was established in 1846 as the Northumberland Hotel, later becoming the Northumberland Arms. It was rebuilt in its present form in 1883 and in 1957 was re-named the Sherlock Holmes. **
St Martins pub history index
A listing of historical public houses, Taverns, Inns, Beer Houses and Hotels in St Martins in Fields, London. The St Martins in Fields , London listing uses information from census, Trade Directories and History to add licensees, bar staff, Lodgers and Visitors.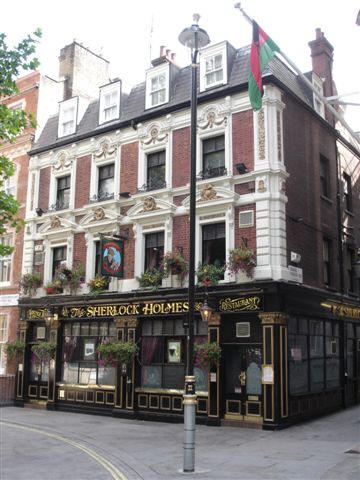 Northumberland Hotel, 10-11 Northumberland Street, WC2 - in July 2007
Kindly provided by Stephen Harris
The following entries are in this format:
Residents at this address.
1871/George A Woodman/Hotel Proprietor/38/Islington, Middlesex/Census
1871/Helen Woodman/Wife/32/Westminster, Middlesex/Census
1871/Hedwig Lorwenstein/Visitor/32/Prussia/Census
1871/Natalie Lorwenstein/Visitor/16/Prussia/Census
1871/Samuel Sadler/Servant/23/Poplar/Census
1871/Eliza Stringer/Servant/22/West Bromwich/Census
1871/John Champness/Servant/21/Kings Cross, Middlesex/Census
1871/Emma White/Servant/16/Hammersmith, Middlesex/Census
1871/George Pearson/Servant/16/Wandsworth, surrey/Census
1871/John Long/../35/Stalbridge, Dorset/Census
1871/J H Kelson/../25/../Census
1871/H B Killick/Lodger, Tutor/21/Swatton, Cornwall/Census

1881/William J Wright/Licensed Victualler/47/Tottenham, Middlesex/Census
1881/Mary A Wright/Wife/34/Penrith, Cumberland/Census
1881/William Wright/Son/15/London City, Middlesex/Census
1881/Jane Wright/Daughter/13/London City, Middlesex/Census
1881/Nelly Wright/Daughter/10/London City, Middlesex/Census
1881/Emma Wright/Daughter/9/London City, Middlesex/Census
1881/Henry Wright/Son/7/London City, Middlesex/Census
1881/Mary Ann Wright/Daughter/5/Peckham, Surrey/Census
1881/Jessie Wright/Daughter/3/Marylebone, Middlesex/Census
1881/Anna Wright/Daughter/> 1/Marylebone, Middlesex/Census
1881/Grace Highmore/Barmaid/18/Exeter, Devon/Census
1881/Marian Humphreys/Barmaid/21/St Pancras, Middlesex/Census
1881/Eliza Cole/Nurse/40/Lambeth, Surrey/Census
1881/Eliza Allen/General Servant/18/Peckham, Surrey/Census
1881/Albert Horne/Waiter/21/Islington, Middlesex/Census

1882/William John Wright/../../../Post Office Directory

1884/William J Wright/../../../Post Office Directory

1891/Mrs Emily Southcombe/../../../Post Office Directory

1891/Emily Southcombe/Licensed Victualler, Widow/45/Green St Green, Kent/Census
1891/Chas A Southcombe/Son/18/Green St Green, Kent/Census
1891/Kate Arrow/Niece/24/St Mary Cray, Kent/Census
1891/Emmy Luck/Barmaid/23/Weston Tavell, Northampton/Census
1891/Rebecca Luck/Cook/28/Weston Tavell, Northampton/Census
1891/Susan Browning/Housemaid/23/Commercial Road, London/Census
1891/Chas Norris/Barman/33/Norwich/Census
1891/Jas Griffiths/Potman/43/Paddington, London/Census
1891/Henry Sibrow/Barman/20/Fulham, London/Census

1895/George Cornick/../../../Post Office Directory

1899/John Young/../../../Post Office Directory

1934/Alfred Sandland/../../../Post Office Directory



** Provided By Stephen Harris