Search London wiki and Pub wiki history sites
All public house, restaurants, bars etc closed for the forseeable future from 20th March 2020, but this is a history site.
Porcupine, 48 Charing Cross road, St Martins in Fields WC2
A later street listing shows the Porcupine at the junction with Great Newport street, which is an earlier address. Listed in 1884 and earlier at 1 Castle Street, Leicester Square. This pub was established in 1873 although trading at an earlier date.. ** This is a Nicholsons (Mitchells & Butlers) pub in 2017.
St Martins pub history index
A listing of historical public houses, Taverns, Inns, Beer Houses and Hotels in St Martins in Fields, London. The St Martins in Fields , London listing uses information from census, Trade Directories and History to add licensees, bar staff, Lodgers and Visitors.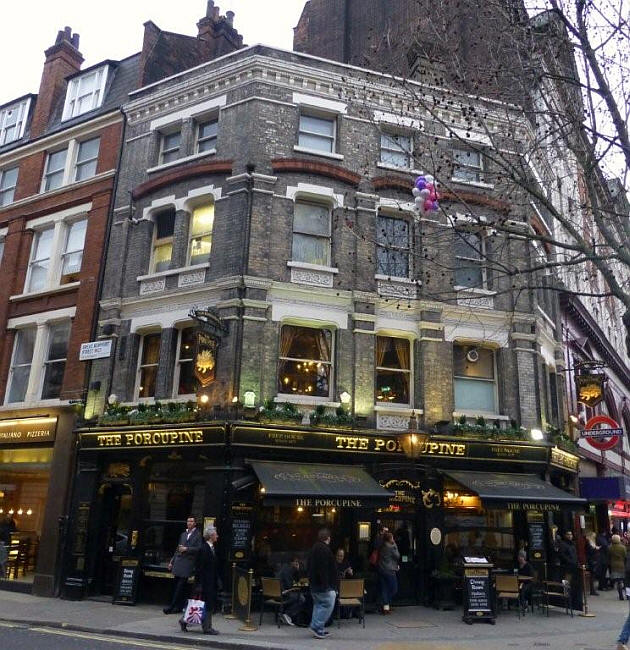 Porcupine, 48 Charing Cross Road, WC2 - in March 2013
Kindly provided by Stephen Harris
Residents at this address.
1825/Mr Hawkins, Porcupine, Newport street/../../Licensed Victuallers Association

1833-34/Jonathan Butcher/Porcupine, Great Newport street, Long acre/../../Piigots Directory

1841/J G Hay & Co/Porcupine, 1 Castle Street, Leicester square/../../Post Office Directory

October 1847/Frederick Harding/Outgoing Licensee/../../Era

October 1847/Edward Mitcherson/Incoming Licensee/../../Era

1851/Edward Mitcheson/Porcupine, 1 Castle Street/../../Post Office Directory

March 1852/Mincherson, late occupier/Outgoing Licensee/../../Era Newspaper

March 1852/to the widow and sole executrix of Edward Mincherson, late occupier/Incoming Licensee/../../Era Newspaper

1856/William Stevens/Porcupine, 1 Castle Street/../../Post Office Directory

April 1861/William Stevens/Outgoing Licensee/../../Era

April 1861/Hester Baker/Incoming Licensee/../../Era

1861/Hester Baker/Victualler, Widow/52/Nottingham/Census
1861/James Gorman/Barman/23/Clerkenwell, Middlesex/Census
1861/Louisa Russell/Barmaid/22/Clerkenwell, Middlesex/Census
1861/Ann Collins/Servant/22/Lincoln/Census

January 1862/Hester Baker/Outgoing Licensee/../../Era

January 1862/James Thomas Bristow/Incoming Licensee/../../Era

1869/Charles Guy/Porcupine, 1 Castle Street/../../Post Office Directory

1871/Charles Guy/Licensed Victualler/26/London, Middlesex/Census
1871/Susan E Guy/Wife/25/Dorchester, Dorset/Census
1871/Alice M Guy/Daughter/3/St Martins, Middlesex/Census
1871/Charles S Guy/Son/9 months ?/St Martins, Middlesex/Census
1871/Henry C Guy/Son/4 months/St Martins, Middlesex/Census
1871/Jane E Evey/General Servant/16/Nottinghamshire/Census
1871/Mary Evey/Nurse/14/Birmingham, Warwickshire/Census

1882/Alfred Aberg/../../../Post Office Directory

1884/Alfred Aberg/../../../Post Office Directory

1891/Alfred Aberg/../../../Post Office Directory

1891/Alfred Aberg/Licensed Victualler/52/Finland/Census
1891/Christine Aberg/Wife/47/Sweden/Census
1891/Stanley Aberg/Son/9/London/Census
1891/Lilly Aberg/Daughter/4/London/Census
1891/Kate Barber/Barmaid/23/London/Census
1891/Bertha Lager/Maid/21/Sweden/Census
1891/Ida Harfingham/Maid/16/London/Census
1891/Harry Davine/Barman/36/Devon/Census

1895/Alfred Aberg/../../../Post Office Directory

1899/Joseph Mills/../../../Post Office Directory

1901/Frederick P Brooks/Publicans Manager/25/Bow, London/Census
1901/James Timpson/Barman & Potman/21/London/Census
1901/Lillie Barnett/Barmaid/23/London/Census
1901/Emily Howard/Barmaid/22/London/Census
1901/Phoebe Johnson/Housemaid/21/Leicester/Census

1910/Mrs Annie Weeks/../../../Post Office Directory

1915/William George Wrigglesworth/../../../Post Office Directory

1938/Levy & Franks Ltd/../../../Post Office Directory

1944/Levy & Franks Ltd/../../../Post Office Directory



** Provided By Stephen Harris