Search London wiki and Pub wiki history sites
All public house, restaurants, bars etc closed for the forseeable future from 20th March 2020, but this is a history site.
Round Table Tavern, 26 & 27 St Martins court, London WC2N 4AL
This pub was established in around 1828 and re-built in 1877. At 26 St Martins Court after 1891, and before 1895 ***
St Martins pub history index
A listing of historical public houses, Taverns, Inns, Beer Houses and Hotels in St Martins in Fields, London. The St Martins in Fields , London listing uses information from census, Trade Directories and History to add licensees, bar staff, Lodgers and Visitors.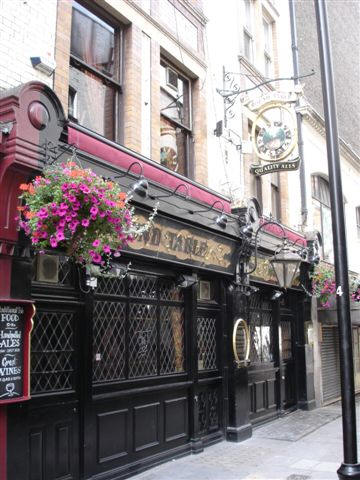 Round Table, 27 St Martin's Court - in July 2007
Kindly provided by Stephen Harris
Residents at this address.
1828-1829/David Roderick/../../../Westminster City Archives Research Group ***

1830-1831/Charles Lovell/../../../Westminster City Archives Research Group ***

1832-1840/Joseph Dell/../../../Westminster City Archives Research Group ***

1839/Jos Dell/../../../Pigots Directory

1841-1843/William Daves/../../../Westminster City Archives Research Group ***

1844-1851/John Calf/../../../Westminster City Archives Research Group ***

1851/John Calf/Licensed Victualler/60/St Giles in the Fields/Census **
1851/Maria Calf/Wife, Trimming Maker//Suffolk, Sudbury/Census
1851/Katherine Calf/Daughter, Assistant/14/Surrey, Camberwell/Census
1851/Ellen Dodd/Barmaid/25/Middlesex, Ealing/Census
1851/Elizabeth Finn/Cook/49/Kent, Ashford/Census
1851/William Allen/Potman/20/Hants, Ealing/Census

This pub belonged to my g-g-g-grandfather John Calf from at least 1844 to 1853 when he and his wife and daughter emigrated to Australia. (Another daughter stayed in England, and another son emigrated to the US **

May 1852/John Culf/Outgoing Licensee/../../Era

May 1852/Francis Aucompte/Incoming Licensee/../../Era

1854-1872/Francis Aucompre/../../../Westminster City Archives Research Group ***

1856/Francis Aucompte/../../../Post Office Directory **

1861/Francis Aucompte/Licensed Victualler/51/Kernoss, France/Census
1861/Mary A Aucompte/Wife/36/London/Census
1861/Edward Smith/Visitor/26/Brighton, Susex/Census
1861/Richard Bury/Boarder, Traveller Gymnast/30/Manchester/Census
1861/James Leach/Boarder, Traveller Gymnast/33/Manchester/Census
1861/William F Powney/Boarder/19/Frome, Cornwall/Census
1861/Louise Hart/Barmaid/23/London/Census
1861/Minnie Bannister/Barmaid/23/London/Census
1861/Lydia Starch/Cook/24/Great Hazeley, Oxfordshire/Census
1861/Jane Pratt/Housemaid/27/Honiton, Devon/Census

Francis Aucompte was still there by the 1871 census **

1869/Francis Aucompte/../../../Post Office Directory

Old Round Table Tavern, 22 & 23 St Martins Court :
1871/Francis Aucompte/Licensed Victualler/63/France Poliac, Naturalized/Census
1871/Mary A Aucompte/Wife/40/Grosvenor Square, Middlesex/Census
1871/George E Smith/Boarder, Clerk/34/Lewes, Sussex/Census
1871/John Smith/Boarder, Clerk/24/Horhsam, Sussex/Census
1871/Mary Atkinson/Visitor/30/Warnham, Sussex/Census
1871/Agnes Abbott/Barmaid/29/Strand, Middlesex/Census
1871/Emily White/Barmaid/19/Hoxton, Middlesex/Census
1871/Emma Hubbard/Housemaid/29/Hilsey, Hampshire/Census
1871/Charlotte Luff/Cook/14/London/Census

1872-1876/Mary Aucompte/../../../Westminster City Archives Research Group ***

1876-1877/Samuel J Everett/../../../Westminster City Archives Research Group ***

1877-1879/William T Morgan/../../../Westminster City Archives Research Group ***

1879-1881/William J Spurgin/../../../Westminster City Archives Research Group ***

1881/James W Curran/Licensed Victualler/40/Guildford, Surrey/Census
1881/Rose Curran/Wife/27/London, Middlesex/Census
1881/James L Curran/Son/8/London, Middlesex/Census
1881/John W Curran/Son/7/London, Middlesex/Census
1881/Ada L Curran/Daughter/6/London, Middlesex/Census
1881/George W Curran/Son/3/London, Middlesex/Census
1881/Josephine R Curran/Daughter/2/London, Middlesex/Census
1881/Emma Williams/Domestic Servant/16/London, Middlesex/Census

1882/Hy Evanden/../../../Post Office Directory

1891/Mrs Amy Eliza Morgan/../../../Post Office Directory

1891/Amy Eliza Morgan/Publican, Widow/44/Lambeth, London/Census
1891/William Cooke/Nephew, Manager/23/Peckham, London/Census
1891/Eliza Cooke/Visitor, Mantle Maker/34/Islington, London/Census
1891/Mary Ann Daley/Domestic Servant/23/St James park, London/Census

1895/Paul Cohnreich/../../../Post Office Directory

1899/Richard Arthur Harding/../../../Post Office Directory

1901/Sidney Shires/Publicans Manager/33/Chard, Somerset/Census
1901/Alice F Shires/Wife, Manageress/29/Chatham, kent/Census
1901/Elizabeth J Otterwell/Barmaid/22/Deptford, London/Census

1910/Richard Arthur Harding/../../../Post Office Directory

1914/Richard Arthur Harding/../../../Post Office Directory

1921/Davey & Stevens/../../../Post Office Directory

1938/Henry James Davey & Geo Alfred Miles/../../../Post Office Directory

1944/Albert Vivian Cakebread/../../../Post Office Directory



** Provided by Karen Courtenay

*** Provided By Stephen Harris