Rummer Tavern, Charing Cross, St Martins in Fields WC2
St Martins pub history index
THE RUMMER TAVERN.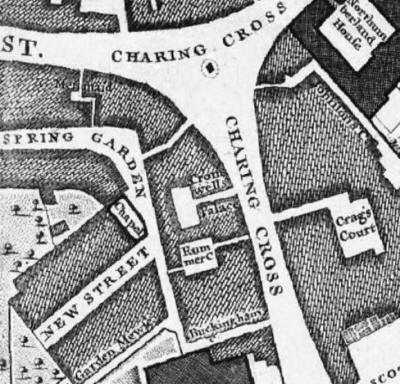 Rummer court, Charing Cross in 1746 - John Rocque map

The locality of this noted tavern is given by Cunningham, as "two doors from Locket's, between Whitehall and Charing Cross, removed to the water-side of Charing Cross, in 1710, and burnt down Nov. 7th, 1750. It was kept in the reign of Charles II., by Samuel Prior, uncle of Matthew Prior, the poet, who thus wrote to Fleetwood Shephard :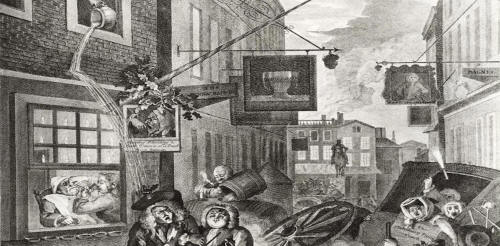 The Night - Hogarth and the Rummer Tavern opposite the Cardigans Head

The Rummer is introduced by Hogarth into his picture of " Night." and that a night of rejoicing, viz. the 29th of May; evident from the bonfires, the oaken bough upon the barber's pole, and the oak leaves fixed in the freemasons' hats. The scene is taken from the narrow part of Charing Cross, as it formerly stood before the way was widened, looking from Whitehall, and exhibits the Rummer Tavern on one side, and the Cardigan's Head on the other ;
A listing of historical public houses, Taverns, Inns, Beer Houses and Hotels in St Martins in Fields, London.
Residents at this address.
There are references to Samuel Prior being here in 1685. He is the Uncle of Matthew Prior, a famous poet. I carry more about him on the London Taverns site
September 1738 notes the death of a Mr Finch, Master of the Rummer Tavern, Charing Cross.
1805/William Drought/../../../Holdens Directory

We remember an old tavern, "the Rummer," in 1825, which was taken down with the lower portion of St. Martin's lane, to form Trafalgar square.