Shades Tavern, 37 Whitehall SW1
It was most recently rebuilt in 1898, when the name was changed to Old Shades; The early address is at 27 & 28 Charing Cross road, and alters to 37 & 39 Whitehall SW1, by 1934 ***
St Martins pub history index
A listing of historical public houses, Taverns, Inns, Beer Houses and Hotels in St Martins in Fields, London. The St Martins in Fields , London listing uses information from census, Trade Directories and History to add licensees, bar staff, Lodgers and Visitors.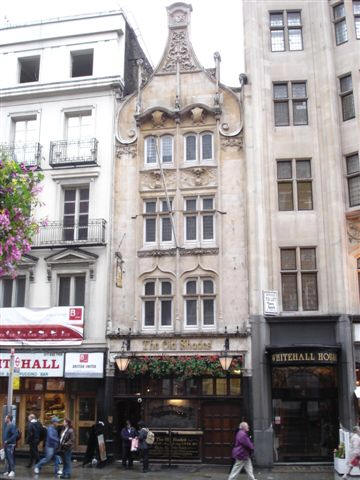 Shades Tavern, 37 Whitehall, SW1 - in August 2007
Kindly provided by Stephen Harris
Residents at this address.
1832/Jackson, Shades, 28 Charing Cross/../../Robsons Directory

1839/John Wiltshire/../../../Pigots Directory

1842/John Wiltshire/../../../Robsons Directory

1848/John Wiltshire/../../../Post Office Directory

1851/William Jarvis/../../../Kellys Directory

1851/Emily Jarvis/Sister, Licensed Victualler//St Georges East, Middlesex/Census
1851/James Jarvis/Brother, Clerk/18/Charing Cross, Middlesex/Census
1851/George Reid/Waiter/35/St Georges Southwark/Census
1851/Mary Reid/House Servant/34/Lambeth, Surrey/Census

1856/George Browne/../../../Post Office Directory

1861/George Browne/Victualler/30/Dorchester/Census
1861/Martha Browne/Wife/35/Riverhead, Kant/Census
1861/G A Browne/Son/8/London, Middlesex/Census
1861/A Browne/Daughter/6/London, Middlesex/Census
1861/Edward Dutton/Waiter/20/London, Middlesex/Census
1861/Elizabeth Heling/House Servant/23/London, Middlesex/Census
1861/Mary M Grath/Waitress/20/Ireland/Census
1861/George Pigot/Lodger, Engineer/35/St Helens, Lancashire/Census

1869/Hiram John Stewart/../../../Post Office Directory

1871/Hiram J Stewart/Licensed Victualler/44/Ireland/Census
1871/Fanny Stewart/Wife/43/Eastbourne, Sussex/Census
1871/Sarah Ann Stewart/Daughter/18/Ramsgate, Kent/Census
1871/Charles Rubie/Billiard Marker/20/Hastings, Sussex/Census
1871/Henry de Vere/Cook/20/Middlesex/Census
1871/Emily Griffin/Barmaid/23/Middlesex/Census
1871/Lois C Voice/Barmaid/26/East Woodbray, Hampshire/Census
1871/Jemima Gregory/Barmaid/23/Middlesex/Census
1871/Emily Preston/Barmaid/19/Brompton, Middlesex/Census
1871/Elizabeth Evans/Cook/28/Cardigan, South Wales/Census
1871/Eliza Harmer/General Servant/22/Ivy Church, Kent/Census
1871/Colletta Cooper/General Servant/15/Middlesex/Census
1871/Ellen Sullivan/General Servant/16/Middlesex/Census
1871/Kate Deasey/General Servant/23/Ireland/Census

1881/Henry Bradshaw/Licensed Victualler/45/Poplar, Middlesex/Census
1881/Emily Bradshaw/Wife/36/Ludgate Hill, Middlesex/Census
1881/Henry Edwin Bradshaw/Son/15/Piccadilly, Middlesex/Census
1881/Sydney Bradshaw/Son/13/Margate, Kent/Census
1881/Richard Goodwin Bradshaw/Son/10/Piccadilly, Middlesex/Census
1881/Nelly Bradshaw/Daughter/7/Westminster, Middlesex/Census
1881/Percy Ray Bradshaw/Son/4/Westminster, Middlesex/Census
1881/Arthur Bradshaw/Son/3/Westminster, Middlesex/Census
1881/Mary Law Bradshaw/Daughter/10 months/Charing X, Middlesex/Census
1881/Elizabeth Lake/Barmaid/24/Tottenham, Middlesex/Census
1881/Sophia Barker/Housemaid/22/Finsbury, Middlesex/Census
1881/Lydia Belton/Vegetable Maid/24/Greenwich, Kent/Census
1881/Alice Shone/Nurse/20/Cricklade, Wiltshire/Census
1881/William Horace Hawker/Kitchen Boy/18/Camden Town, Middlesex/Census
1881/Charles William Grills/Potman/22/Bristol, Gloucester/Census

1882/Henry Bradshaw/../../../Post Office Directory

1884/Henry Bradshaw/../../../Post Office Directory

1891/Charles Norris Harvey/../../../Post Office Directory

1891/Harry Farrell Skeate/Public House Manager/30/Covent Garden, London/Census
1891/Louise Skeate/Wife/32/Pimlico, London/Census
1891/Marie Crown/Sister in Law, Barmaid/34/Pimlico, London/Census
1891/Sarah Maria Pudsley/Domestic Servant/39/Pimlico, London/Census
1891/Mary Anne Ford/Barmaid/21/Lambeth, London/Census
1891/Amy Quilliam/Barmaid/30/Dockstead, Liverpool/Census
1891/Metta McDonald/Barmaid/22/Chill, America/Census
1891/Henry Jones/Barman/17/St Giles, London/Census
1891/Arthur Devereux/Potman/20/Arlsey, Beds/Census
1891/Fredk Kluth/Waiter/35/Saxony, Germany/Census

1895/Benjamin Edmonds/../../../Post Office Directory

1899/Frederick Freethy Anstiss/../../../Post Office Directory

1901/Herbert A Spechley/Manager Public House/38/Wisbech, Cambridgeshire/Census
1901/Caroline/Wife, Manageress/38/Islington, London/Census
1901/Clifford/Son/12/Westminster, London/Census
1901/Daisy Cantwell/Barmaid/19/Peckham, London/Census
1901/Sidney Bradford/Barmaid/20/Wandsworth, London/Census
1901/Florence Hall/Barmaid/18/Wellingborough, Northamptonshire/Census
1901/Catherine Brown/Barmaid/20/Chelsea, London/Census
1901/Alice Smith/Cook/21/Sutton, Surrey/Census
1901/Wm Paine/Page/16/Twickenham, Middlesex/Census
1901/Mabel Bridges/Housemaid/22/Clapham, London/Census

1910/Anstiss & Co Ltd/../../../Post Office Directory

1915/Anstiss & Co Ltd/../../../Post Office Directory

1934/Knowland Brothers/../../../Kellys Directory



** Provided By Stephen Harris