St Martins Tavern, 28 - 30 John Adam street WC2N
The address was formerly given as 12-13 Duke Street. This pub was first licensed in around 1690 and rebuilt in its current form in 1959. It was renamed Theodore Bullfrog in around 2000. The modern address is at 28-30 John Adam Street **
St Martins pub history index
A listing of historical public houses, Taverns, Inns, Beer Houses and Hotels in St Martins in Fields, London. The St Martins in Fields , London listing uses information from census, Trade Directories and History to add licensees, bar staff, Lodgers and Visitors.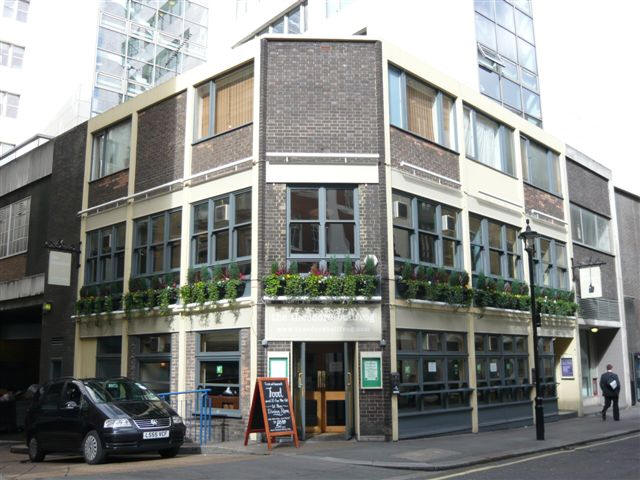 St Martin's Tavern, - in March 2008
Kindly provided by Stephen Harris
Residents at this address.
1829/John Jones, St Martin, 13 Duke street, Adelphi/../../Robsons Directory

1833-34/John Jones, St Martin, 13 Duke street, Westminster/../../Pigots Directory

1836/Evan Jones, St Martin, 13 Duke street, Adelphi/../../Pigots Directory

1839/Evan Jones/../../../Pigots Directory

1851/William Morgan/Publican/39/Bath, Somerset/Census
1851/Jane Morgan/Wife/32/Eastbourne, Sussex/Census
1851/Elizabeth Preston/Cousin, Barmaid/19/Sawbridgeworth, Hertfordshire/Census
1851/William Chapman/Waiter/25/Spitalfields, Middlesex/Census
1851/Elizabeth Dear/Cook/23/Lower Edmonton, Middlesex/Census

1852/James Brownleg/../../../Watkins Directory **

January 1854/John Leyhanff/Outgoing Licensee/../../Era

January 1854/Richard Matthew Clark/Incoming Licensee/../../Era

1856/Rd M Clark/../../../Post Office Directory

1861/James Smith/Victualler/46/Caversham, Oxfordshire/Census
1861/Sophia Smith/Wife/43/Isle of Sheppy, Kent/Census
1861/Elizabeth M Smith/Daughter/11/St Giles in the Fields, Middlesex/Census
1861/Emma Smith/Daughter/10/St Giles in the Fields, Middlesex/Census
1861/Mary A Harris/General Servant/20/Wingfield, Berkshire/Census
1861/Edward Barr/Potmsan & Waiter/20/st Pancras, Middlesex/Census
1861/William Hughes/Lodger, Tailor, Widow/47/Middlesex/Census
1861/Alfred Stroud/Visitor, Victualler/29/Rochester, Kent/Census
1861/Hannah Stroud/Visitor/28/Rochester, Kent/Census
1861/Alfred J Stroud/Visitor/6/Sheerness, Kent/Census

April 1864/James Smith, late occupier/Outgoing Licensee/../../Era Newspaper

April 1864/Sophia Smith, administratrix of James Smith/Incoming Licensee/../../Era Newspaper

1869/Henry Alexander/../../../Post Office Directory

1871/Henry Alexander/Licensed Victualler/41/Lambeth, Surrey/Census
1871/Frances S Alexander/Wife/30/Burwash, Sussex/Census
1871/Harry Alexander/Son/2/St Martins, Middlesex/Census
1871/Ellen E Pugh/Barmaid/18/Holborn, Middlesex/Census
1871/Mary A Howard/General Servant/23/Bedfordshire/Census
1871/John Sopay/Potman/19/Holborn, Middlesex/Census
1871/William Clark/Lodger, Printer/19/Uxbridge, Middlesex/Census

1878/Thomas Smurthwaite/../../../Post Office Directory **

1881/Richard Burley/Publican/55/Lynn, Norfolk/Census
1881/Fanny Burley/Wife/44/Shewsbury, Shropshire/Census
1881/Walter Burley/Son/21/Shewsbury, Shropshire/Census
1881/Fanny Warner/Daughter/20/Shewsbury, Shropshire/Census
1881/Clement Burley/Son/13/Bognor, Sussex/Census
1881/Harry Burley/Son/12/Bognor, Sussex/Census
1881/William Warner/Son In Law, Builder/24/Suffolk/Census

1882/Richard Burley/../../../Post Office Directory

1884/Rd Burley/../../../Post Office Directory

1891/Charles Pullen/Publican/26/London/Census
1891/Bessie Pullen/Wife/22/London/Census
1891/Connie Pullen/Daughter/5/Hendon, Middlesex/Census
1891/Stanley Pullen/Son/1/Hendon, Middlesex/Census
1891/Phyllis Pullen/Daughter/7 months/London/Census
1891/Annie Atherton/Barmaid/27/Bow, London/Census
1891/Emma Swain/Cook/27/Essex/Census

1899/Alfred William Ashplant/../../../Post Office Directory

1941/Mrs Sarah Eliz Pheasant/../../../Post Office Directory **



** Provided By Stephen Harris