Search London wiki and Pub wiki history sites
All public house, restaurants, bars etc closed for the forseeable future from 20th March 2020, but this is a pub history site.
Irish House, 395 Strand, St Martins in Fields WC2
St Martins pub history index
This pub is now closed. The premises were in use as an off-licence until around 2012, and now house a souvenir shop. **
A listing of historical public houses, Taverns, Inns, Beer Houses and Hotels in St Martins in Fields, London. The St Martins in Fields , London listing uses information from census, Trade Directories and History to add licensees, bar staff, Lodgers and Visitors.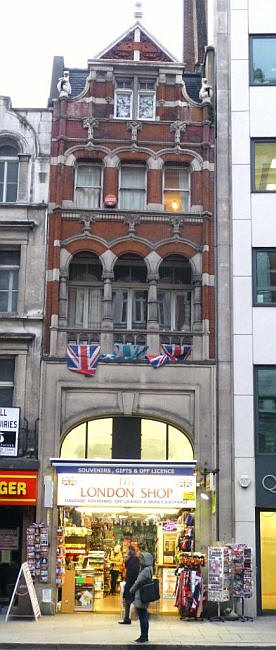 Irish House, 395 Strand, WC2 - in March 2013
Kindly provided by Stephen Harris

Residents at this address.
1870/Joseph Gspandl & Adolphus Videky, trading as Gspandl & Company / Restaurant Keepers, Co-Partners, Dealers and Chapmen /../../London Gazette, 9 August 1870 **

1872/Joseph Gspandl & Adolphus Videky / Restaurant Keepers /../../London Gazette, 15 November 1872 **

1880/Adolphus Berndes / Restaurant Proprietor, deceased / Died 20 March 1880 /../../London Gazette, 4 May 1880 **

1880/Caroline Berndes / Widow /../../London Gazette, 4 May 1880 **

1881/James Darmstatter/Restaurant Keeper/36/Mainz, Germany/Census
1881/Hettie Darmstatter/Wife/21/St Georges, Middlesex/Census
1881/Nelly Lock/Relation, Barmaid/29/Bloomsbury, Middlesex/Census
1881/Bessy Wilding/Barmaid/22/Kensington, Middlesex/Census
1881/Rosine Volz/Cook/29/Mannheim, Germany/Census
1881/Elise Becker/Scullery Maid/36/Wohra, Germany/Census
1881/Maria Alrebh/Cook/21/Wederade, Germany/Census
1881/Anna Griffin/Housemaid/24/Wales/Census

1882/James Darmstatter/../../../Post Office Directory

1892/Gustav Thodor Rheinhold Bargen / Restaurant Manager /../../London Gazette, 31 January 1893 **

1901/Thomas O'Neill/Public House Manager/31/Ireland/Census
1901/James Gilligan/Barman/26/Ireland/Census
1901/James Kelly/Barman/25/Ireland/Census
1901/Patrick O'Donoghue/Barman/23/Ireland/Census
1901/Robert Liprett/Barman/19/Ireland/Census
1901/Jane Jessop/Cook/54/Camberwell, London/Census

1911/James Galligan/Manager/35/Crosserlough, Co Cavan/Census
1911/Andrew Milligan/Servant/32/Granard, Co Longford/Census
1911/Pjilip Sheerna/Servant/23/Keash, Co Sligo/Census
1911/John Cummins/Servant/25/Oulart, Co Wexford/Census
1911/James Gallaher/Servant/24/Dublin/Census
1911/Michael Keeley/Servant/24/Navan, Co Meath/Census
1911/Daniel Cullinane/Servant/26/Co Cork/Census
1911/Owen OGara/Servant/22/Co Sligo/Census
1911/Mary Hilder/Housekeeper, widow/47/St Giles, London/Census

1921/J G Mooney & Co/../../../Post Office Directory

1927/J G Mooney & Co. Ltd., Dublin/../../../London Gazette, 10 May 1927 **

1934/Dennis Walsh / Licensed Victualler, deceased / Died 9 December 1934 /../../London Gazette, 11 January 1935 **



** Provided By Stephen Harris