Search my Pub history, pubwiki and London
Sun, 66 Long Acre WC2E
St Martins pub history index
A listing of historical public houses, Taverns, Inns, Beer Houses and Hotels in St Martins in Fields, London. The St Martins in Fields , London listing uses information from census, Trade Directories and History to add licensees, bar staff, Lodgers and Visitors.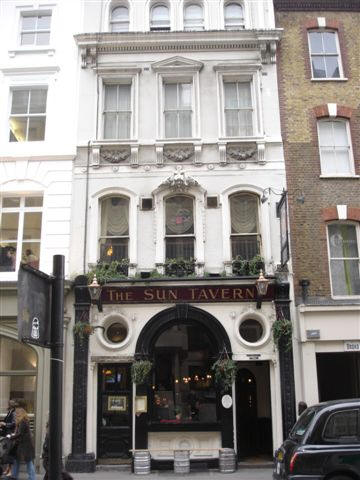 Sun Tavern, 66 Long Acre - in January 2007
Kindly provided by Stephen Harris
Residents at this address.
1839/John George/../../../Pigots Directory

1841/John George/../../../Post Office Directory

1842/John George/../../../Robsonís Directory **

1851/Charles Taylor/../../../Kellys Directory

1851/Charles Taylor/Licensed Victualler/31/London/Census
1851/Hannah Taylor/Wife/32/London/Census
1851/C Taylor/Son/4/London/Census
1851/Harriet Taylor/Daughter/2/London/Census
1851/Mary Ann Taylor/Daughter/4 months/London/Census
1851/Mary Nickson/House Servant/18/London/Census

November 1851/Charles Taylor/Outgoing Licensee/../../Era

November 1851/Charles Joseph Morley/Incoming Licensee/../../Era

1856/Charles Morbey/../../../Post Office Directory

April 1864/Robert Colley/Outgoing Licensee/../../Era Newspaper

April 1864/Ebenezer Norton/Incoming Licensee/../../Era Newspaper

1869/James William Till/../../../Post Office Directory

1881/William N Bryant/Licensed Victualler/46/Hendon, Middlese/Census
1881/W N Bryant/Nephew, Barman/21/Pimlico, Middlesex/Census
1881/Emma Girling/Cook/22/Pimlico, Middlesex/Census

1882/William Nicholas Bryant/../../../Post Office Directory

1891/Mrs Maria Butler/../../../Post Office Directory

1891/Benjamin George Finch/Licensed Victualler/28/Bedford, Bedfordshire/Census
1891/Alice Mary Pilcher/Barmaid/26/Mitcham, Surrey/Census
1891/Jesse Riley/Barmaid/23/Bloomsbury, London/Census
1891/Catherine Ann Thomas/Domestic Servant, Widow/46/Frampton, Lincolnshire/Census
1891/Mary Gillingham/Domestic Servant/19/Westminster, London/Census
1891/Alfred Nathaniel Mulcock/Potman/18/Greenwich, Kent/Census

1899/Ernest Gan/../../../Post Office Directory

1910/Henry Harris/../../../Post Office Directory

1911/Solomon Jesky/Licensed Victualler/32/Bishopsgate, London/Census
1911/Elizabeth Jesky/Wife/32/Bow, London/Census
1911/Isaac Horace Jesky/Son/5/London/Census
1911/Hyman Jesky/Son/3/London/Census
1911/Lilly Greenwood/Servant/19/London/Census
1911/Elsie Safery/Servant/26/Bow, London/Census

1915/Solomon Jesky/../../../Post Office Directory

1934/Mrs Jessie Franks/../../../Kellys Directory

1938/Anthony Chas Adams/../../../Post Office Directory

1944/Hy Michael Colmer/../../../Post Office Directory



** Provided By Stephen Harris