Sussex Stores, 20 Upper St Martins lane WC2N
This pub was established in 1848 as the Sussex Stores and rebuilt at the foot of an office block in 1936. The name has now been abbreviated to Sussex. **
St Martins pub history index
A listing of historical public houses, Taverns, Inns, Beer Houses and Hotels in St Martins in Fields, London. The St Martins in Fields , London listing uses information from census, Trade Directories and History to add licensees, bar staff, Lodgers and Visitors.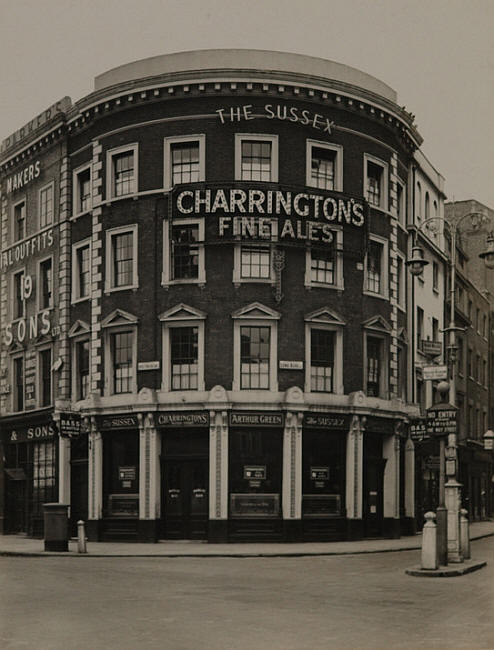 The Sussex, 143 Long Acre WC2 - in 1927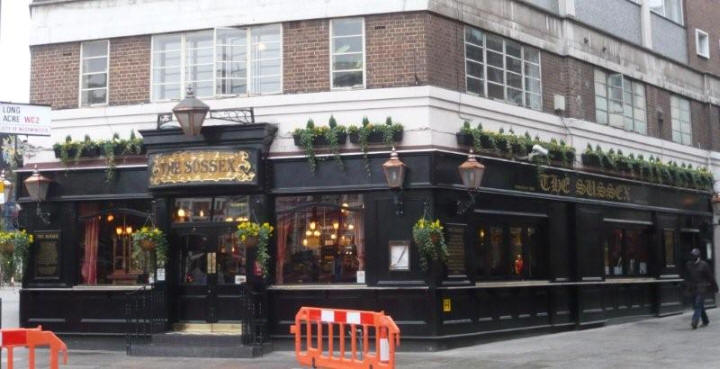 Sussex Stores, 20 Upper St Martin's Lane, WC2 - in November 2008
Kindly Provided by Stephen Harris
Residents at this address.
1849/J R Sheen/../../../Post Office Directory

1851/James R Sheen/Wine & Spirit Merchant, Widow/42/Lambeth, Surrey/Census
1851/Sarah J Markwick/Sister in Law, Visitor/24/Buxted, Sussex/Census
1851/William Smith/Barman/25/Banbury, Oxfordshire/Census
1851/Francis Mills/Barman/21/Clerkenwell, Middlesex/Census
1851/Joseph Harrison/Potman/27/St Pancras, Middlesex/Census
1851/Harriet West/Cook/27/Frome, Somerset/Census
1851/Hannah Marston/Housemaid/23/West Bromwich, Staffordshire/Census

1856/James Richmond Sheen/../../../Post Office Directory

1861/James R Sheen/Licensed Victualler/52/Surrey/Census
1861/Eliza Hardwick/Cousin/37/Sussex/Census
1861/Henry M Coombs/Nephew/19/Somerset/Census
1861/Charles Thomas/Barman/25/Middlesex/Census
1861/Charles Freeman/Barman/23/Warwickshire/Census
1861/Harriett Hammond/Servant/25/Suffolk/Census
1861/George H Beagent/Potman/20/Middlesex/Census

1869/Jas Richmond Sheen & Co/../../../Post Office Directory

1871/James R Sheen/Wine Merchant Licensed Victualler/62/Lambeth, Surrey/Census
1871/Emily Nicholson/Relative, Housekeeper/35/Buxted, Sussex/Census
1871/William M Kedge/Relative/18/Marylebone, Middlesex/Census
1871/Fanny Blake/Relative, Salesman, Sewing Machine/23/Walworth, Surrey/Census
1871/Maria A Dallimore/Barmaid/22/Darlington, Durham/Census
1871/Arthur G Atkinson/Barman/28/Hammersmith, Middlesex/Census
1871/Henry A Kern/Barman/24/St Martins, Middlesex/Census
1871/Mary A M Bachela/Cook/22/Buxted, Sussex/Census
1871/Annie E Neagle/General Servant/24/Marylebone, Middlesex/Census

1873/James R Sheen/../../../P.O. Directory **

1881/James Moorman/Licensed Victualler, Widow/64/Portsmouth, Hampshire/Census
1881/James Moorman/Licensed Victualler, Son/25/London, Middlesex/Census
1881/Mary Moorman/Daughter/29/London, Middlesex/Census
1881/Lucy Taylor/Visitor, Widow/68/Portsmouth, Hampshire/Census
1881/Martha Acland/Cook/37/Whitland, Wales/Census
1881/Lydia Carter/Housemaid/22/Oakington, Cambridge/Census
1881/Herbert Barham/Barman/19/Peasenhall, Suffolk/Census
1881/Frederick Newcombe/Barman/18/Kennington, Surrey/Census
1881/Richard Deploe/Barman/20/St Georges, Surrey/Census
1881/James Carter/Potman/19/Sutton, Cambridge/Census

1882/Jas Moorman & Son/../../../Post Office Directory

1884/Arthur Groom/../../../Post Office Directory

1891/Wm Herbert Allcorn/../../../Post Office Directory

1891/William H Allcorn/Publican/43/Hungerford, Berks/Census
1891/Mary Allcorn/Wife/40/Wapping, London/Census
1891/Herbert S Allcorn/Son/17/St Giles, London/Census
1891/Helen Allcorn/Daughter/12/St Giles, London/Census
1891/Betsey Coulson/Sister/30/St Giles, London/Census
1891/Elen Taylor/Barmaid/21/Kensington, London/Census
1891/Maud L Luney/Barmaid/27/Plaistow, Essex/Census
1891/Emma Seage/Domestic Servant/25/Exeter, Devon/Census

1895/Wm Herbert Allcorn/../../../Post Office Directory

1899/Edward John Reilly/../../../Post Office Directory

1900/Edward John Reilly/../../../P.O. Directory **

H & F Frost had their offices at 16 Token House Yard, EC2 (St Margaret Lothbury) ***

1921/H & F Frost Ltd/../../../Post Office Directory ***

1923/H & F Frost Ltd./../../../P.O. Directory **

1934/Arthur Green/../../../Kellys Directory

1938/Albert Vivian Cakebread/../../../Post Office Directory

1944/Albert Vivian Cakebread/../../../Post Office Directory



** Provided By Stephen Harris

*** Provided By John Carnaby