Swiss Stores, 14 Upper St Martins lane WC2N
At 20 Upper St Martins Lane in 1856; This pub was rebuilt after WWII as the Brewmaster, and the address is today given as 37 Cranbourne Street. **
St Martins pub history index
A listing of historical public houses, Taverns, Inns, Beer Houses and Hotels in St Martins in Fields, London. The St Martins in Fields , London listing uses information from census, Trade Directories and History to add licensees, bar staff, Lodgers and Visitors.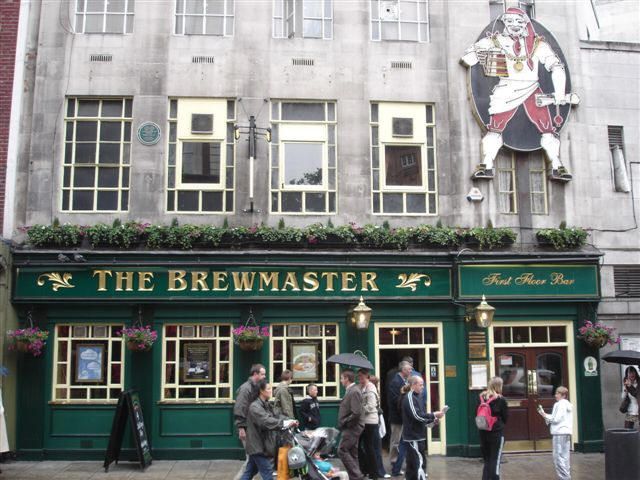 Swiss Stores, 14 Upper St Martin's Lane, WC2 - in May 2007
Kindly provided by Stephen Harris
Residents at this address.
1850-59/George Kammerer/../../../Westminster City Archives Research Group **

1856/Jas Richmond Sheen/../../../Post Office Directory

1860-62/William Lancefield/../../../Westminster City Archives Research Group **

1861/William Lancefield/Licensed Victualler/48/London, Middlesex/Census
1861/Mary Lancefield/Wife/33/Devon/Census
1861/William Lancefield/Son/15/Middlesex/Census
1861/David Balsden/Brother in Law, Apprentice to Jeweller/17/Devon/Census
1861/Grace Balsden/Sister in Law/19/Devon/Census
1861/Henry Merrington/Assistant/27/Middlesex/Census
1861/Maria McDonald/Cook/27/Edinburgh/Census

1862-63/John Head/../../../Westminster City Archives Research Group **

1863-64/Jules Wanthier/../../../Westminster City Archives Research Group **

1864/Richard Alger/../../../Westminster City Archives Research Group **

1864-75/Andreas Siedle/../../../Westminster City Archives Research Group **

1869/Andreas Siedle/../../../Post Office Directory

1871/Andreas Siedle/Licensed Victualler/40/Germany, Naturalized British subject/Census
1871/Sarah Siedle/Wife/45/Brentwood, Essex/Census
1871/Elizabeth Freshwater/Mother in Law/80/Romford, Essex/Census
1871/Susannah Freshwater/Sister in Law, Barmaid/36/Fryerning, Essex/Census
1871/Phillippine Siedle/Niece, Musical Profession/20/Woolwich, Kent/Census
1871/Emma I Siedle/Niece, Musical Profession/17/Woolwich, Kent/Census
1871/Margaret M A Sammford/General Servant/28/Ealing, Middlesex/Census

1876/Sarah Siedle/../../../Westminster City Archives Research Group **

1877-1891/Frederick Slater/../../../Westminster City Archives Research Group **

1881/Frederick Slater/Licensed Victualler/31/Southwark, Surrey/Census
1881/Emma Slater/Wife/30/W Hackney, Middlesex/Census
1881/Harriet Slater/Sister In Law, Barmaid/24/W Hackney, Middlesex/Census
1881/Sarah A Warren/Sister In Law/19/Tottenham, Middlesex/Census
1881/Kate E Warren/Sister In Law/13/Tottenham, Middlesex/Census
1881/Bertha E Slater/Daughter/3/London, Middlesex/Census
1881/Paulina E Slater/Daughter/2/London, Middlesex/Census
1881/Frederick C Slater/Son/4 months/London, Middlesex/Census
1881/Selina M Beech/General Servant/21/Luddesdown, Kent/Census

1882/Frederick Slater/../../../Post Office Directory

1891/Frederick Slater/../../../Post Office Directory

1891/Frederick Slater/Licensed Victualler/41/Bermondsey, London/Census
1891/Emma Slater/Wife/40/West Hackney/Census
1891/Sarah Ann Warren/Sister in Law, Barmaid/29/Tottenham, Middlesex/Census
1891/Bertha Ellen Warren/Daughter/13/Cranbourn Street, London/Census
1891/Robert Arthur Warren/Son/10 months/Cranbourn Street, London/Census
1891/Ada N Saxby/Barmaid/21/Stoke Newington, Middlesex/Census

1891-93/Ernest J Maddick/../../../Westminster City Archives Research Group **

1894-95/John T Barnes/../../../Westminster City Archives Research Group **

1895/John Talbot Barnes/../../../Post Office Directory

1896-98/Wm. Stark/../../../Westminster City Archives Research Group **

1899/William Stark/../../../Post Office Directory

1901-02/Agnes H Stark/../../../Westminster City Archives Research Group **

1902/Benjamin Lucas/../../../Westminster City Archives Research Group **



** Provided By Stephen Harris