Search London wiki and Pub wiki history sites
All public house, restaurants, bars etc closed for the forseeable future from 20th March 2020, but this is a history site.
Two Chairmen, 1 Warwick House street, Charing Cross, St Martins in Fields SW1
In 1839 at 20 Cockspur Street; then at 20 Warwick Street, Charing Cross before 1891. It is next to Red Lion yard in the 1851 census. Still open and trading as the two Chairmen in 2010
St Martins pub history index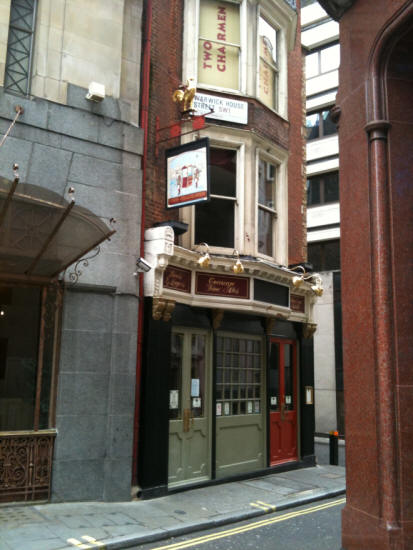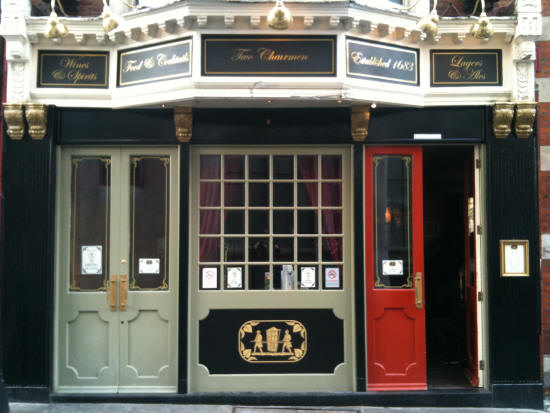 Two Chairmen, 1 Warwick House Street, Charing Cross - in 2010
Kindly provided by Landlord Alex Dawe
A listing of historical public houses, Taverns, Inns, Beer Houses and Hotels in St Martins in Fields, London. The St Martins in Fields , London listing uses information from census, Trade Directories and History to add licensees, bar staff, Lodgers and Visitors.
Residents at this address.
1829/M Malcolm, Two Chairmen, 20 Cockspur Street/../../Robsons Directory

1832/A Malcolm, Two Chairmen, 20 Cockspur Street/../../Robsons Directory

1836/Robert Malcolm/../../../Pigots Directory

1839/Rt Malcolm/../../../Pigots Directory

1841/Rt Malcolm/../../../Post Office Directory

1842/Rob Malcolm, Two Chairmen, 20 Cockspur Street/../../Robsons Directory

1843/Rt Malcolm/../../../Post Office Directory

1848/Rt Malcolm/../../../Post Office Directory

1851/Mrs Louisa Malcolm/../../../Post Office Directory

1851/Louisa A Malcolm/Licensed Victualler, Widow/40/Croydon, Surrey/Census
1851/Louisa Malcolm/Daughter/13/St Martins in the Fields, Middlesex/Census
1851/Margaret Malcolm/Daughter/11/St Martins in the Fields, Middlesex/Census
1851/Ann Maria Vider/Barmaid/22/Windsor, Berkshire/Census
1851/Caroline Burman/Servant/29/Scotland/Census
1851/Robert Fobbs/Potman/25/St Anns Soho, Middlesex/Census

May 1852/Louisa Ann Malcolm/Outgoing Licensee/../../Era

May 1852/David Ambrose/Incoming Licensee/../../Era

1856/D Ambrose/../../../Post Office Directory

1867/Mrs Ann Strip, Two Chairmen, 20 Warwick street, Charing Cross/../../Licensed Victuallers Association

1869/Thomas Strip/../../../Post Office Directory

1881/Thos Strip/Licensed Victualler/59/Godstone, Surrey/Census
1881/Ann Strip/Wife/57/Barton, Bedford/Census
1881/Elizabeth Logdale/Barmaid/27/Hoxton/Census
1881/Catherine Whitbread/Barmaid/22/Chatham, Kent/Census
1881/John Short/Waiter/30/Lathamstone/Census
1881/Margaret Kelchen/Housemaid/24/Turnham Green/Census
1881/Sarah Pugh/Cook/29/Birmingham/Census

1882/Thos Strip/../../../Post Office Directory

1891/John Edwin Culverhouse/../../../Post Office Directory

1891/John E Culverhouse/Licensed Victualler/47/North Bradly, Wilts/Census
1891/Anne R Culverhouse/Wife/46/Saltwood, Kent/Census
1891/Thomas Clarke/Manager/38/Newmarket, Cambridge/Census
1891/Mary J Wilingale/Barmaid/23/Marylebone, Middlesex/Census
1891/Florence A Dando/Barmaid/22/Bath, Somerset/Census
1891/Louisa Brasell/Barmaid/27/Kite Hill, Bucks/Census
1891/Emily French/Cook/22/Victoria Docks, Middlesex/Census
1891/Ellen Chartis/Housemaid/22/Dumfries, Scotland/Census

1899/Thomas William Brown/../../../Post Office Directory

1901/Clara J Brown/Licensed Victualler, Widow/50/Barnet, Hertfordshire/Census
1901/Clara M Brown/Daughter/22/Gloucester/Census
1901/Kate J Brown/Daughter/18/Hull/Census
1901/Florence Warford/Cook/35/Plymouth/Census
1901/Annie Drawbridge/barmaid/23/London/Census
1901/William Marson/Barman/19/Mistley, essex/Census
1901/Thomas Baker/Potman/21/Ireland/Census
1901/James Dempsey/Manager Public House/35/Ireland/Census

1910/Mrs Clara Mary Brown/../../../Post Office Directory

1915/Mrs Clara Mary Brown/../../../Post Office Directory

1934/Ernest Eastmond Partridge/../../../Kellys Directory

1938/Ernest Eastmond Partridge/../../../Post Office Directory

1944/Benj Corre/../../../Post Office Directory *



** Provided By Stephen Harris